Dromoland Castle is located in County Clare, Ireland, close to Newmarket-on-Fergus. It is not a mere castle but has also a five-star luxury hotel. Not only that, but the castle restaurant's (The Earl of Thomond) head chef, Jean Baptiste Molinari, received a Michelin star in 1995. You can experience a luxurious stay inside the castle and upscale dining in addition to learning the history of Dromoland Castle.
Stay tuned if you want to learn more about Dromoland Castle and the hotel's history. We'll take you through a detailed journey discussing how the castle came into existence, the current standing castle, and the best tips and tricks to visit Dromoland Castle.
Every year, Dromoland Castle hosts a magnificent New Year's celebration which can make the beginning of your year truly memorable. Similar to Christmas, New Year's celebrations are also a treat for the eye.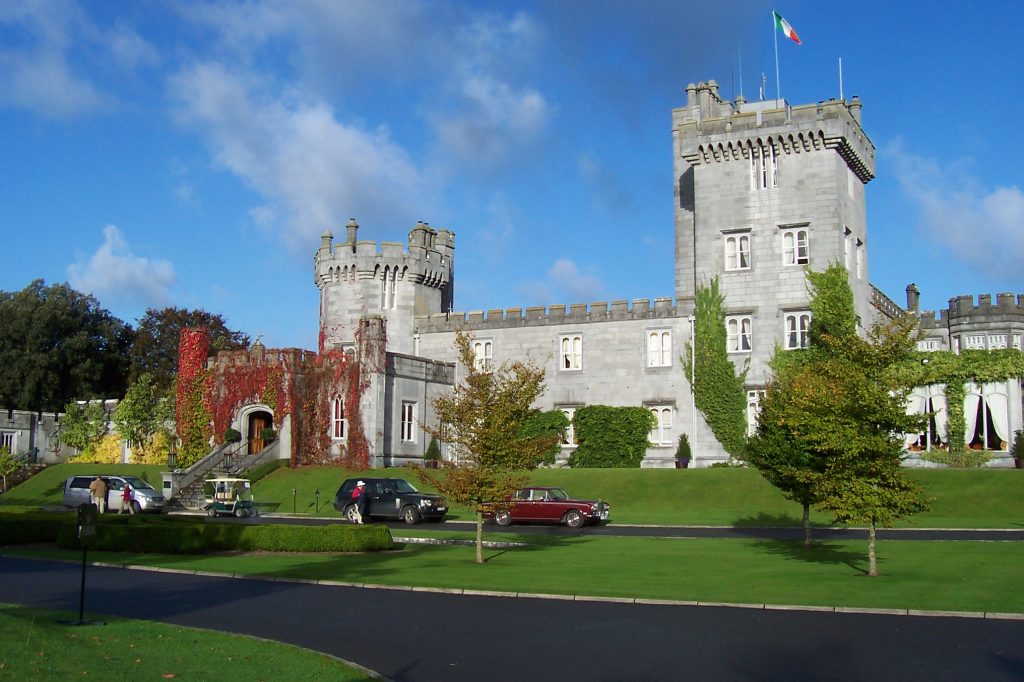 Frequently Asked Questions
When was Dromoland Castle Built? Who Build It?
In 1836, Sir Edward O'Brien, the Lord of Dromoland, constructed the present building of Dromoland Castle.
When is The Best Time to Visit the Castle?
You will be delighted to know that Dromoland Castle provides free history tours on Wednesday and Saturday at 11 am. Expert guides will take you on an unforgettable journey through time.
What Other Monuments are Located Nearby?
FOR HISTORY | BEAUTIFUL IMAGES | INTERESTING FACTS | TRAVEL TIPS
Early History
Early Construction of Dromoland Fortress (11th Century)
The beginnings of Dromoland Castle date to 1014, when it was initially constructed as a fortress. Brian Boru's son, Donough O'Brien, was in charge of this fortress that had structural similarities with Bunratty Castle, another O'Brien stronghold of the period. The O'Briens resided and governed in the Dromoland fortress for about 900 years. The O'Briens–as Barons of Inchiquin and one of the few native Gaelic families with a royal Irish heritage–considered this fortress to be their ancestral home. They were the direct descendants of Brian Boroimhe, Ireland's High King of the eleventh century. For generations, the neighborhood around this ancient structure was referred to as "Dromoland" by locals. The English translation of "Dromoland" is "Hill of Litigation."
Conversion of Dromoland Fortress to a Castle (16th-17th Century)
Murrough, the 57th King of Thomond and chief of the Clan O'Brien, was compelled to cede his throne to King Henry VII, becoming the Baron of Inchiquin and First Earl of Thomond. Records indicate that around this time, the fortress was converted into a castle.
At the start of the 1641 revolt, William Starkey's son Robert was living at Dromoland. Col. Conor O'Brien of Leamaneh Castle, son of Donough and spouse of Maire Rua, took hold of Dromoland Castle in 1642, extending his father's claim to the area. Thereafter, it appears that he either left the region or rented the property. In 1651, Conor died in battle. Donough, his oldest son, was now the rightful successor to both Leamaneh Castle and the family claim to Dromoland.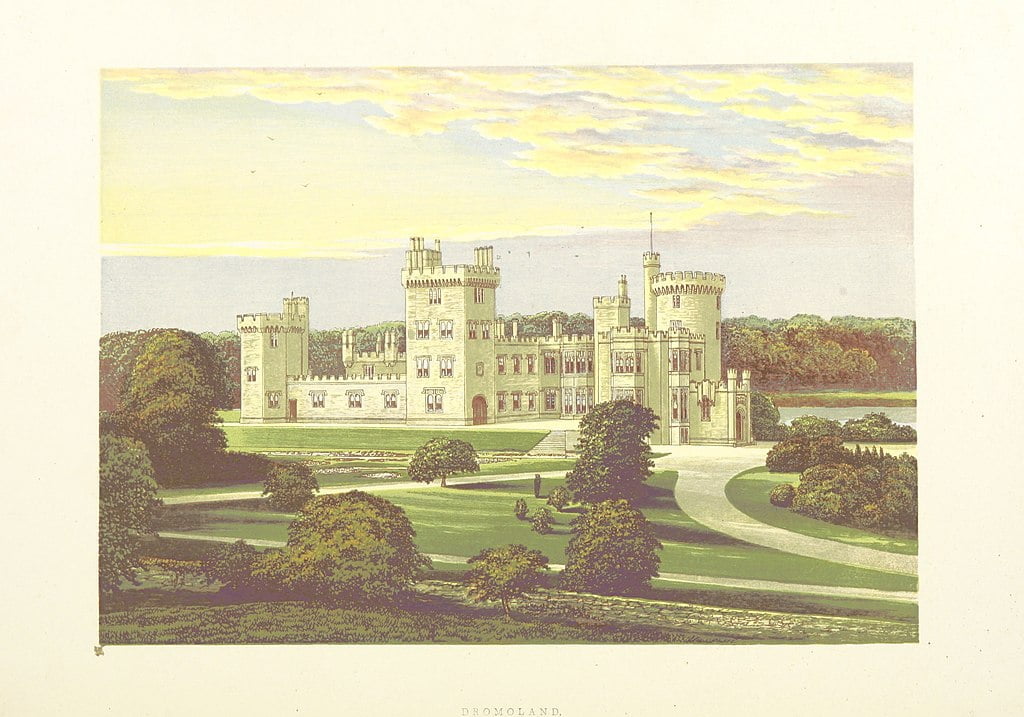 Later Reconstructions and Renovations (18th Century)
The construction of the second house at Dromoland Castle took shape as a more residential-looking structure with Queen Anne-styled architecture. Due to this design, it would be easy to convert the castle into a hotel when the time came. Dromoland has been the subject of several descriptions recorded by travelers over the years. It was characterized as "a magnificent Grecian Building" while Sir Donough, 1st Baronet, worked on renovating Dromoland. In 1717, he passed away. Edward, the son of Lucius Donough, who also passed in 1717, was made the second baronet. The home was embellished by the first Sir Edward O'Brien with carvings and portraits.
Additionally, he had plans for a new home drawn up. Designs for the home and garden at Dromoland were sent to him by Thomas Roberts and John Aheron, respectively. It appears that John Aheron, an architect, was in charge of the final layout. Along with the main entry gateway, he also designed the gazebo on Turret Hill. In 1736, a two-story quadrangle was begun, and finished in 1765. Above it, there are three beautiful hills that rise, providing breathtaking views of the meeting of the two large rivers, Fergus and Shannon, each of which is a mile wide.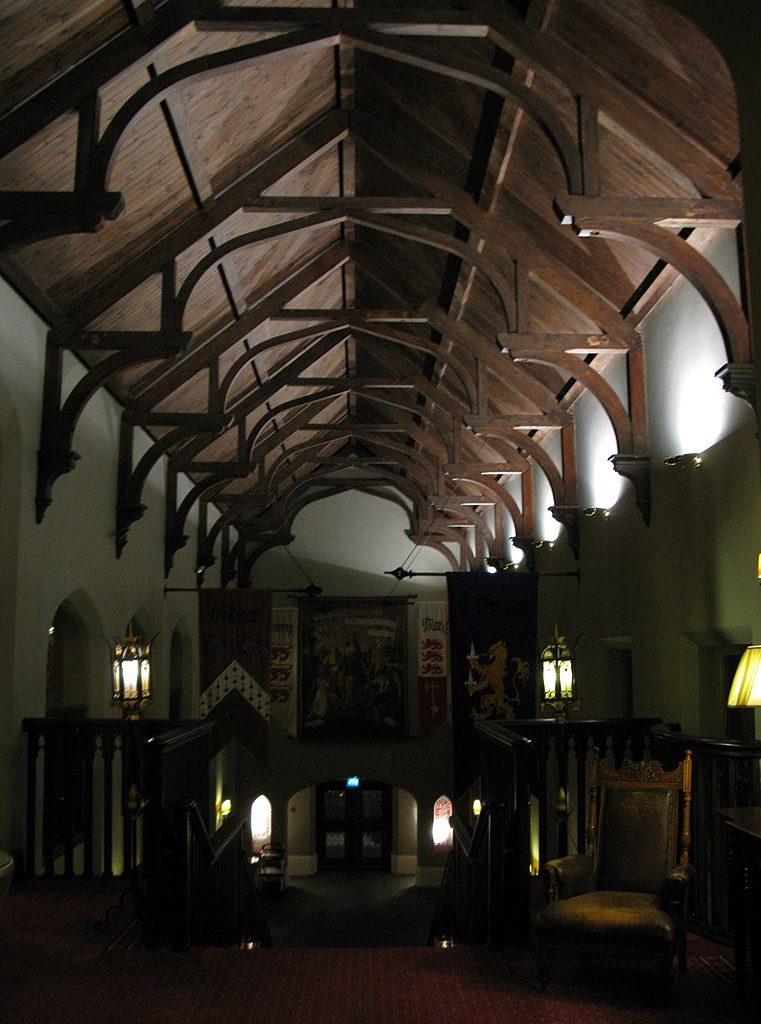 Dromoland through Anglo-Irish Conflict (19th-20th Centuries)
Dromoland Castle was the birthplace and boyhood home of William Smith O'Brien, M.P. He is famously known for heading the Young Irelanders uprising against the British government in 1848, and he also fought tenaciously for the rights of oppressed Irish Catholic peasant farmers. The castle managed to withstand the turbulent years of Ireland's struggle for independence against Britain. Dromoland Castle was designated for destruction by Dublin's Irish Republican Army (IRA) leaders. However, at the last minute, the County Clare commanders urgently requested the sabotage instructions to be reversed, and the castle remained standing.
Conversion of Castle to a Luxury Hotel (Late 20th Century)
In 1962, Lord Inchiquin sold the castle along with the 330 acres estate to Mr. Bernard McDonough, an American industrialist. The ancestral castle house was then converted into a luxury hotel after extensive modifications and renovations. However, to maintain the original integrity of the Gothic castle design, the main floor with the castle's public spaces stayed unchanged.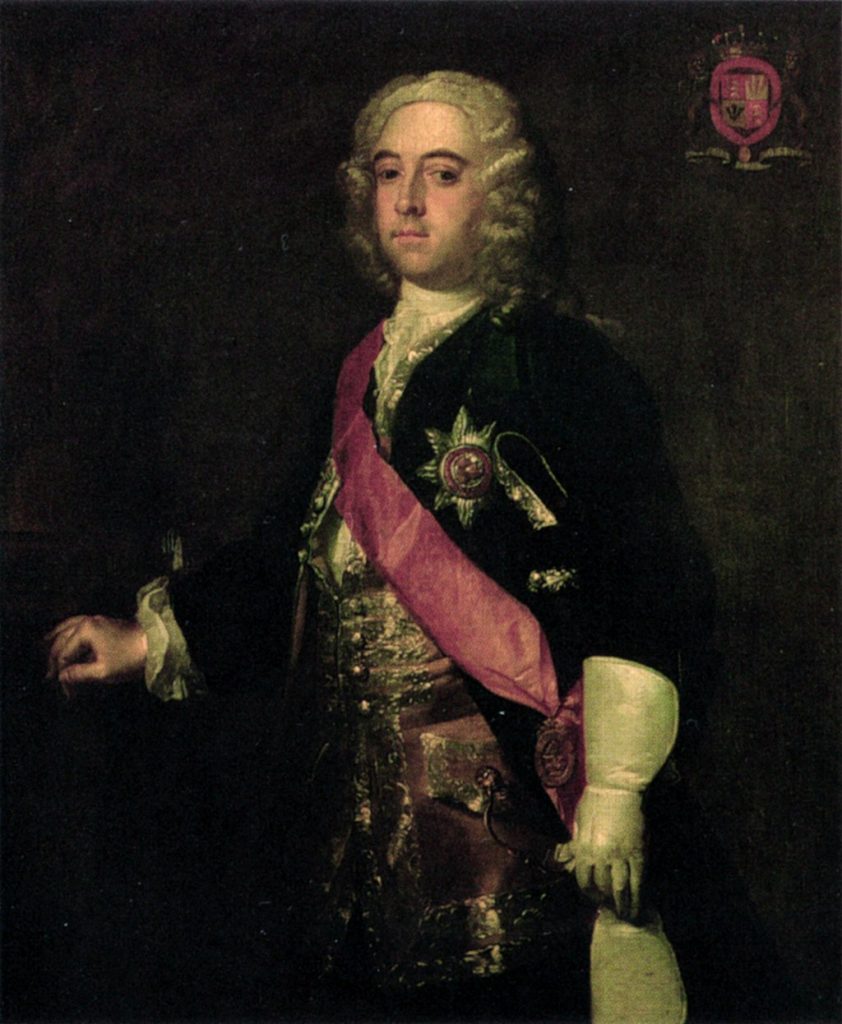 Revisit More Historic Places Below or Read Further
Current Times
After the castle was modified into a luxury hotel, the continued investment and management have allowed the castle to enjoy a worldwide reputation of excellence. It is regarded as one of the great resorts in Europe. A variety of activities are also available at the castle to add excitement to your visit. Throughout your trip, golf, fishing, horseback riding, biking, and horseback riding will keep you entertained. The hotel also has one of the greatest spa facilities in the area, which can help you relax during your stay at the castle.
The hotel also plans to initiate sustainable practices as its goal for 2022-2023. For example, the management of Dromoland Castle plans to replace single-use plastics with bio-friendly alternatives in all sectors of the hotel. The castle is also a hotspot for famous personalities to stay during their visit to Ireland. George W. Bush, the former president of the United States, stayed in the castle in 2004. The castle has hosted other notable guests, including Bill Clinton, Nelson Mandela, and Muhammad Ali.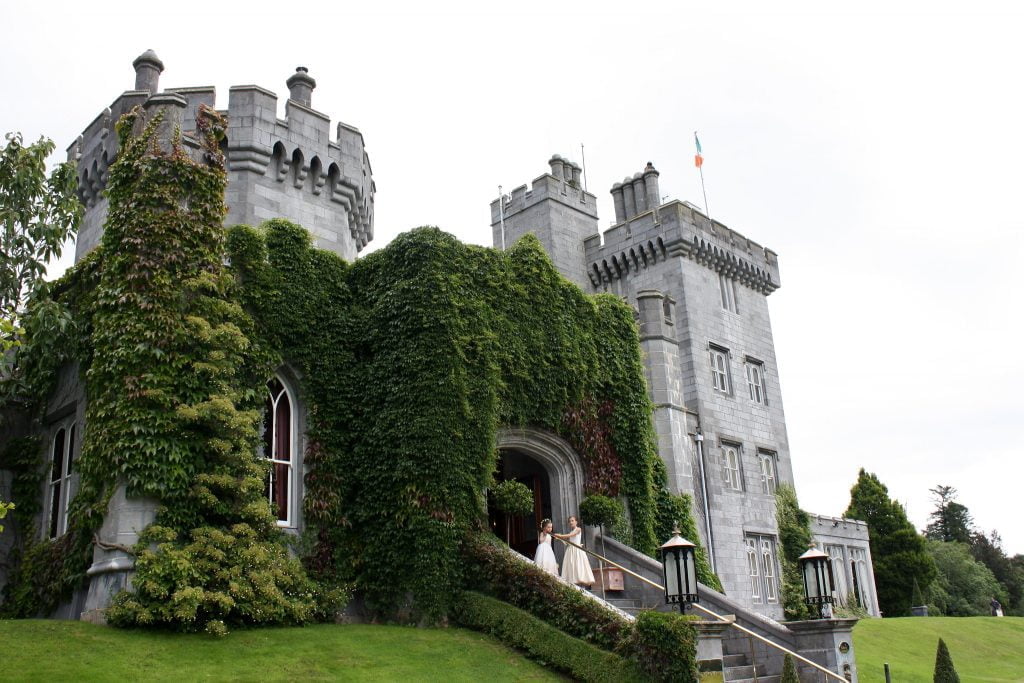 Interesting Dromoland Castle Facts
There are various interesting facts about Dromoland Castle. Here is a short list of some of them:
Dromoland Castle was one of few historical buildings that were spared from being destroyed during the turbulent times of the Anglo-Irish War.
The members of the castle, who have been organizing walks for the past fifteen years, conduct history walks around the castle every week on Wednesdays and Saturdays.
If you are a hotel guest, you can take advantage of a fantastic opportunity to cycle around the beautiful estate. Visitors have limited access to castle grounds, but as a hotel guest, you can freely roam around.
Dromoland organizes magical Christmas nights every year. From a stunning display of lights to magical fireworks, Dromoland will surely make your Christmas enjoyable. Dromoland Castle is a fantastic choice if you wish to enjoy a unique and regal holiday experience.
Every year, Dromoland Castle hosts a magnificent New Year's celebration which can make the beginning of your year truly memorable. Similar to Christmas, New Year's celebrations are also a treat for the eye.
Visiting Dromoland Castle – Tips and Tricks
Dromoland Castle is renowned for being a destination hotspot where you can enjoy a royal stay and also explore the history of the castle. The grandeur of the castle is accessible to you day and night as a guest, and you do not have to make separate reservations to visit the castle ground. To make your visit even more memorable, you can also choose from a variety of activities available around the estate.
Following are some of the tips and recommendations to follow if you plan to visit the castle as a day visitor rather than an overnight guest.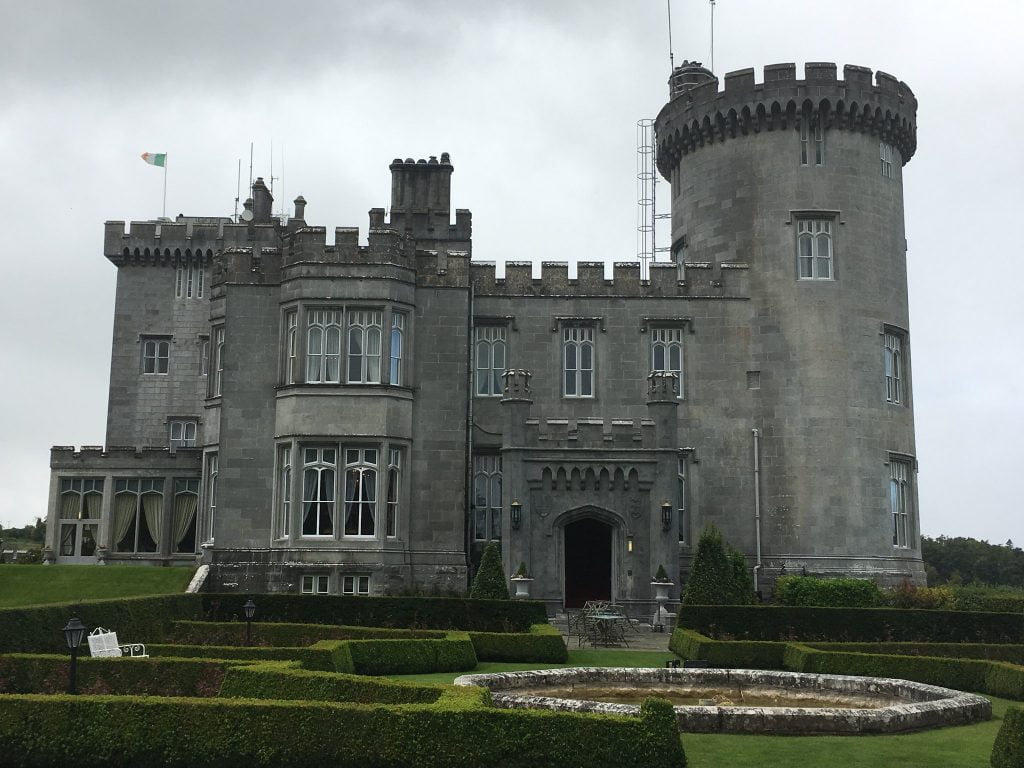 How to get to Dromoland Castle?
From Ireland's capital city Dublin, there are links to Ennis, which is the nearest town to the castle. Trains are available from Houston Station Dublin, to Ennis Train Station.
Don't forget to phone the castle's reception ahead of time to organize a ride from the bus stop outside the gate to the reception point if you're arriving by public transportation.
Ticket Prices, Visiting Hours & Travel Tips
If you want to stay at the castle for a luxurious overnight, it will cost you €630 ($619 USD). To book a tour of the castle on any other day or time, you can directly call the hotel management to book your reservations. You can enter the castle for free, but there are several fees to pay depending on which areas of the castle you wish to explore from there.
To visit the golf grounds of Dromoland Castle, you must pay an entry fee which varies depending on the time and season of your entry. The average fee is around €70 ($69 USD) during the low season and €120 ($118 USD) during the high season.
The best time to visit the castle is in winter because of the active festivities and celebrations. Christmas and New Year at the castle will provide you with an unforgettable experience. As a visitor, you can enjoy the three-night festive ambiance hosted by Dromoland Castle. The cozy couches by the fire, a gorgeous estate, magnificent bedrooms, and wonderful cuisine will enhance your stay at the castle.
If you are coming to visit, do not forget to bring a water bottle with you and adhere to the Covid-19 guidelines. If you want to take a walk around the castle, then there are historic walks every Wednesday and Saturday at 11 am.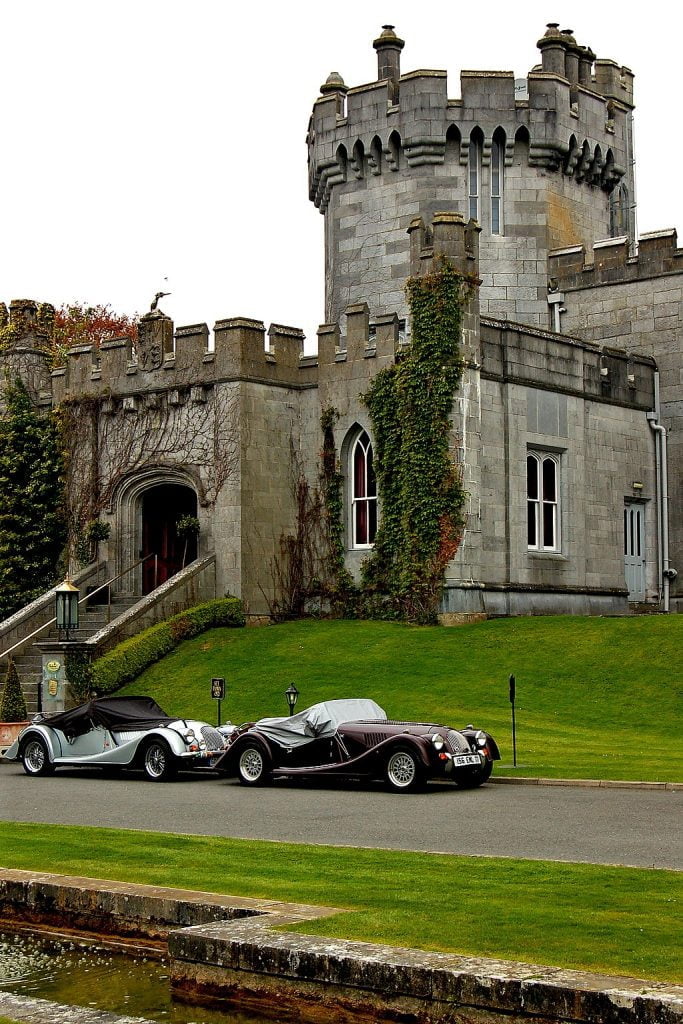 Things To Do at Dromoland Castle
The 450-acre estate of Dromoland Castle provide countless chances for entertainment. Some of those activities are:
Falconry – The Falconry School can facilitate guests for €70 ($69 USD) per person
Horseback Riding – A ride around the castle is suitable for all ages. It costs €65 ($64 USD) per person.
Fishing – Dromoland Lough is generously stocked with fish. The charge for fishing is €80 ($78 USD) for 3 hours.
Archery – It is a noble ancient sport that you can enjoy under the guidance of experts. It costs €45 ($44 USD) per person.
Tennis – The castle has two tennis courtyards. You can get racquets and balls from the management.
Cycling – You can ride around the beautiful location on bicycles which are complementary for the hotel guests' use. Additional bikes can be arranged at the cost of €35 ($34 USD) per bike.
How Long Will It Take to Tour Around?
It can take you between one to two hours to take a complete tour around the castle's vastly spread area as a day guest.
Some words of advice and tips:
Make sure you are fully vaccinated and adhere to the Covid-19 rules.
Do not forget to carry a backpack with an umbrella and warm clothing because the weather tends to get chilly during the evenings.
Dromoland Castle also has a number of dog-friendly rooms available to visit with your pets.
Quick Video Tour of The Main Dromoland Castle Areas