The Dunguaire Castle is an Irish fortification whose name has been derived from the Dun (a hillfort) of the legendary King of Connacht. Located on the southeastern shore of Galway Bay, Dunguaire is 500-years-old and is reportedly one of the most photographed castles in Ireland. Boasting a 75-foot tall tower, it resides on a picturesque site, and is an excellent tourist attraction. Let's take a look at its origins and how it's faring in the world today:
One of the most fascinating attractions of this castle includes the Banquet Hall. It has sturdy stone walls, heavy-set oak tables, and feels positively exquisite in ambiance.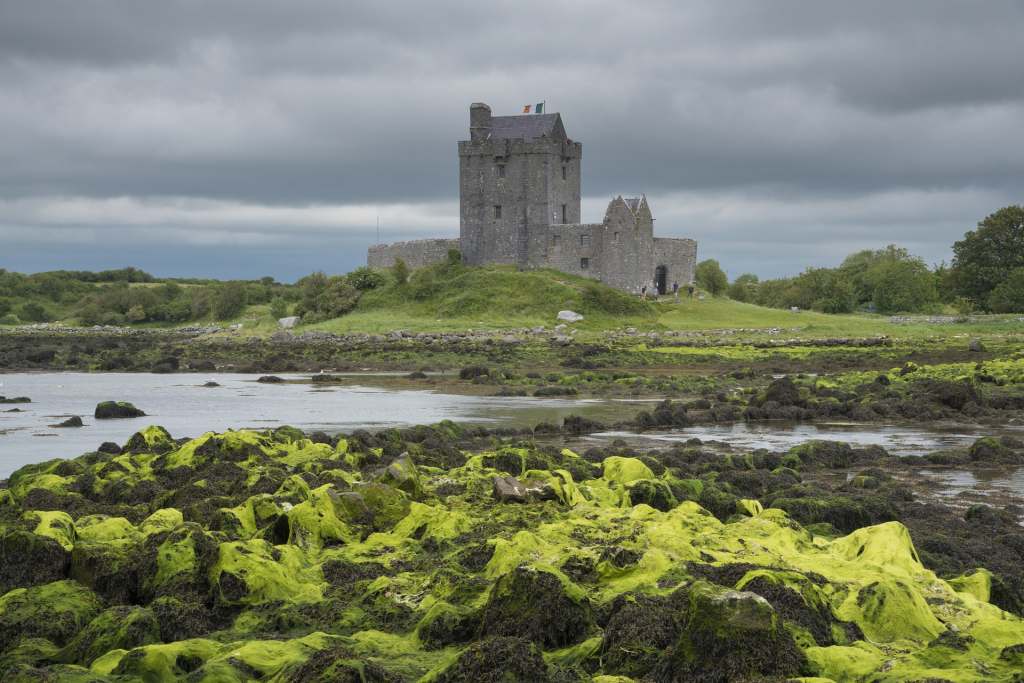 Frequently Asked Questions
Where is Dunguaire Castle Located?
This castle enjoys a privileged location outside the village of Kinvara. It's located almost 300 meters on the shoreline that leads to Galway City of Ireland.
When was Dunguaire Castle Built? Who Build It?
The Dunguaire Castle was constructed by the O'Hyne's in the early 16th century (circa 1520). They were a prominent family who had ownership of the land since 662.
When is The Best Time to Visit the Castle?
Anywhere from April to September is a great time to visit this castle as they're popular for hosting numerous medieval banquets (often with 4-course meals and wine along with songs and poetry recitation).
What Other Monuments are Located Nearby?
Kinvara village is a popular nearby tourist destination, but if you're in the mood to discover more history, then the Bunratty Castle can also be visited in the span of the same day.
FOR HISTORY | BEAUTIFUL IMAGES | INTERESTING FACTS | TRAVEL TIPS
Early History
From the O'Hynes to the Galways (1520-1642)
It was the O'Hynes – descendants of Guaire, the King of Connacht – who built the Danguire castle as a family stronghold around 1520. They were known as the Lords of Aidhne, and were owners of the surrounding land. It was in 1588 when resistance against the English rule became too hard and costly that Hugh O'Hyne conceded the castle to Queen Elizebeth.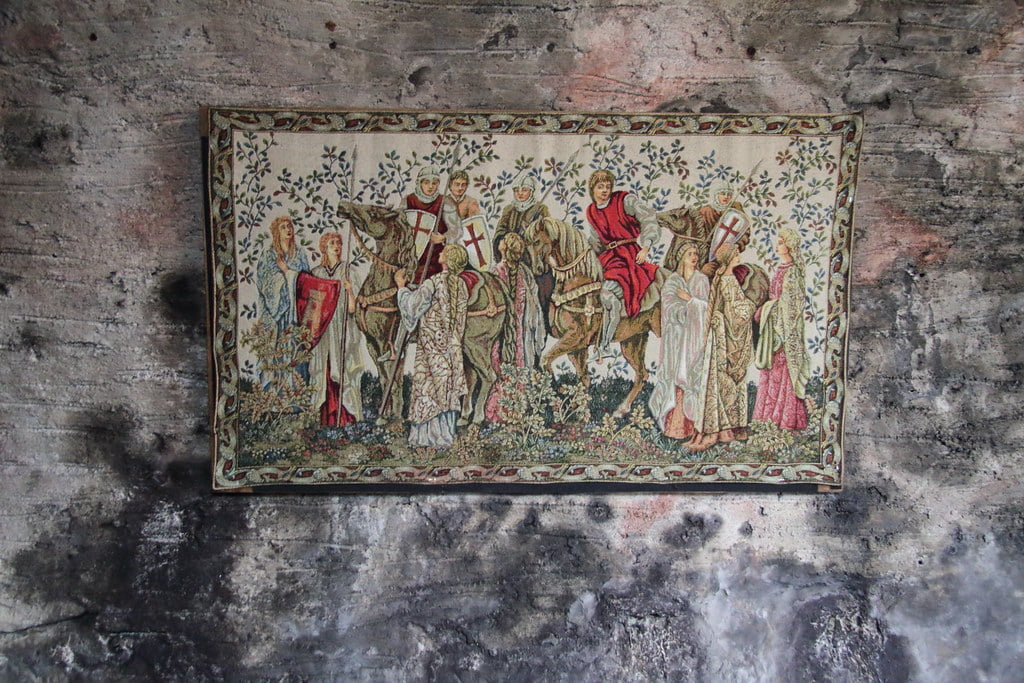 It was later passed on to Richard Oge Martyn, who used to be the mayor of Galway in the 17th century. The Dunguaire Castle was passed down through generations of Martyn's of Galway until 1924.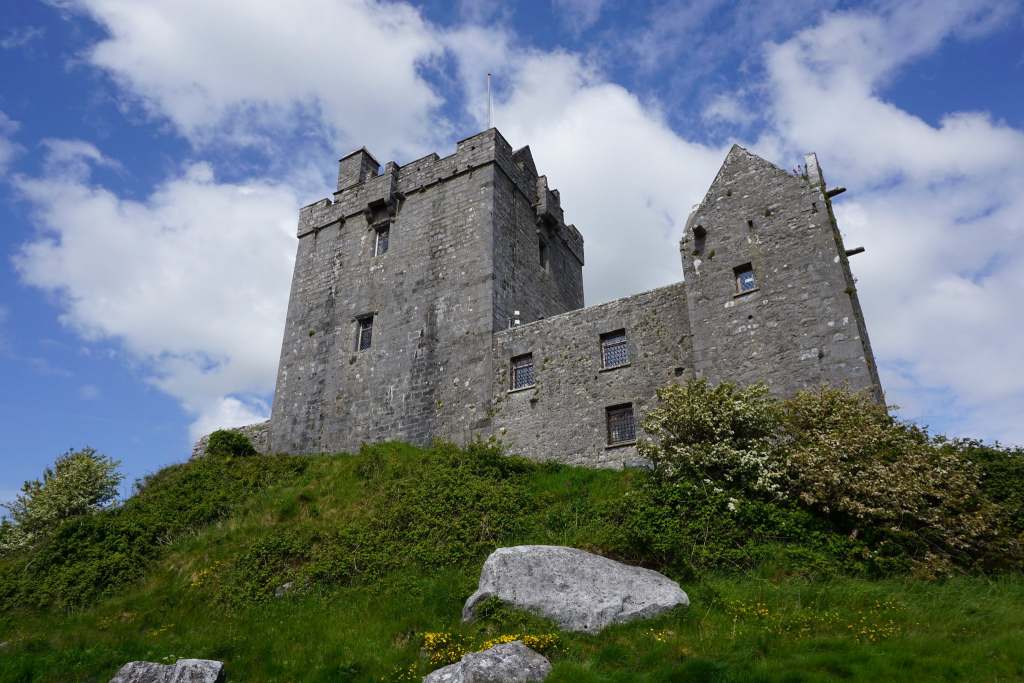 Dunguair's Literary Revival (1924-1954)
Castle Dunguaire was bought from the Martyn's by Oliver St. John Gogarty. He was a renowned literary character who had the castle fully repaired and was one of the top figureheads who led the Celtic resurgence movement of Irish literature. In fact, it was under his patronage that Dunguaire was used to host literary meetings. They used to be attended by Synge, Yates, O'Casey, and other revivalists of that era.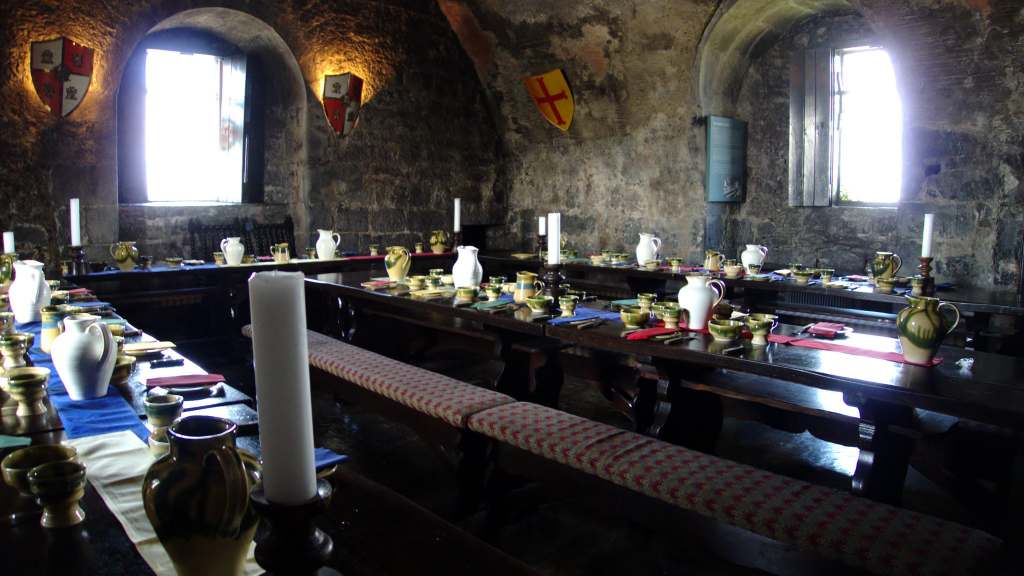 Revisit More Historic Places Below or Read Further
Current Times
The Dunguaire castle is built in the vein of the Irish Tower-style. Its 75-foot tall tower and brutalist curtain wall are its most recognizable features today. You can visit and explore its grounds during the day, while summer nights are reserved for medieval banquet-style dinners to celebrate the generosity of Guaire, King of Connacht. The entire ambiance and setting of these banquets is curated to imitate 7th century feasts in their most authentic iterations.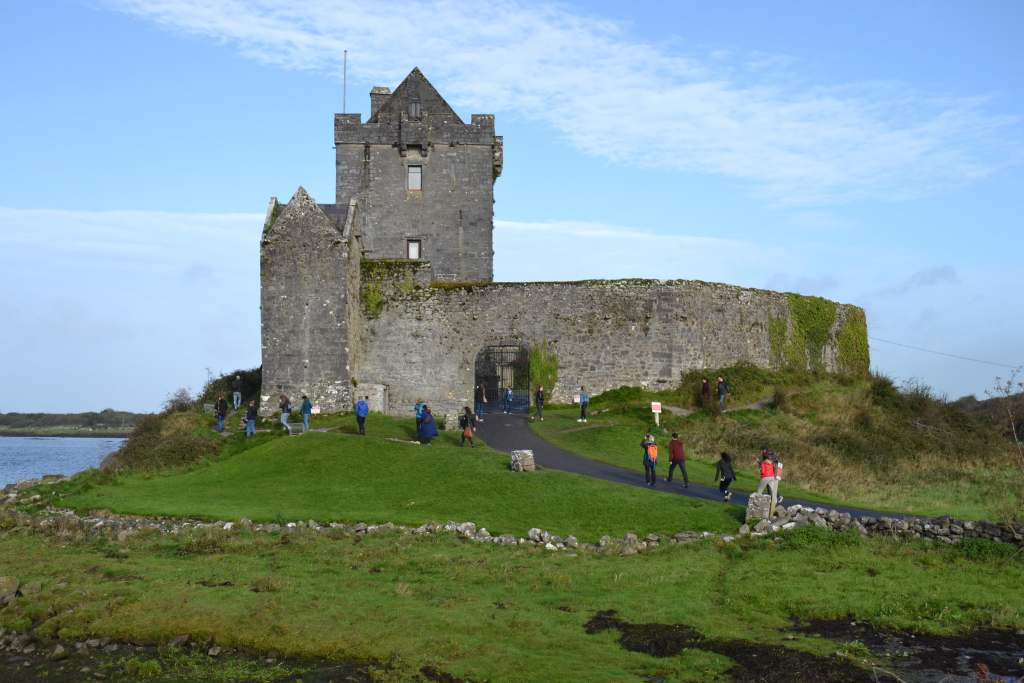 The Last of Private Ownership (1954-1972)
It was the English aristocrat, Lady Christabel Amptill, who bought the Dunguaire Castle from Gogarty as her retirement home. She was an equestrian at heart and carried on with the renovation work of the castle. She added an annex with an overhead bedroom and a garage and sold Dunguaire to the Shannon Development Company in 1972 – just a mere six years before her death.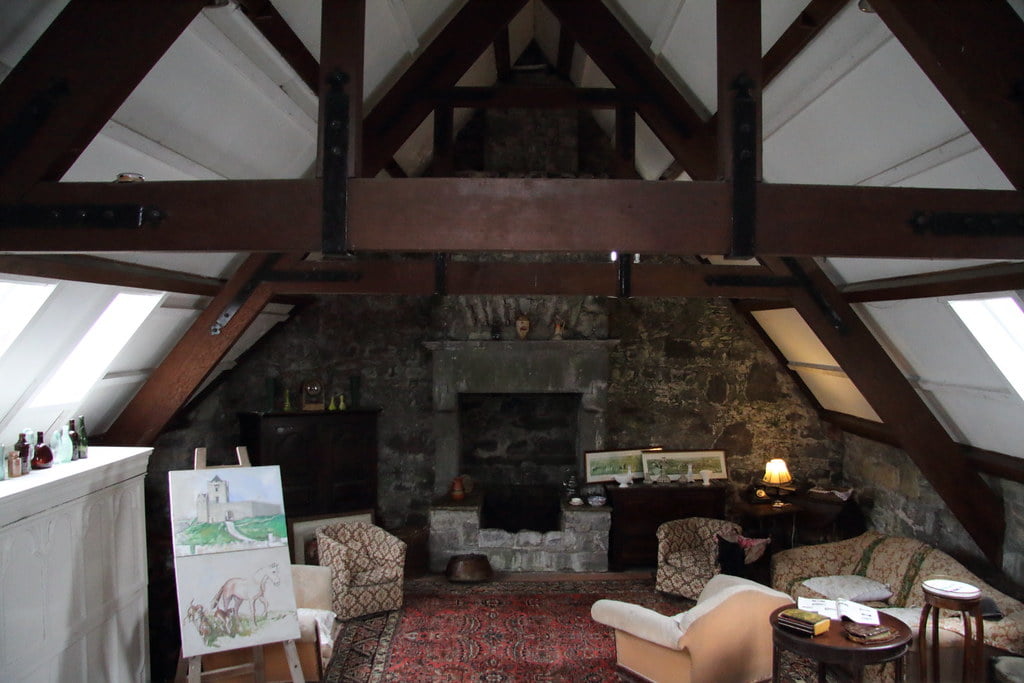 The company carried out extensive, sensitive renovations/preservations and made Dunguaire castle accessible to the public.
Interesting Dunguaire Castle Facts
It is said that the Lord of the Dunguaire castle was as generous as they come and that magnanimity extends into his afterlife as well. So, if anyone were to ask a question at the front gate, they'd have it answered by the end of the day.
Dunguaire castle has a starring role in the 1969 Disney movie called Guns in the Heather. It went by the name of Boyne Castle in the footage. Dunguaire also starred as a Scottish castle in the 1979 movie, North Sea Hijack.
One of the most fascinating attractions of this castle includes the Banquet Hall. It has sturdy stone walls, heavy-set oak tables, and feels positively exquisite in ambiance.
The Dunguaire castle has a little towerlet, which was used as a guard room back in the day.
Visiting Dunguaire Castle – Tips and Tricks
Dunguaire is a great place to visit. If you're planning on going there, then here are some helpful tips and information to help you out on your journey:
How to get to Dunguaire Castle?
You'll have to get to Galway in order to see the Dunguaire castle. The best way to reach the city is by train, which costs €18-€25 ($21-$30 USD) and takes almost two-and-a-half hours from Dublin. You can also take a bus from Dublin city. The tickets will cost you €13-€24 ($15-$29) USD and you'll reach your destination in two-and-a-half hours. Taking a car will cost you €23-€37 ($28-$45) USD with almost a two-hour drive on your hands.
From Galway, you can take the Line 320 bus, which will get you to Castle Dunguaire in 52 minutes and will cost €8-€11 ($9-$13 USD). Taking a taxi will cost you between €42-€54 ($50-$65 USD) and will take around 23 minutes to get there. You can also drive there in your own car in 23 minutes with a budget of €4-€5 ($4-$6 USD).
Ticket Prices, Visiting Hours & Travel Tips
Information was checked & updated on October 4, 2023.
NOTE: Dunguaire Castle will close for the season on Sept 30th
You can visit the Dunguaire castle anywhere between 10 am to 5 pm from April to September. The castle grounds are open daily and the ticket price is €6 ($8 USD) for adults and €3 ($4 USD) for children.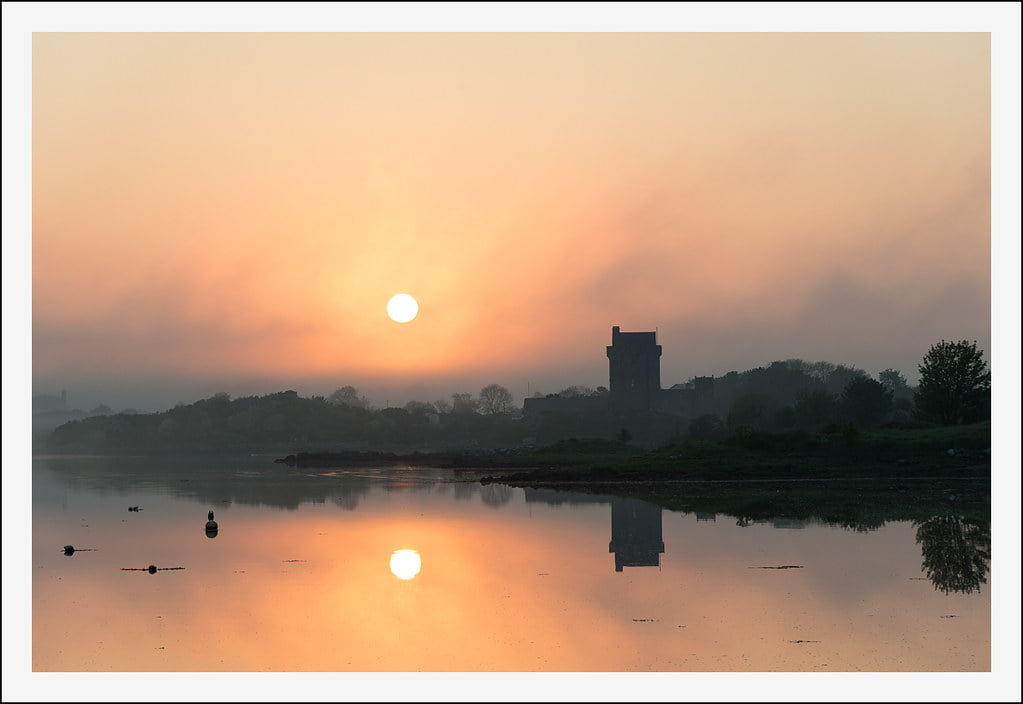 How Long Will It Take to Tour Around?
A solitary excursion of the Dunguaire castle takes around 1 hour. It might take 2 hours if you really like exploring, though.
Some words of advice and tips:
There's no coffee shop on the grounds, so come hydrated.
Be ready for a lighter wallet if you like locally handcrafted gift items. The shop at the castle is filled with them.
You'll love the Irish music and culture at the heart of each medieval banquet, should you choose to attend one.
Quick Video Tour of The Main Dunguaire Castle Areas