As Slovakia's oldest monument, Bojnice Castle has a special place in the country's cultural heritage. With a history that dates back to the twelfth century and a revamp that gave it a new face in the twentieth century, this castle now emulates a glamorous French chateau-style appeal. Let's look at everything that it went through, and everything that it offers today:
The courtyard of Bojnice Castle has an underground cave. This is also the water source of the castle.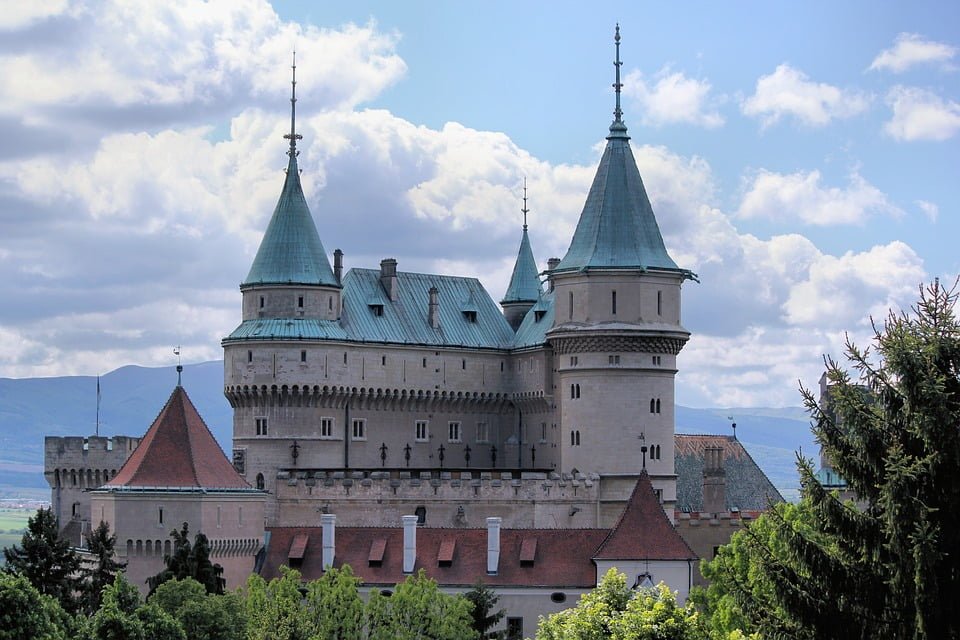 Frequently Asked Questions
Where is Bojnice Castle Located?
Bojnice Castle is situated on a hill, directly on the location of its medieval predecessor in Bojnice, Slovakia.
When was Bojnice Castle Built? Who Build It?
While mentions of Bojnice Castle date back to 1113, it was first built in stone by the Pozan family in the thirteenth century. However, the iteration that we see today was constructed by Count Frantisek Palfi six centuries later.
When is The Best Time to Visit the Castle?
April to early May is the best time to visit, as that's when Bojnice hosts the International Festival of Ghosts and Spirits.
What Other Monuments are Located Nearby?
Mysterium Bojnice is a good place to visit if you're in for puzzle games in escape rooms. If you're there with kids, then you might want to try out the Bojnice Zoo.
FOR HISTORY | BEAUTIFUL IMAGES | INTERESTING FACTS | TRAVEL TIPS
Early History
Early Beginnings
The very first mentions of Bojnice Castle can be traced back to the Zobor Abbey documents from 1113. After that, its history is traced to its origins as a wooden castle that was rebuilt by the Poznan family in the thirteenth century. It was later taken by the Ugrian lord Matus Cak till 1321. After him, Bojnice was successively owned by many aristocratic families, including the Gileths, Leustachs, and more.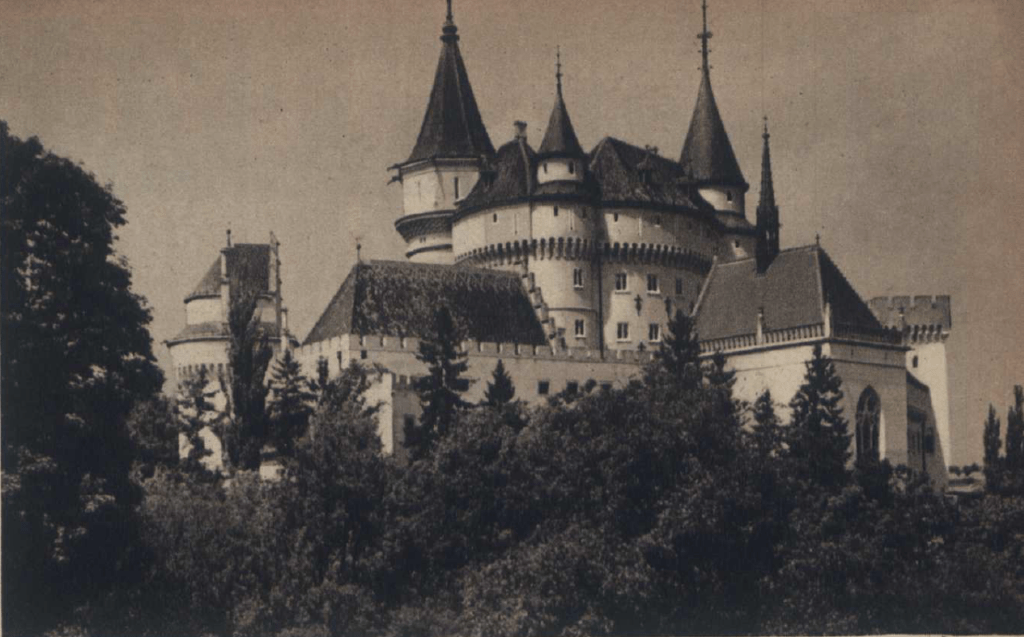 With the Thuzros
Bojnice Castle was inherited by King Matej Korvin's illegitimate son (Jan Korvin), but was taken away upon the king's death in 1526. A year after, Ferdinand I gave it to the Thurzo family. They were the first ones to start updates on the castle's construction. Under their ownership, the fortress was converted into a beautiful residence that evoked all the beauty and symmetry of the renaissance era.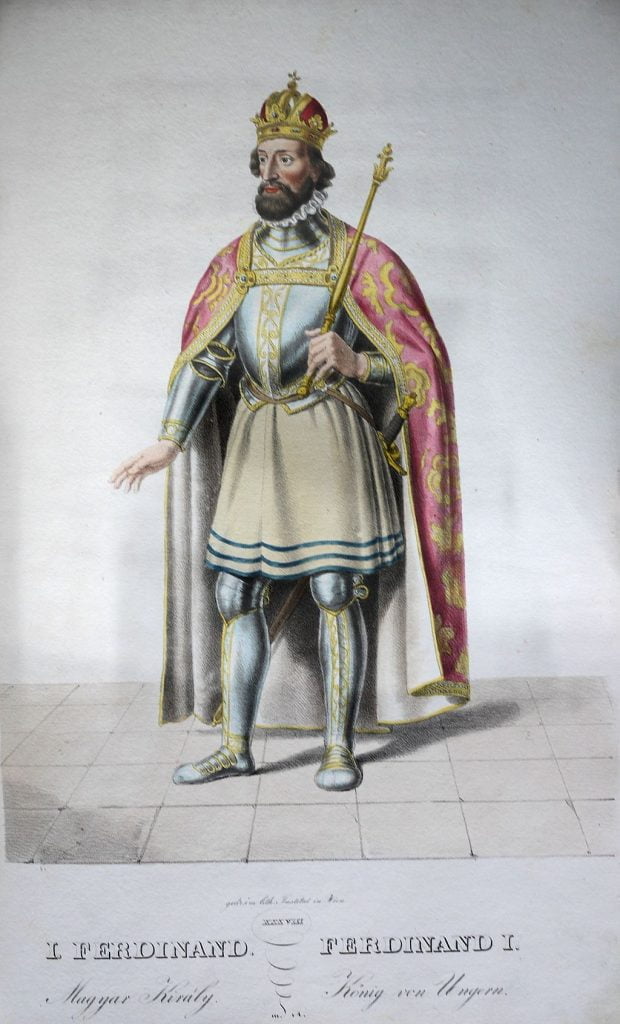 Under the Palfies
The seventeenth century saw the Palfies taking control of Bojnice Castle on a pledge of 200,000 gold coins from Ferdinand III. They were the ones who recreated Bojnice in a completely new Baroque image, but all refurbishments petered out by the end of the 17th century.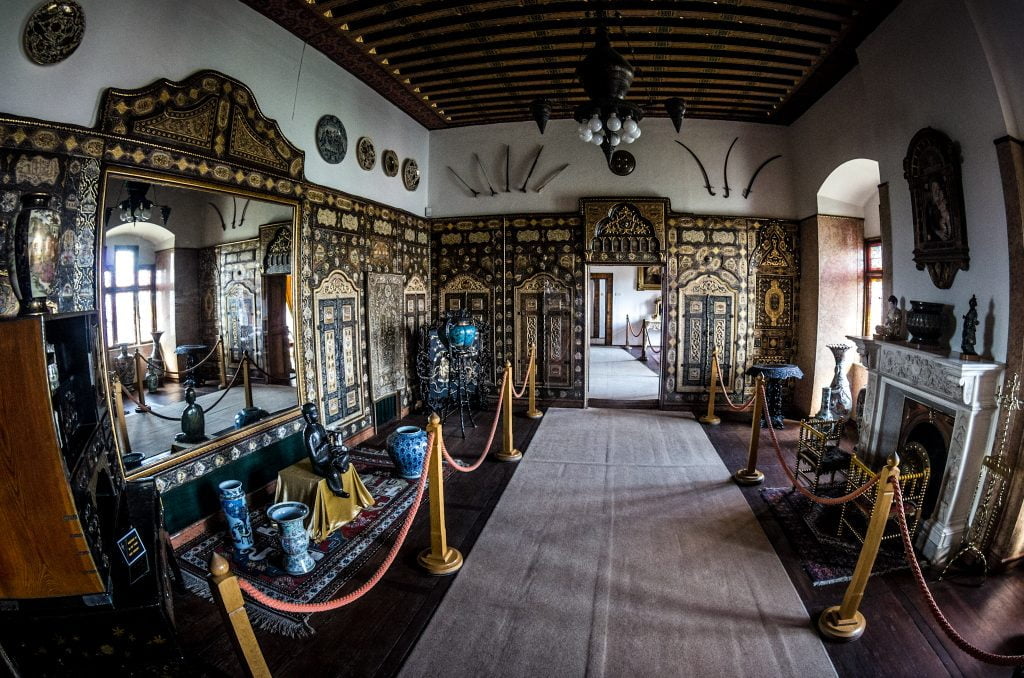 Count Frantisek Palfi was the last of the Palfies to own Bojnice. He inherited the castle in 1852, along with the estate, and rebuilt the entire thing into a completely romantic image. He hired Jozef Hubert to articulate his vision and was in complete control of the whole process. It took 22 years for the whole project to be completed, but unfortunately, Palfi was unable to see the end product. He passed away in Vienna before the venture was finished. The last Count Palfi has been buried in a chapel that resides beneath the castle.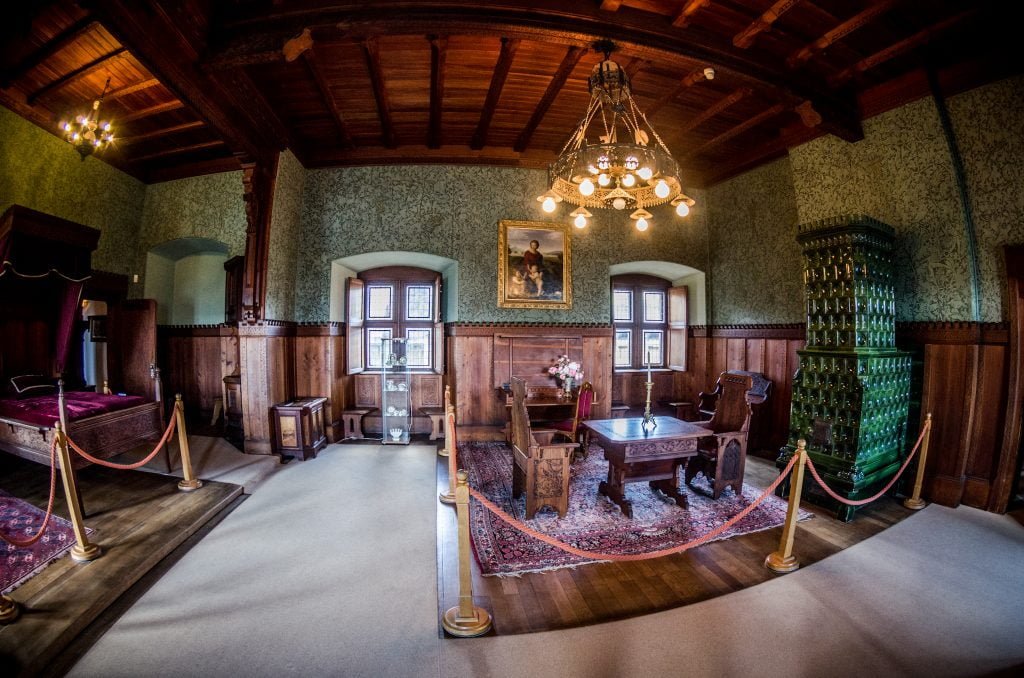 Revisit More Historic Places Below or Read Further
Current Times
Palfi died in 1908 and he did not have any heirs. His death resulted in many heritage-related conflicts amongst his relatives until 1923 when an agreement was struck between them and the sovereign state of Slovakia. The collections at the castle were put up for auction, and it was bought by the Bata company in 1939. Bojnice has been the property of the state since World War II and has been made a part of the Slovak National Museum.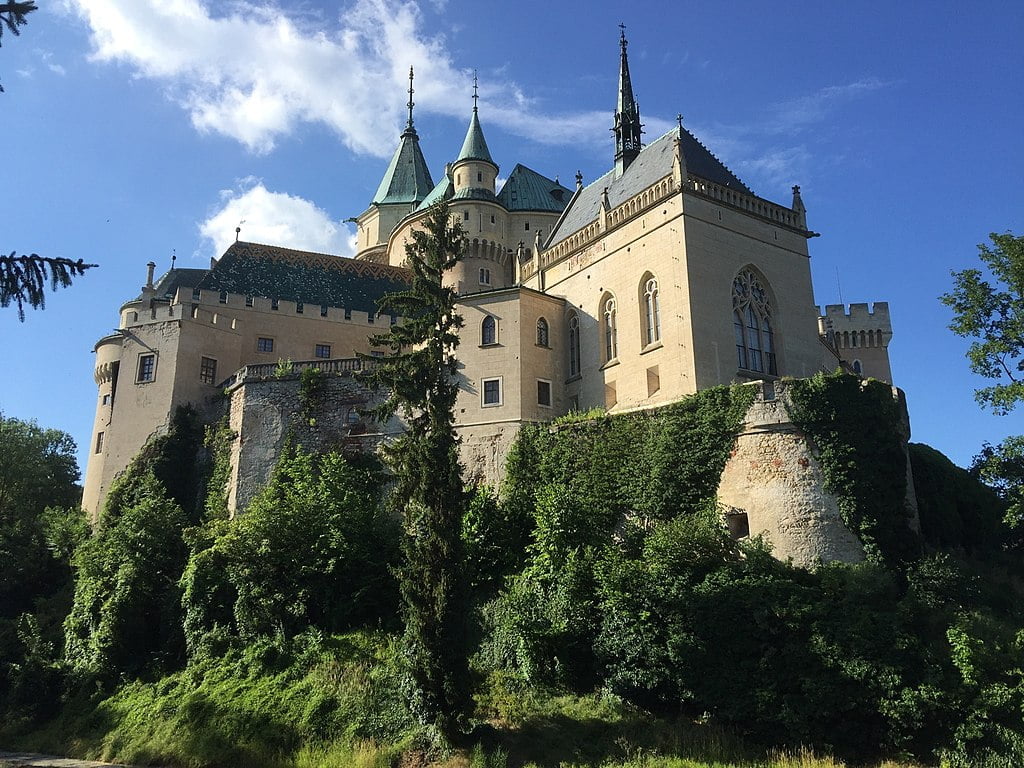 Interesting Bojnice Castle Facts
The Papal Palace, along with French Gothic castles in the Loire valley and Italian Renaissance buildings were used as the inspiration for the 1852 romantic remodel of Bojnice Castle.
The interior of the castle features furniture from the late 19th century, while the chapel even has a 14th-century Florentine altar.
The courtyard of Bojnice Castle has an underground cave. This is also the water source of the castle.
There is a 600-year old tree that's a part of the Bojnice Castle complex. Its 12.5 m (13 yard) trunk is located directly in front of the castle entrance.
Visiting Bojnice Castle – Tips and Tricks
Bojnice Castle is a sight to behold, with its gorgeous romantic details and whimsical architecture. You'll also love picnicking in its beautifully landscaped park. If you visit Slovakia, then here's all the information you need to plan a visit: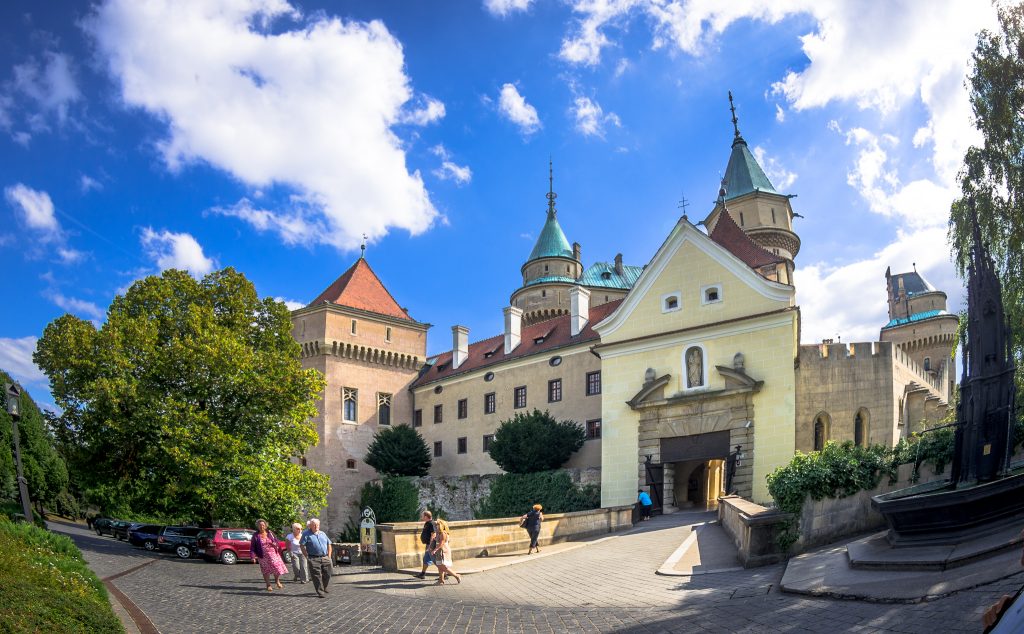 How to get to Bojnice Castle?
You can get from Bratislava to Bojnice Castle in 3 ways. First is via a 3-hour train ride €7-€11 ($8-$12 USD) to Prievidza, from where you can take a 5-minute taxi ride, €3-€5 ($4-$6 USD), to the castle. If you're in for a longer ride, then take the hourly Autobusová stanica Nivy bus from Bratislava to Nitra at €3-€7 ($4-$8 USD), from where you'll take another 2-hour bus ride to Prievidza €5 ($6 USD). From there, it's a 5-minute taxi ride to Bojnice Castle. You can also make the 2-hour journey in your car at a cost of €20-€32 ($22-$35 USD).
Bojnice Castle enjoys an easily approachable location from the center of town. You can easily walk to it from the streets called Hurbanovo námestie and Zámok a okolie.
Ticket Prices, Visiting Hours & Travel Tips
Opening hours for Bojnice Castle vary through the year. From May to September, it opens at 9:00 am and closes at 5:00 pm. From October to April, it opens from 10:00 am to 3:00 pm.
The entrance ticket for an adult is €5.7 ($7 USD), while it's €2.9 ($4 USD) for kids aged 6-15 years old. Any child below 6 years old can enter at a price of €0.70 ($1 USD). A night group tour can be availed at a price of €6.7 ($8 USD) per person, but only if there are more than 15 people on the roster.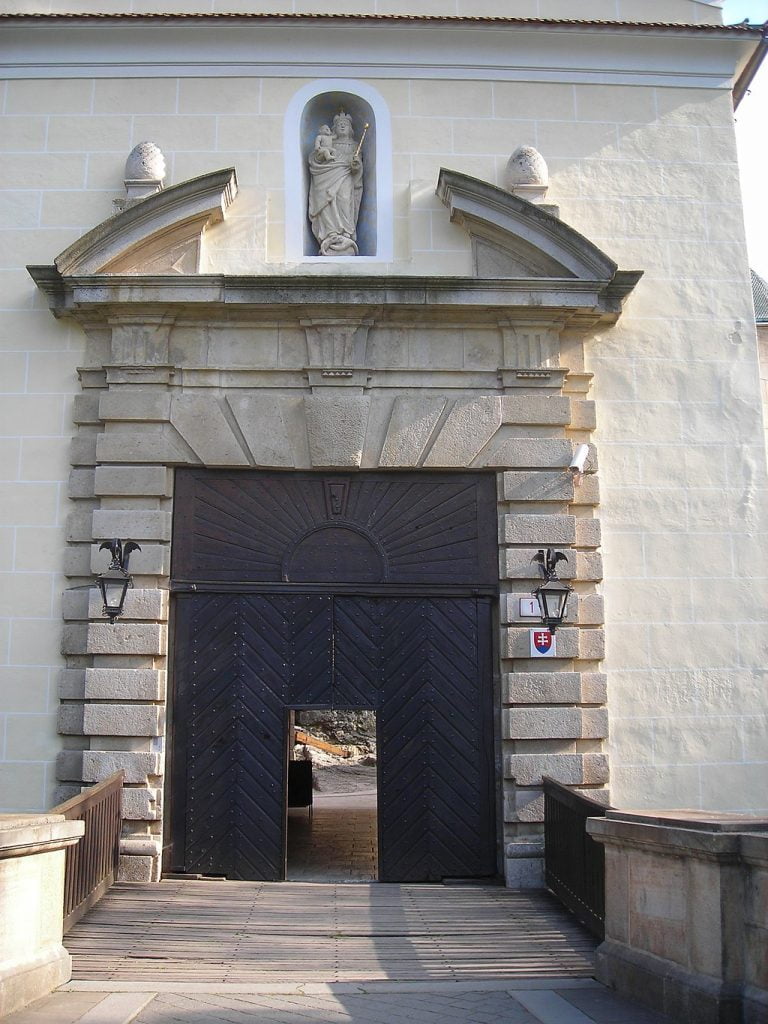 How Long Will It Take to Tour Around?
It takes around 3 hours to completely tour Bojnice Castle.
Some words of advice and tips:
Don't forget to take some pictures with the swans that reside in the castle moat.
If you're a night owl, then you'll really love the nighttime tours that the castle has to offer.
Wear comfortable shoes, because you won't be able to resist taking a tour of the beautifully landscaped park that surrounds the castle!
Quick Video Tour of The Main Bojnice Castle Areas