Nestled in northwestern Slovakia, Cachtice Castle's picture-perfect facade hides a history of blood, gore, and terror. If you're into murder, mystery, and intrigue, then this one should be on your must-visit destination list. Sensationalized because it housed the "Bloody Lady" (Countess Elizabeth Báthory), this castle is one of the most beloved haunted locations in Slovakia. Here's everything that you need to know about it:
Cachtice has been featured on the ABC Show, The Scariest Places on Earth. It also made an appearance on Ghost Hunters International.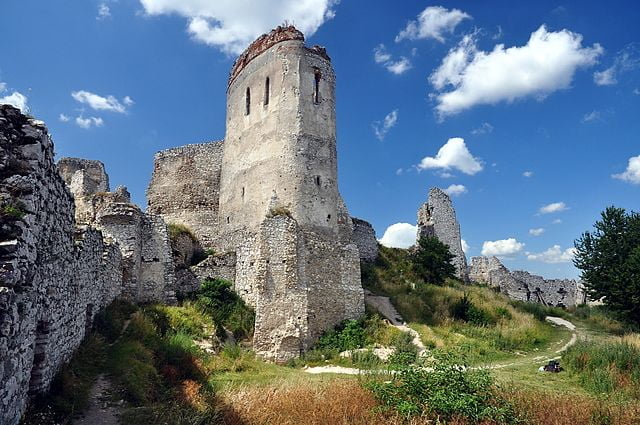 Frequently Asked Questions
Where is Cachtice Castle Located?
The ruins of Cachtice Castle are located high up a hill over Cachtice village in Slovakia.
When was Cachtice Castle Built? Who Build It?
The construction of Cachtice Castle began in the 13th century, ordered by King Bela IV.
When is The Best Time to Visit the Castle?
Fall and spring are the best times to visit this castle in Slovakia, as the weather is mild and the hike won't be as exerting.
What Other Monuments are Located Nearby?
If you're interested in the local history, then you can always visit the Čachtice Museum for some edutainment.
FOR HISTORY | BEAUTIFUL IMAGES | INTERESTING FACTS | TRAVEL TIPS
Early History
Origins
Connected to the Tatar invasion of the Hungarian lands, Cachtice Castle dates back to the thirteenth century. It was constructed on the behest of King Bela IV and is said to have been built by Kazimir of the Hunt-Poznan clan. From then on, it passed ownership in various forms (as a gift, as a purchase, a conquest, etc).
Succession stories
The end of the 13th century saw Chachtice Castle being taken over by Matthew Czak of the mighty Czak family that served several Hungarian kings. After that, it was passed on as a gift from the king to a nobleman known as Ctibor. His son inherited it and maintained ownership till 1434, adding to its architecture in the form of a large courtyard and a Gothic chapel. It was also improved with a tunnel entrance, walkways, and battlements for added defense.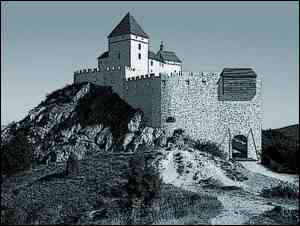 Under Michael Országh de Guth (1436)
The fifteenth century saw Cachtice Castle being given to the Hungarian Palatine (feudal lord), Michael Országh de Guth. His family owned the castle for approximately 130 years and made many additions, including the construction of a second border rampart and an advancement in the fortifications of the parapet. The last descendent of the Országh family was one Christopher, who died without any heirs. Upon his death, the castle was passed on to King Maximilian II.
The Era of the Bloody Countess
This is perhaps the most interesting era of Cachtice Castle's history. Maximilian II appointed the widow of the Hungarian statesman Thomas Nadasdy as the steward of the castle. Her son purchased Cachtice from the Crown in 1606, and it was eventually passed on to his widow, Countess Elizabeth Bathory, upon his death.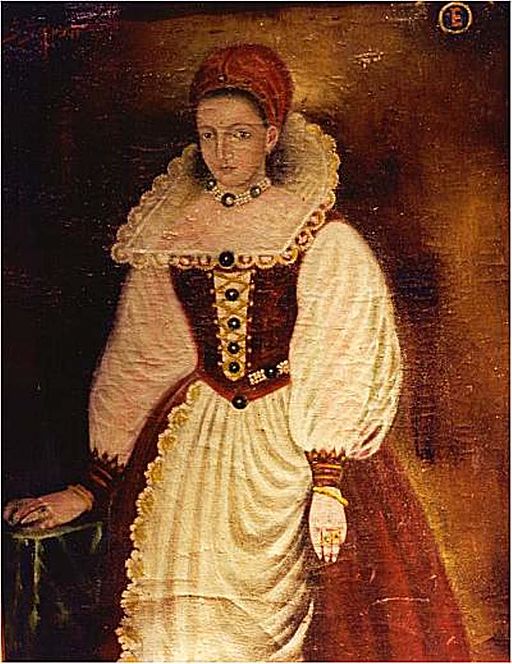 Lady Báthory has been listed in the Guinness Book of World Records as, "the most prolific female murderer ever." She was forty-three when widowed, after which many stories abound about the horrors of her treatment of young girls. Some even say that she bathed in the blood of virgins to maintain her youth and beauty. Eventually, the case was brought to court and many testified against her. Some of the tales of her cruelty even included how she fed the corpses of her victims as if they were still alive.
She was, however, not put to trial because of her family's high social standing. Instead, she was imprisoned in a room at Cachtice Castle and died there at the age of fifty-four.
Eventual Decline
After Lady Báthory's death, Cachtice Castle was repaired and updated by her son Francis Nadasdy II. He was, however, discovered to be a part of the Wesselényi Conspiracy (an unsuccessful plot to overthrow the Habsburg dynasty), and the castle was seized from him, returning to royal ownership. It was damaged quite badly by the troops during confiscation.
After that, it was rented out before being eventually purchased by the Forgách and Bercsényi Houses. By 1708, it was conquered by the anti-Habsburg rebels called the Kurucz and burned down. It changed hands a couple of times after that, before being purchased by the Springer family in 1887.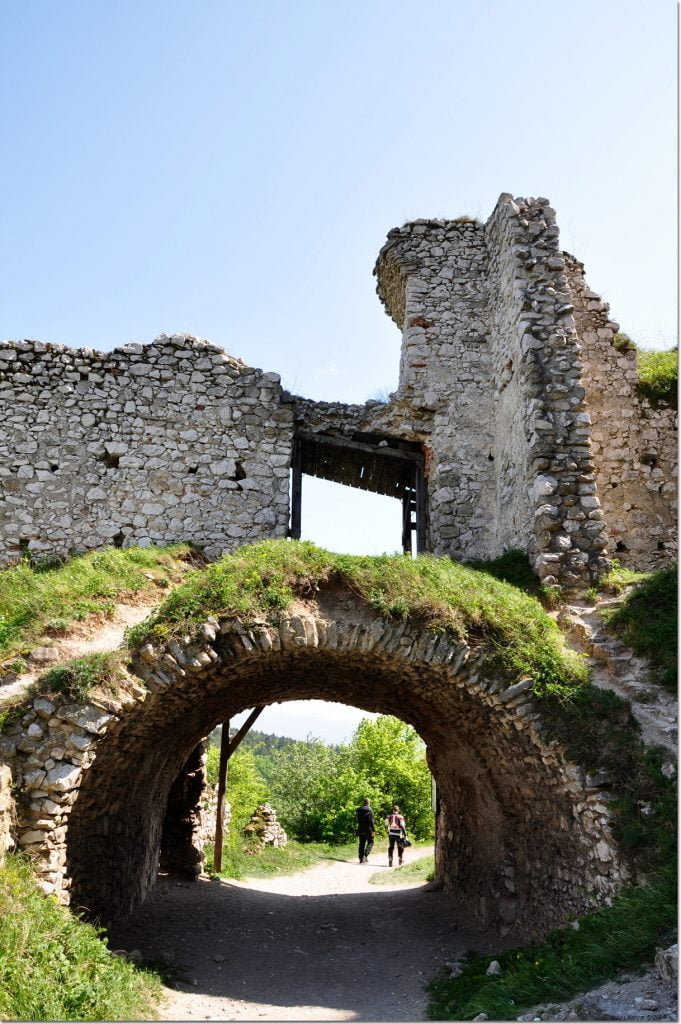 Revisit More Historic Places Below or Read Further
Current Times
Today, the ruins of Cachtice Castle are owned by the village of Cachtice. It's an important historical hub for the country, as it has been home to several notable Hungarian aristocrats. Between 2012 & 2014, several archaeological excavations were carried out on the castle grounds. Many of them proved inhabitation of the location even during prehistoric times. The castle reopened in July 2014 and has attracted many tourists ever since.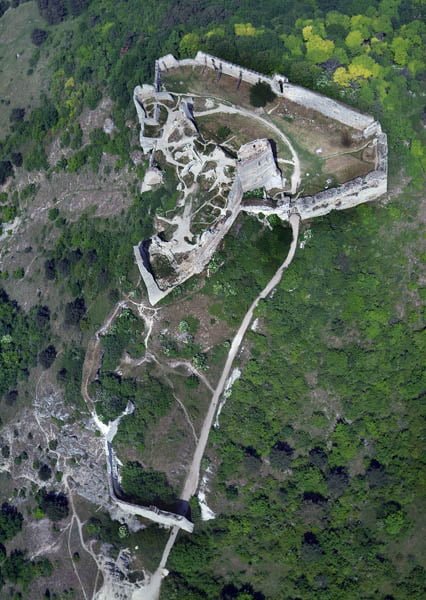 Interesting Cachtice Castle Facts
The hill on which Cachtice Castle resides has been declared a national treasure as it features a natural reserve of rare plants.
Cachtice has been featured on the ABC Show, The Scariest Places on Earth. It also made an appearance on Ghost Hunters International.
Lady Báthory's dead body was originally buried in a local church but was returned to her Hungarian hometown due to severe local protesting.
The murders of Lady Báthory first came to light when she invited young women of noble blood to Gynaecaeum, her school for lady's etiquettes. As these ladies were eventually murdered, their powerful families were enraged and finally exposed the Bloody Countess to the world.
Visiting Cachtice Castle – Tips and Tricks
Cachtice Castle is a fascinating destination and should be on your itinerary if you're in Slovakia. Here's everything you need to know before planning a visit: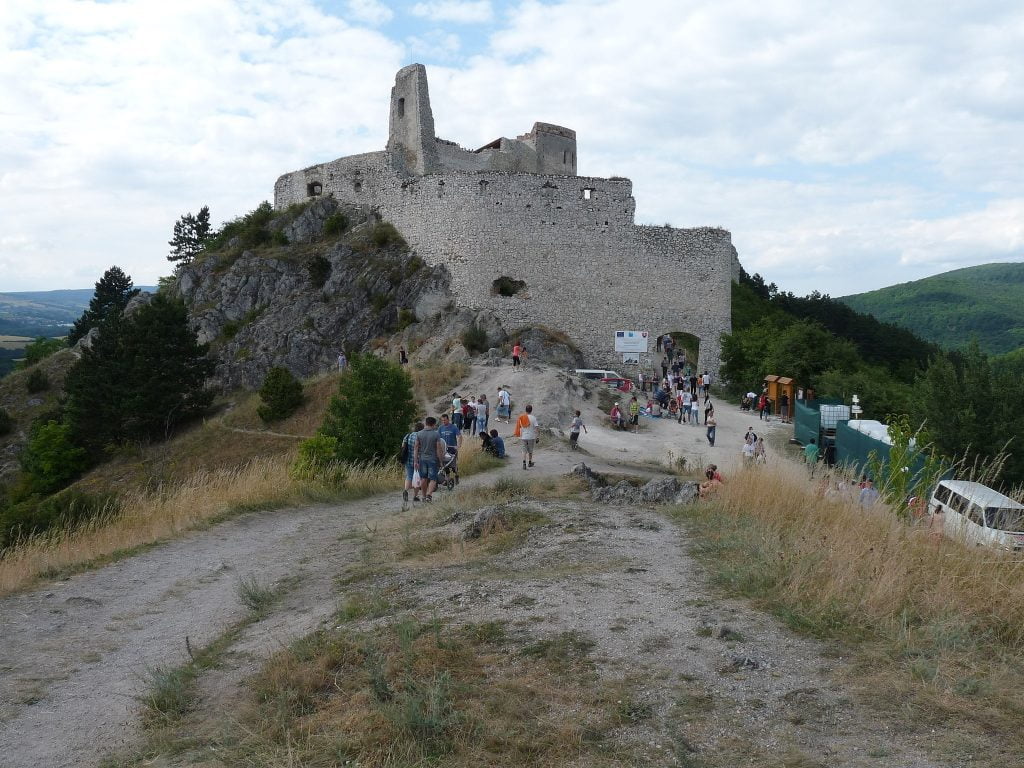 How to get to Cachtice Castle?
There are three ways you can get to Cachtice Castle from Bratislava, the capital of Slovakia. The first is via a two-hour journey on the 601 train at the cost of €14-€10 ($6-$12 USD). If you've got the money to spare, book a taxi for the one-hour journey from Bratislava to Cachtice village for €116-€143 ($130-$160 USD). You can also take your own car and cover the 99km (61.5 miles) journey for €10-€17 ($12-$19 USD). From the village, you can follow the yellow-marked pathway to get to the ruins of Cachtice Castle.
Ticket Prices, Visiting Hours & Travel Tips
Cachtice Castle is closed on Mondays but can be visited any other day. The fee ranges between €1.5 to €2.5 ($2-$3 USD) per person. Guided group tours can be reserved for 15 people between 8:30 am to 3:30 pm, provided that you do a pre-booking.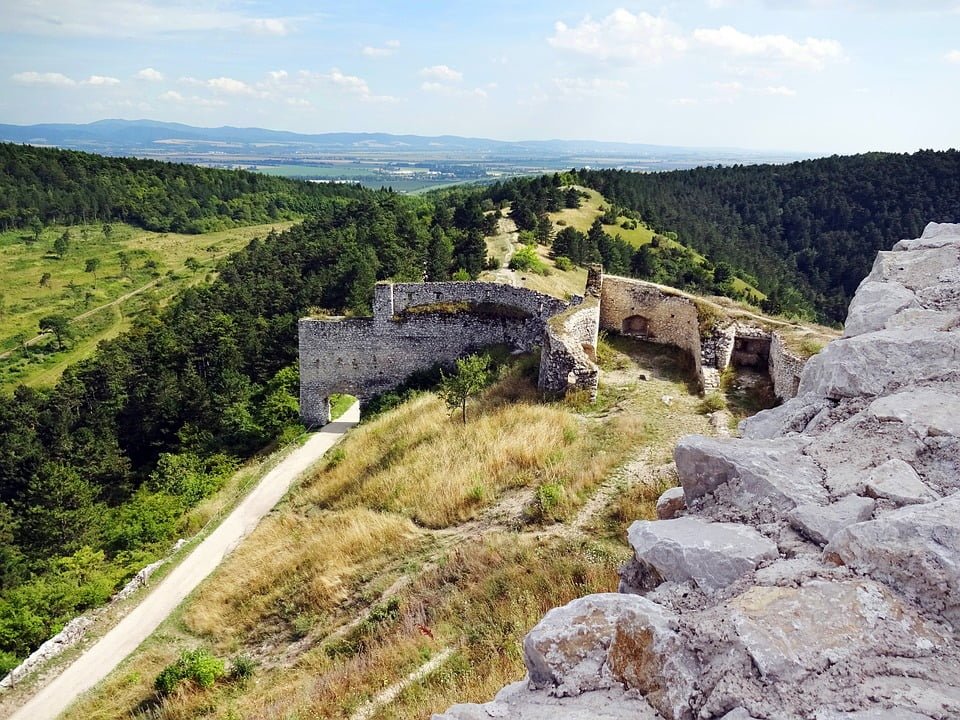 How Long Will It Take to Tour Around?
It takes 45 minutes to hike up to the castle ruins at most. One to one-and-a-half hours is enough to visit the ruins properly.
Some words of advice and tips:
A parking lot is available at the castle for those who drove there. However, it only has 60 spots, so consider parking in the village instead.
Wear good shoes, as you'll be hiking and walking quite a bit.
Pack some snacks to enjoy along with your exploration!
Quick Video Tour of The Main Cachtice Castle Areas