With its stately visuals and fortress-style architecture, Castillo Ampudia is one of the most well-preserved castles in the Palencia province of Spain. It has been declared a Spanish National Monument and is known for its unique trapezoidal plan along with its sturdy, square towers. Let's take a look at how it has fared through history and what it has to offer today:
The Castillo Ampudia has extensive grounds that are used to host wedding ceremonies of up to 150 people. The Patio de Armas and the Troop Room are also rented out for parties.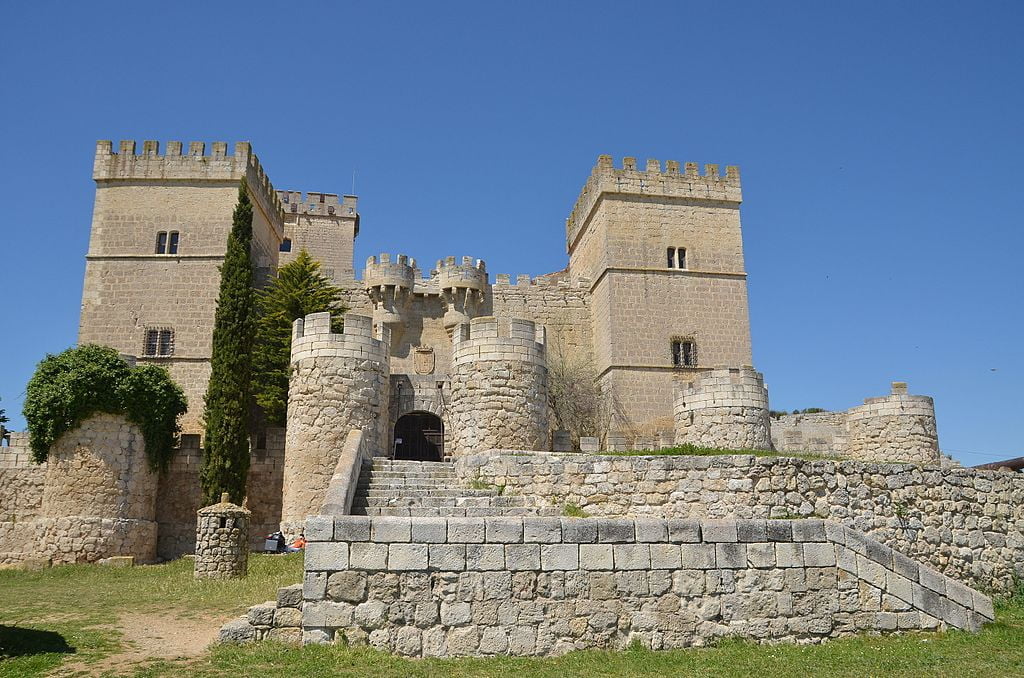 Frequently Asked Questions
Where is Castillo Ampudia Located?
Castillo Ampudia is located in the quaint little town of Ampudia in the province of Palencia.
When was Castillo Ampudia Castle Built? Who Build It?
The majority of what we see as Castillo Ampudia today was built by Pedro Garcia de Herrera and his son Garcia Lopez de Ayala in the 15th century.
When is The Best Time to Visit the Castle?
The summer months are the most popular time to plan a visit to Castillo Ampudia, as the weather is pleasant yet there still aren't many people around.
What Other Monuments are Located Nearby?
Ampudia is a small town so you can visit the entirety of it when you're there. Aside from a lovely little church, you can visit the wind farm, check out the disco outdoor pool and experience the local gastronomy of the area.
FOR HISTORY | BEAUTIFUL IMAGES | INTERESTING FACTS | TRAVEL TIPS
Early History
The 13th Century Incursion
The beginning of Castillo Ampudia's construction dates back to the 11th century when it was built upon the ruins of a fortress. Circa 1188, it was included in Alfonso VIII's daughter's dowry, along with the entire town. During the 13th century, this castle was the property of not one, but two queens: Dona Beatriz and Dona Violante.
When Infante Don Juan rebelled against Fernando IV in 1296, Castillo Ampudia was taken by him. The castle was eventually returned to the crown and stayed in the custody of Maria de Portugal, Alfonso XI's wife.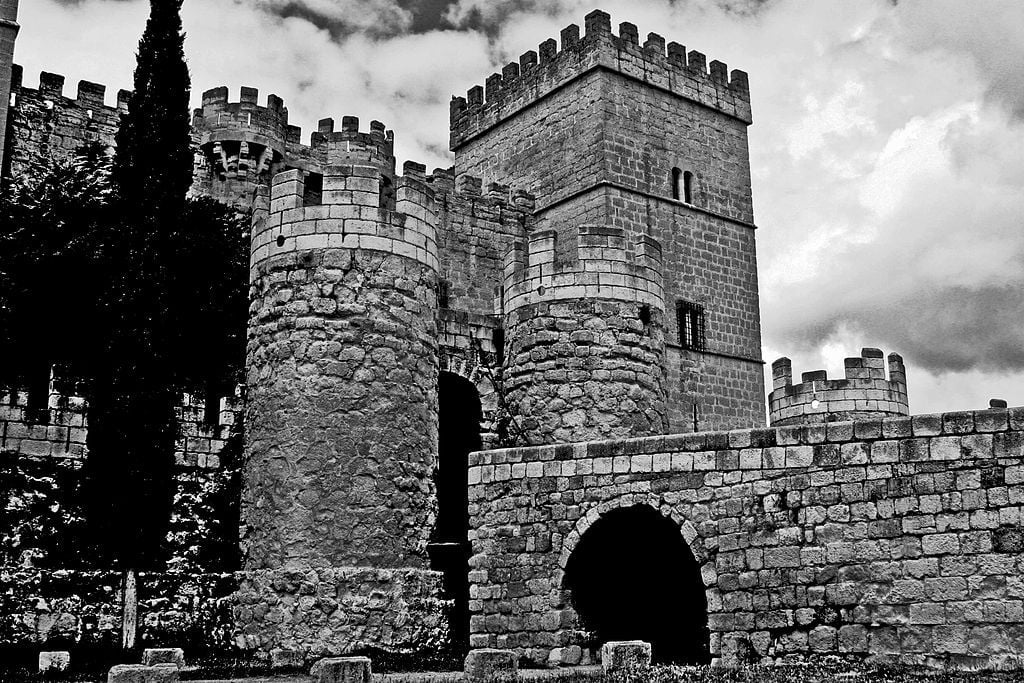 From Pedro I to the de Herrera's (1354-1419)
The town where Castillo Ampudia resides was conquered by Pedro I in 1354. He died in a civil war with Enrique II. Pedro's possessions passed to Enrique's brother Don Sancho. He later gave the town to his nephew, Pedro Garcia de Herrera. He, along with his son Garcia Lopez de Ayala, did major construction on Castillo Ampudia. They put on the Shields of Herrera, Ayala, and Rojas inside the friezes of the main room and built the castle proper.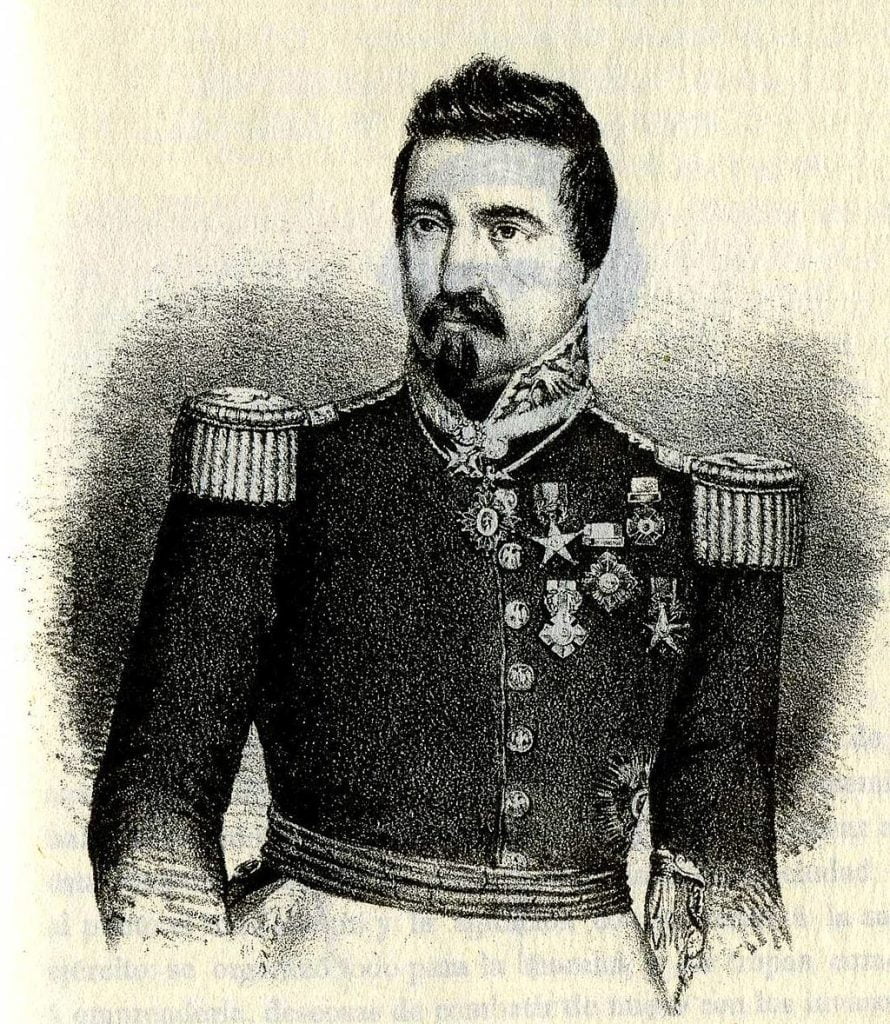 The Battle of Ampudia (1521-1522)
Don Pedro Ayala y Rojas was the next notable owner of Castillo Ampudia. His ownership began rocky after a confrontational take-over from the previous owner, his mother Dona Maria Sarmiento. Don Pedro took up the communal cause in 1521 and incurred the Battle of Ampudia (a civil uprising by the Castillo polity against Charles I). However, they lost and Charles seized the castle, only to return it to the family after.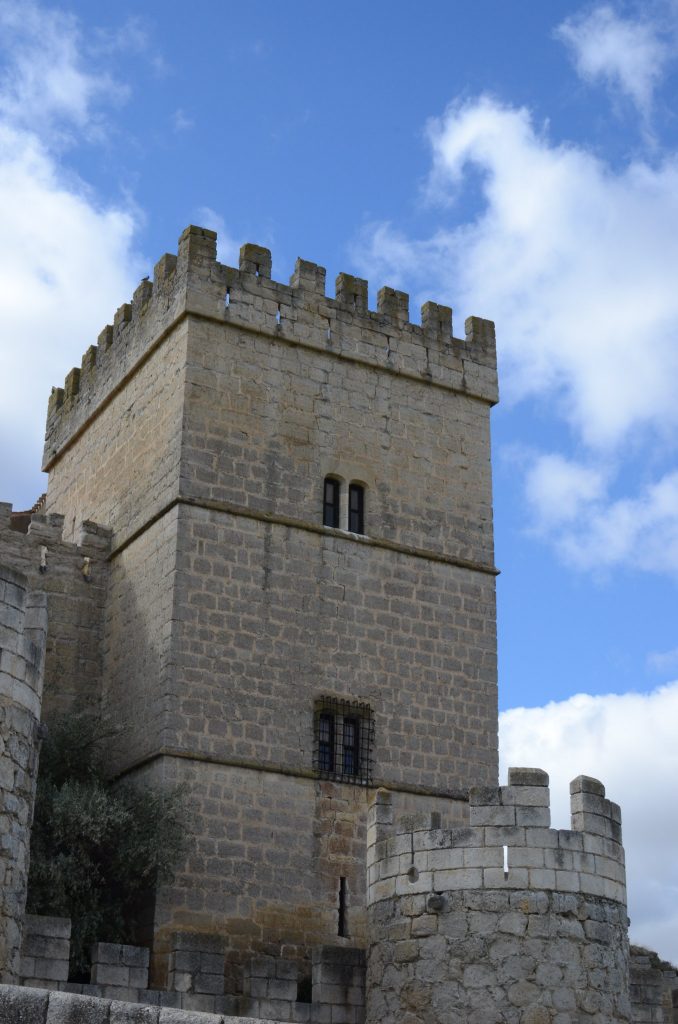 The End of the Glory Days
The 17th century saw Castillo Ampudia being owned by the first Duke of Lerma. He was quite a favorite of Felipe III. During his time, the castle was occasionally used to house the Spanish Court. But afterward, it was neglected for a long period of time.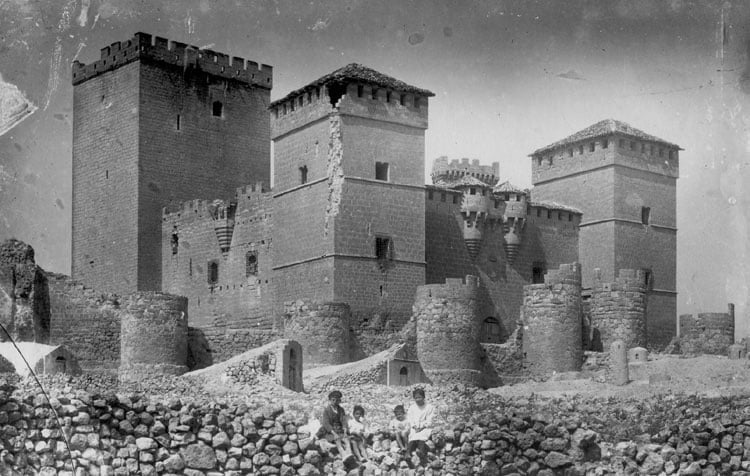 Revisit More Historic Places Below or Read Further
Current Times
The last known owner of Castillo Ampudia was the Countess de la Granja, before it was bought and restored by the businessman Eugenio Fontaneda Perez in 1960. Since then, the castle has been turned into a veritable museum of various art objects and antiques that were collected by Perez and his wife over the years. It is run by a foundation that the family created and has become an attractive tourist destination.
Interesting Castillo Ampudia Facts
The Castillo Ampudia has extensive grounds that are used to host wedding ceremonies of up to 150 people. The Patio de Armas and the Troop Room are also rented out for parties.
The Eugenio Foundation Collection spans six rooms of Castillo Ampudia, featuring objects from the Bronze Age, the Sacred Arts, Toys, and more collections.
Visiting Castillo Ampudia – Tips and Tricks
Castillo Ampudia is located in a charming little town, so if you want a quiet vacation where you get to explore a new place all day long, then it's the perfect place to go. Here's everything you need to know about getting there: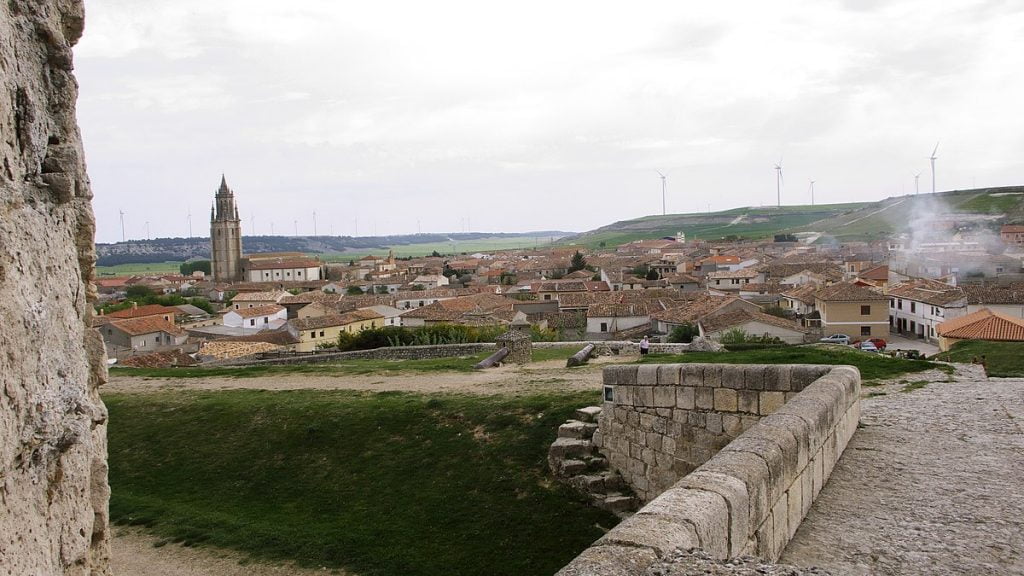 How to get to Castillo Ampudia?
You can get to Castillo Ampudia from Madrid by taking the bus from Madrid Est Sur to Valladolid. From there, you can take another bus to Ampudia. The whole journey takes almost four hours and costs €21-€23 ($24-$27 USD). You can also directly drive from Madrid yourself in two-and-a-half hours for €24-€38 ($28-$45 USD).
Ticket Prices, Visiting Hours & Travel Tips
You should always check out the opening hours of Castillo Ampudia before planning to go there. From November to May, you can visit between 12:00 pm to 1:30 pm and 5:00 pm to 6:30 pm. Timings for Sunday, Tuesday, Wednesday, and Thursday are 12:00 pm to 1:30 pm. It's completely closed on Monday.
From June to October, timings from Tuesday to Sunday are 12:00 pm to 1:30 pm and 5:00 pm to 6:30 pm. You can visit on Sundays as well, between the timeslot of 12:00 pm to 1:30 pm. Note that you don't require a prior appointment to enter.
The entrance fee is €5 ($6 USD) for adults and €2.5 ($3 USD) for kids. Group tours are €4.5 ($6 USD) per person and you can also avail yourself of the Visit Route Secret Tour for €20 ($24 USD) per person. There are two guided tours a day, but they're in Spanish. However, they're quite detailed and share a lot about each of the artifacts on display at the museum.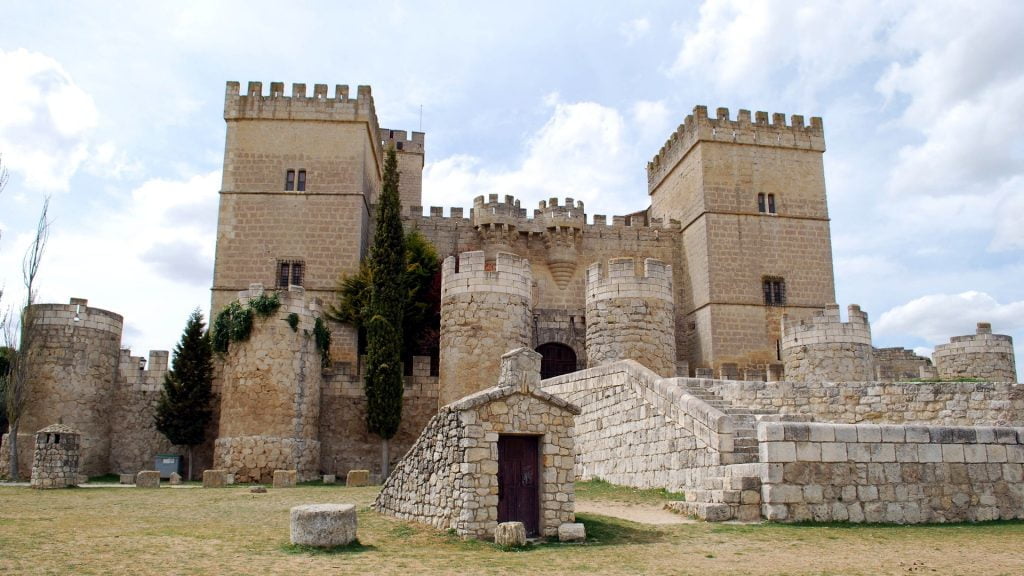 How Long Will It Take to Tour Around?
It takes around an hour to visit the castle on your own. Guided tours can take up to an hour and thirty minutes.
Some words of advice and tips:
The maximum number of people that can enter the castle at a time has altered due to COVID restrictions, so check beforehand if you're planning a group tour.
Don't use the flash of your camera in the museum as it can damage the artifacts.
Visit the rest of the town as well, as it's quite picturesque.
Quick Video Tour of The Main Castillo Ampudia Areas