The Hohenwerfen Castle is a 900-year-old Austrian masterpiece that still thrives to this day. With its classic medieval architecture and an abundance of riveting events that take place throughout the year, it has become quite a destination for tourists. From its dark past to its sparkling present, here's everything that you need to know about it:
The Tavern at Hohenwerfen is very unique and perfect for visiting if you want to get a true medieval-themed experience.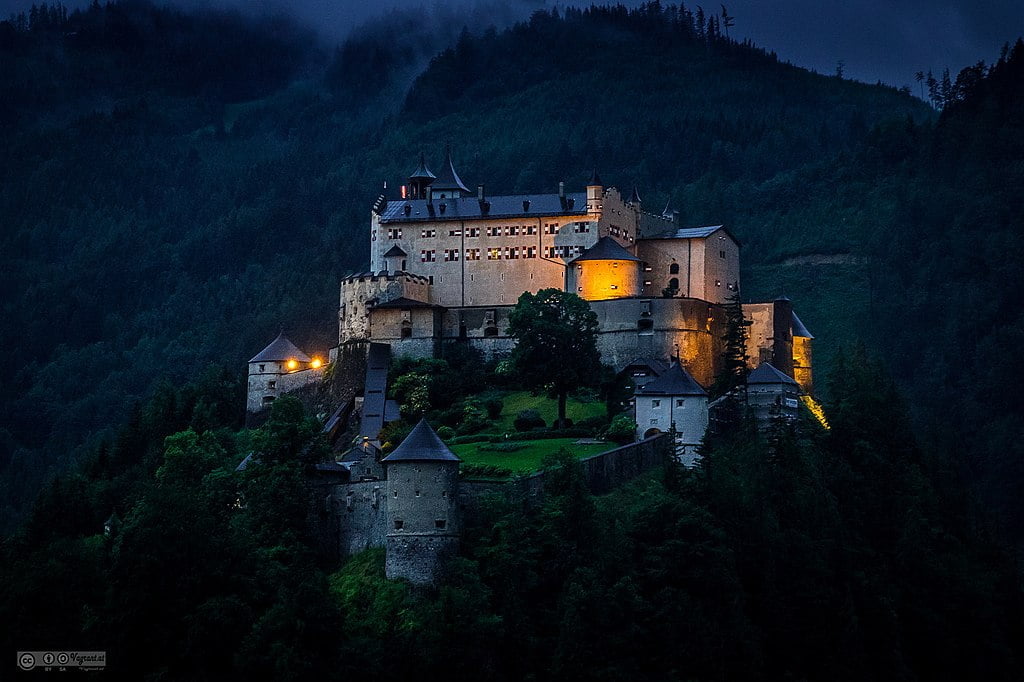 Frequently Asked Questions
Where is Hohenwerfen Castle Located?
Snugly perched on a 623 meters (681 yards) tall rock, this medieval castle looks over Werfen – a market town in Austria that is located in the Salzach valley.
When was Hohenwerfen Castle Built? Who Build It?
Hohenwerfen Castle was built by Gebhard von Helfenstein, Archbishop of Salzburg during the eleventh century, though additions to the original Roman architecture were made throughout its 900-year history.
When is The Best Time to Visit the Castle?
Spring is the best time to visit Hohenwerfen, as it's just newly opened in April, there are fewer tourists and much more leeway to explore.
What Other Monuments are Located Nearby?
The Werfen Ice Caves are an intriguing nearby attraction. As one of the largest ice caves in the entire world, it's a sight worth visiting – especially if you're taken by the whimsy of beautiful ice crystals twinkling in refracted light. Temperatures inside the cave are below zero degrees even at the peak of summer, so don't forget to pack in some warm clothes if you're planning a visit.
FOR HISTORY | BEAUTIFUL IMAGES | INTERESTING FACTS | TRAVEL TIPS
Early History
11th Century Origins (1175-1178)
Hohenwerfen Castle was constructed during the Investiture Controversy (a conflict between the medieval church and the state) on the behest of the Prince and Archbishop of Salzburg, Gebhard von Helfenstein. The steep location was strategically chosen because it provided an excellent point of control and was perfect for building a great defense.
Gebhard wanted Hohenwerfen to be the sister castle of Hohensalzburg Fortress and Burgruine Fortress, both of which were part of his archbishopric. It was quite exposed to Henry IV's invasions though, and despite Gebhards best defense strategies and resistance, it eventually fell. Gebhard was then exiled and only returned in 1086 to die at Hohenwerfen Castle.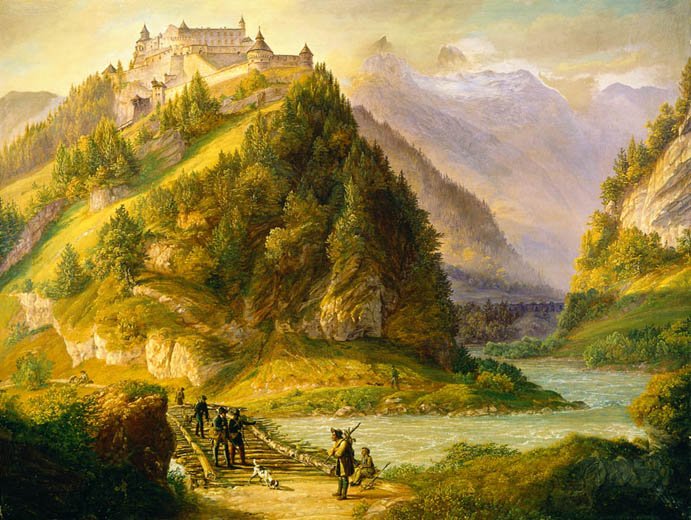 Castle Extension
Hohenwerfen kept being used as a defensive fortress and played its part well by making Salzburg a military city base. On the other hand, it was also used in the capacity of a hunting lodge by the prince archbishops. This led to a natural extension of the original architecture in the twelfth century.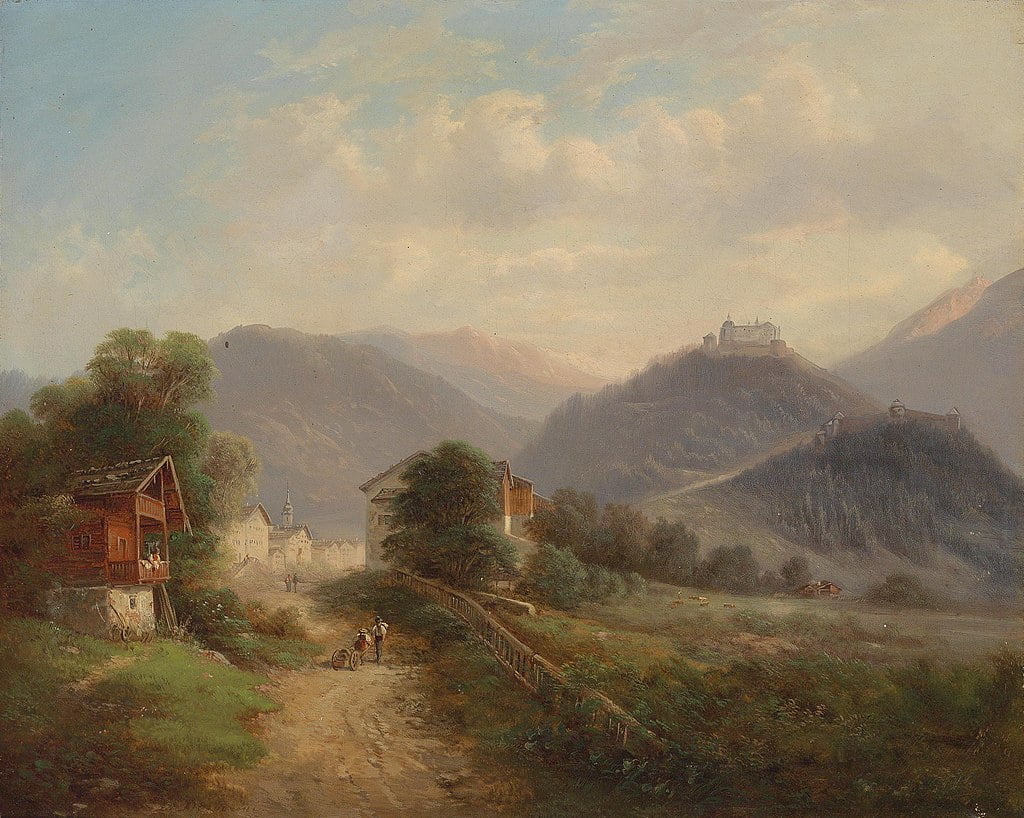 The Peasant Wars
Hohenwerfen Castle next saw action in the 16th century during the Peasant Wars. This movement was basically a rebellion led by farmers and miners who wanted to stop the Bavarian's radical implementation of the Catholic faith. While migrating to Upper Austria, these peasants faced resistance by the Archbishop, who exploited the castle to fight the peasants. Hohenwerfen doubled as a state prison that was known for its inhumane conditions.
The castle was attacked and burned during the riots, and even a siege was attempted, though it was ultimately unsuccessful. The peasants eventually surrendered; Archbishop Matthaus punished them by making them participate in the reconstruction of Hohenwerfen.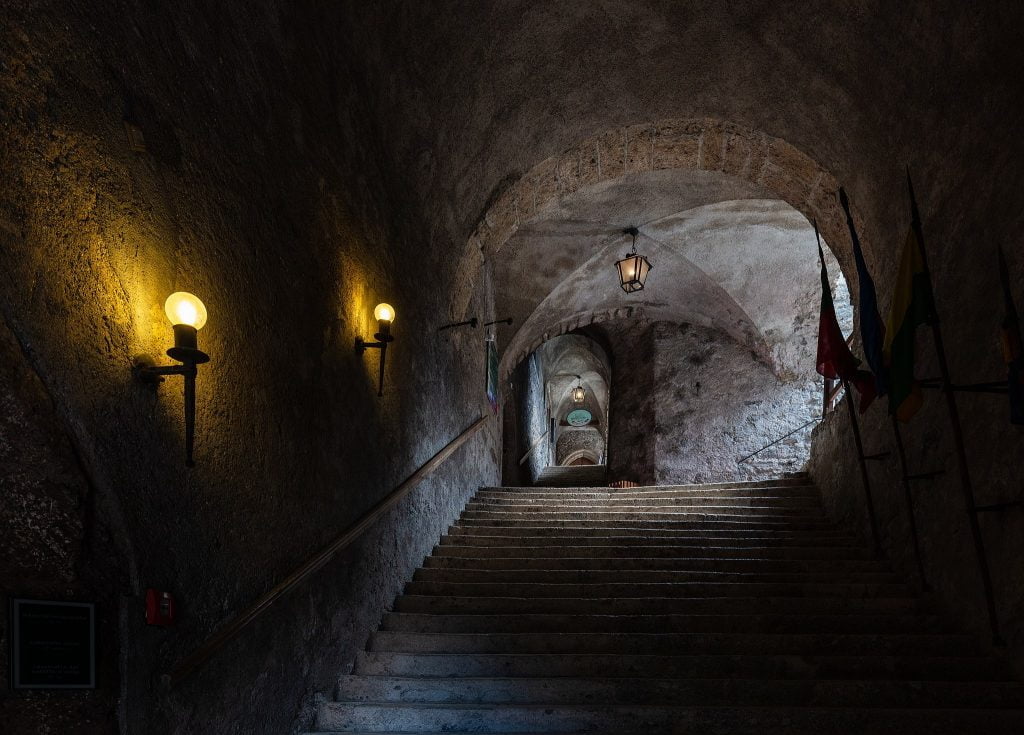 16th Century Onwards
The second major refurbishment of Hohenwerfen Castle was carried out in the sixteenth century (1563) by Archbishop Johann Kuen-Belasy. Archbishop Johann Jakob carried out another reconstruction in 1573. He had a large central keep added to the layout.
The Thirty Year War came with its own imminent architectural additions, the most prominent of which is the gunpowder tower that was added by Archbishop Paris Lodron, circa 1623.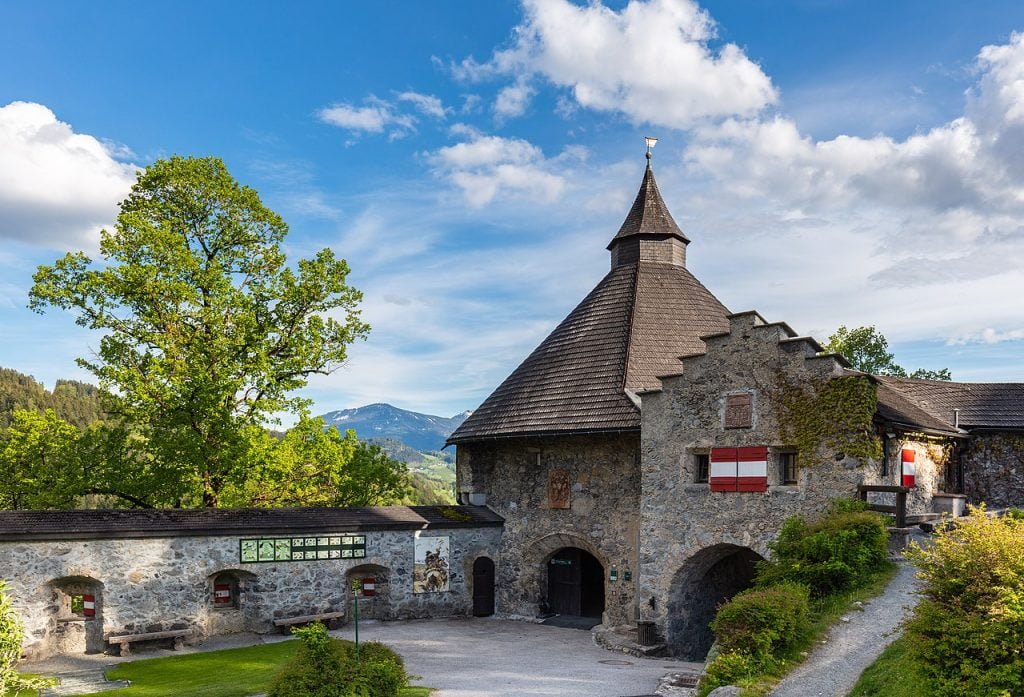 To Destroy or Not to Destroy, is the Question?
Bavaria's conquering of Salzburg came in alliance with Napoleonic France, which is when all of the canons at the castle were given to the French troops. In light of the settlement, Salzburg was secularized, and Hohenwerfen Castle was declared redundant and old-fashioned. This led to the official discussion of whether it should be destroyed as a whole or be converted into a prison.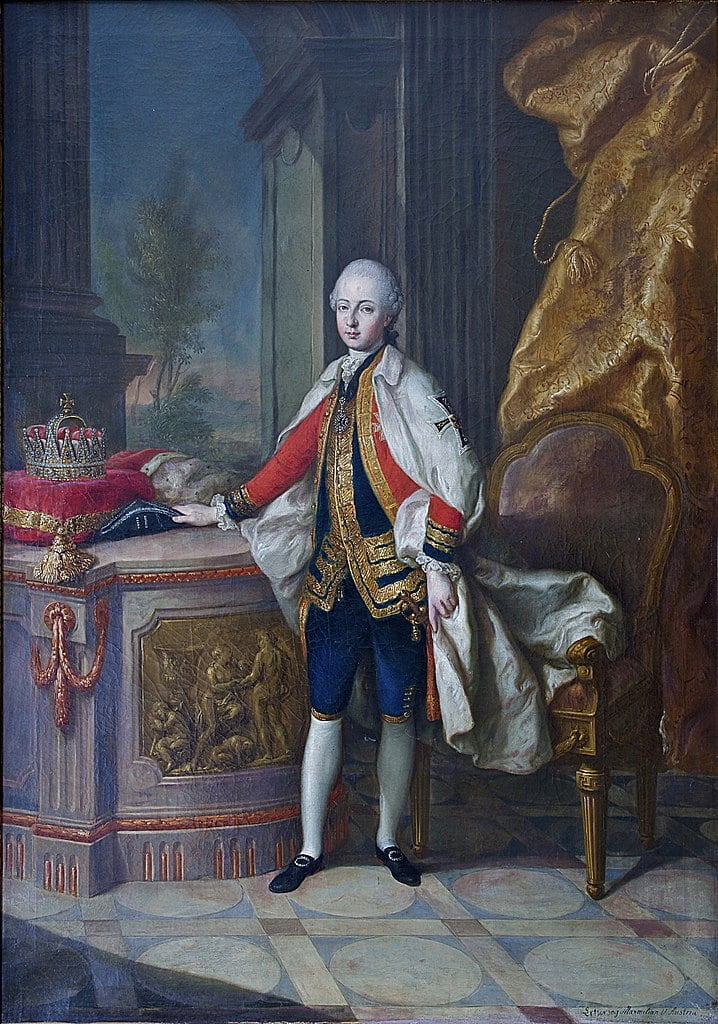 It was Franz I of Austria who averted Hohenwerfen from certain destruction. However, under Bavarian rule, it succumbed to mismanagement and decay. The very first Austrian renovation of this castle was not carried out until 1824-1833.
Revisit More Historic Places Below or Read Further
Current Times
Hohenwerfen Castle was bought by the Archduke Eugene of Habsburg-Teschen in the late 1890s and again refurbished. Unfortunately, many parts of it were destroyed in a fire that broke out in 1931. Reconstruction and refurbishment efforts were completed within a year. In 1938, the Reichsgau (i.e. administrative subdivision during the Nazi-reign) bought the castle. Named "Gau Salzburg" at the time, the castle was briefly considered to be converted into prison with maximum security. Ultimately it was decided that Colditz Castle would be used instead.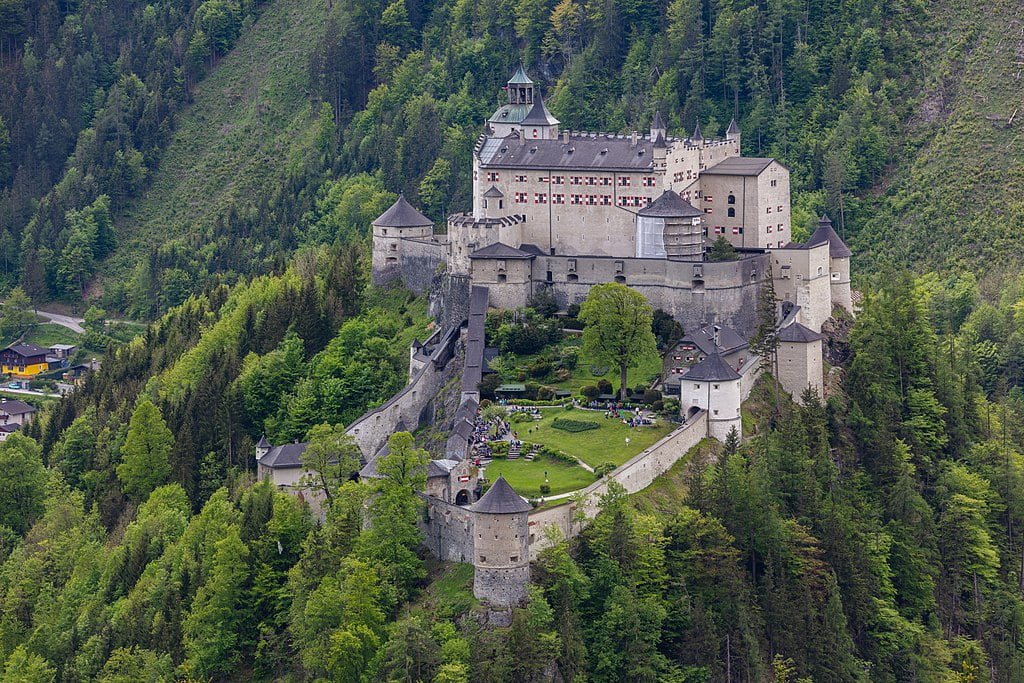 From just after the second world war, Hohenwerfen was used by the Austrian Federal Police as their training grounds till 1987. Today, it is owned by the State of Salzburg and is open to the public. It has many unique attractions that include an armory collection, a falconry school, and a fortress tavern.
Interesting Hohenwerfen Castle Facts
Hohenwerfen Castle is home to the very first Austrian Falconry Museum, the path that leads up to it has been designed on the bird-of-prey theme.
Hohenwerfen Castle has been featured in Where Eagles Dare, a 1968 film. It's also in the 2015 movie, The Man In The High Castle.
The Tavern at Hohenwerfen is very unique and perfect for visiting if you want to get a true medieval-themed experience.
The oldest standing part of Hohenwerfen Castle is said to be the chapel. It consists of Romanesque remains which stood independently until the sixteenth century, when the chapel bastions were added as the antechapel.
Hohenwerfen Castle is built on a steep site, ascending it has been made easier with the help of a modern railway lift system, a funicular, that was added in 2006.
There is a 4400 kg (9700 lbs) bell in the belfry of the castle, which is still rung to this day on special religious days.
The audio tour of Hohenwerfen Castle is available in a whopping 11 languages, especially curated to accommodate non-German tourists.
The castle hosts a treasure hunt for visiting children. They can easily do it on their own, with a surprise waiting at the end in the medieval shop.
Visiting Hohenwerfen Castle – Tips and Tricks
Austria is famous for its rich architecture. From castles to palaces and even general buildings, there's so much to explore in this country. If you're planning a visit in Austria, then do put Hohenwerfen Castle on your itinerary. Here's all the information that you need to make your visit all the more convenient: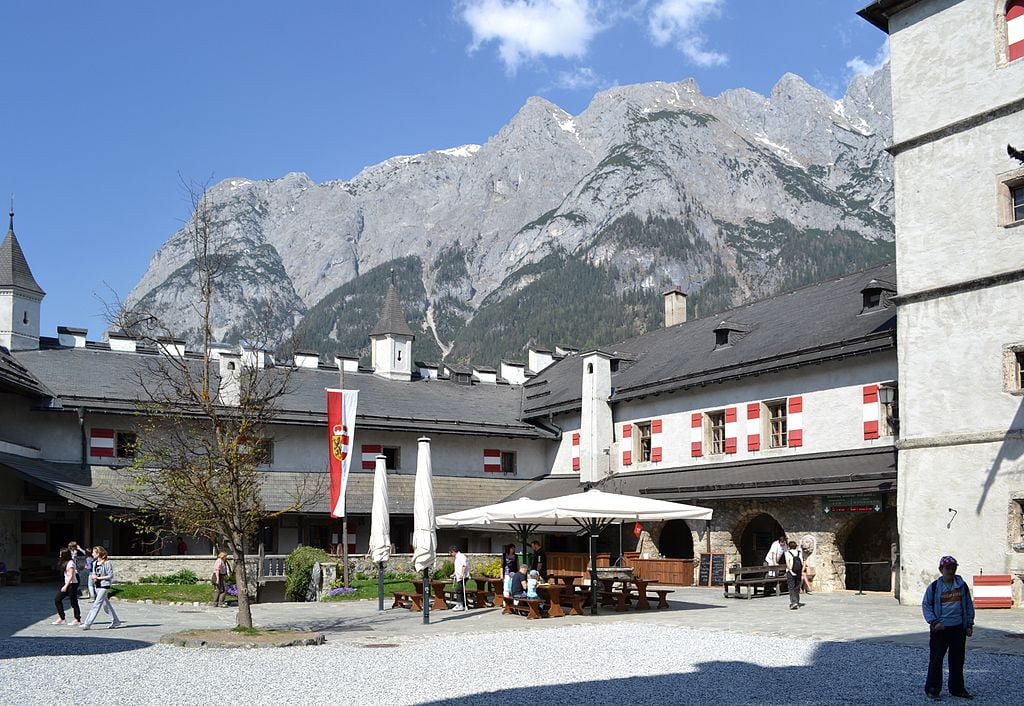 How to get to Hohenwerfen Castle?
There are three ways to get to Hohenwerfen Castle from Vienna. If you want to travel by train, then it's an entire journey. First, you'll have to take the Wien Hbf to Salzburg Hbf which can take you to your station in two and a half hours at a cost of €8-€73 ($9-$85 USD).
After that, you can take another train from Salzberg to Werfen and reach your destination in forty minutes in €8-€43 ($9-$50 USD). After that, it's a twenty-minute walk to the castle, which is approximately 1.9 km (1.2 miles) away.
Alternatively, you can also opt for a six-and-a-half-hour bus ride from Vienna to Werfen, which will cost you between €23-€30 ($27-$35 USD). If you want to travel by car, then the 343 km (213 miles) journey might be covered in three-and-a-half hours with a cost of €30-€52 ($35-$60 USD).
If you're coming in from the German side, then it's a two-hour drive from Munich at the cost of €19-€30 ($22-$35 USD).
Ticket Prices, Visiting Hours & Travel Tips
Hohenwerfen Castle is open for visits from April to November, though due to the recent worldwide pandemic, the staff requires proof of vaccination, a valid negative COVID test, or proof of recovery to gain entrance. Online registration is now required prior to visits and all entrees should wear FFP2 masks in indoor areas.
Opening times vary all year round. In April, you can visit from Tuesday to Sunday between 9:30 am to 4:00 pm. Timings for May and July are 9:00 am to 5:00 pm daily. From the 12th of July to the 13th of August, timings are 9:00 am to 6:00 pm daily.
14th of August till September, you can visit daily between 9:00 am to 5:00 pm again, and finally, from October to the 7th of November, Hohenwerfen Castle is once again open from Tuesday to Sunday between 9:30 am to 4:30 pm.
There are three types of tickets that you can choose from. First is the general one that can be bought at the ticket booth at the castle. It doesn't include the funicular and costs €10.40 ($13 USD) per adult, €6.2 ($9 USD) per child, €26.40 ($32 USD) for a family of four.
Then there's the online ticket with the funicular that costs €14.30 ($18 USD) for adults, €7.50 ($10 USD) for kids, and €33.90 ($40 USD) for a family of four.
Lastly, there's the on-site ticket with the funicular that can be bought at the castle ticket window and costs €14.40 ($18 USD) for adults, €8.70 ($11 USD) for kids, and €35.90 ($43 USD) for a family. The details of each ticket vary, and some of them have extra features with the addition to the cost.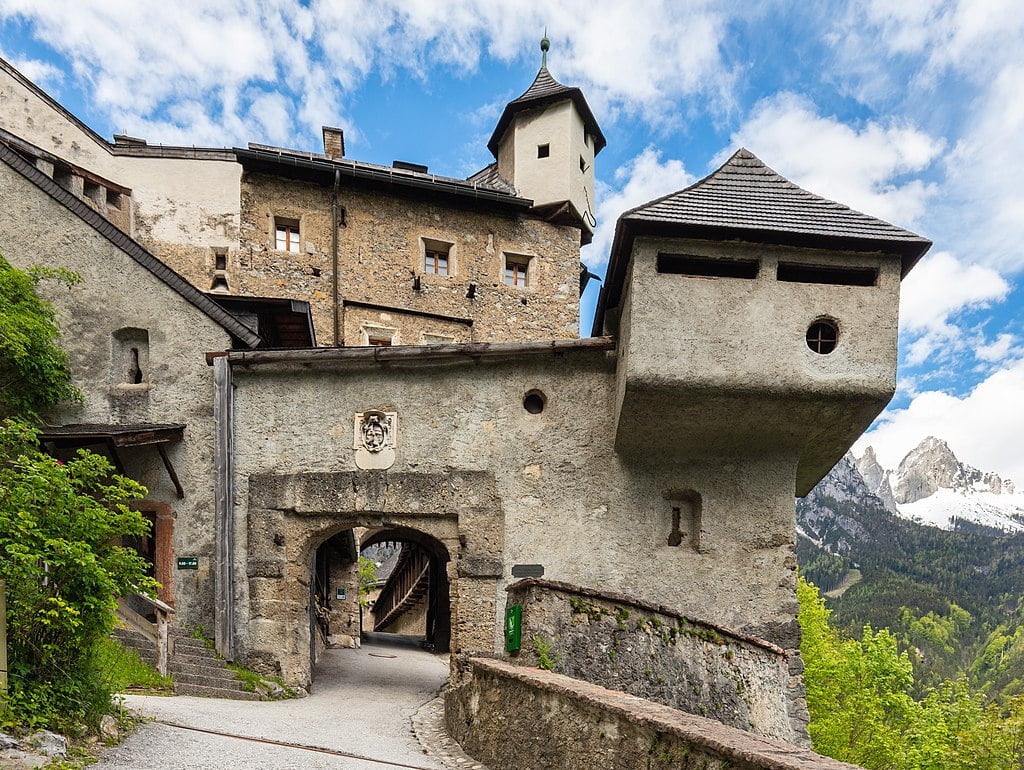 Special Events
Intriguing and highly unique activities are always on the Hohenwerfen Castle event calendar. From theatrical productions to folklore afternoons and fairytale hikes, you can attend various events throughout the year.
There are also special falconry demonstrations with various birds of prey. You can check out the varying tour and demonstration times at the official website.
How Long Will It Take to Tour Around?
It takes around 45 minutes to tour the entire castle, after which you can roam the grounds or enjoy the falconry show.
Some words of advice and tips:
Dogs are allowed on the castle grounds, but only if you keep them on a leash.
Note that the castle staff does not allow any flying drones, so if you're an aspiring videographer, this is one piece of equipment you can't bring.
The Hohenwerfen Castle Tavern is definitely a great place to get some food and drinks if you need refreshments.
Quick Video Tour of The Main Hohenwerfen Castle Areas