As the legacy of the Scottish people, Edinburgh Castle is one of the most iconic buildings in Scotland. Built upon Castle Rock (volcanic rock in the center of Edinburgh), the castle impresses with its beautiful silhouette rising above the city's skyline.
From the unraveling of history, it becomes crystal clear that the Edinburgh Castle is notable as a stronghold in Scotland's historical antecedence. It predates several conflicts, of which the Scottish Wars of Independence (c. 14th century) is one. The 1745 uprising of the Jacobites is another. Furthermore, the fortress had a long history as the residence of Scottish kings, beginning with King David, Malcolm III's last son who built it.
The "Stone of Destiny", a mythical powerful stone that had been a source of contestation between Scotland and England still resides in the castle of Edinburgh.
Renowned for being the most besieged place in the world, its reputation–as far as warring is concerned–outruns other castles in the world. Interestingly, today it has become a remarkable tourist attraction and a symbol of solidarity and national heritage among the people of Edinburgh and Scotland.
Frequently Asked Questions
Where is Edinburgh Castle Located?
Edinburgh Castle is located at Castlehill, Edinburgh city, UK.
When was Edinburgh Castle Built? Who Build It?
The castle was built in 1130 C. E. by King David, the youngest son of King Malcolm III and Saint Margaret.
When is The Best Time to Visit the Castle?
The castle is open all year round to visitors. The best visiting time, however, is visiting at the last entry, which is one hour to closing time.
What Other Monuments are Located Nearby?
You can also visit Calton Hill, the National Museum of Scotland, and the Scottish National Portrait Gallery.
FOR HISTORY | BEAUTIFUL IMAGES | INTERESTING FACTS | TRAVEL TIPS
Early History
Pre-historic Origins
The site where Edinburgh Castle stands today has been occupied by human civilization for 3000 years – all the way back to the Iron Age. The very first hill fort built there has been dated back to 600 CE, built by a Celtic tribe.
A Medieval Stronghold (11th Century Onwards)
Different iterations of Edinburgh Castle have existed over the course of history, but it officially became a medieval stronghold in the 14th century when it was occupied by King Malcolm II and his wife, Queen Margeret (who was ascended to sainthood upon her death). There's a chapel built in her honor at the highest point on Castle Rock.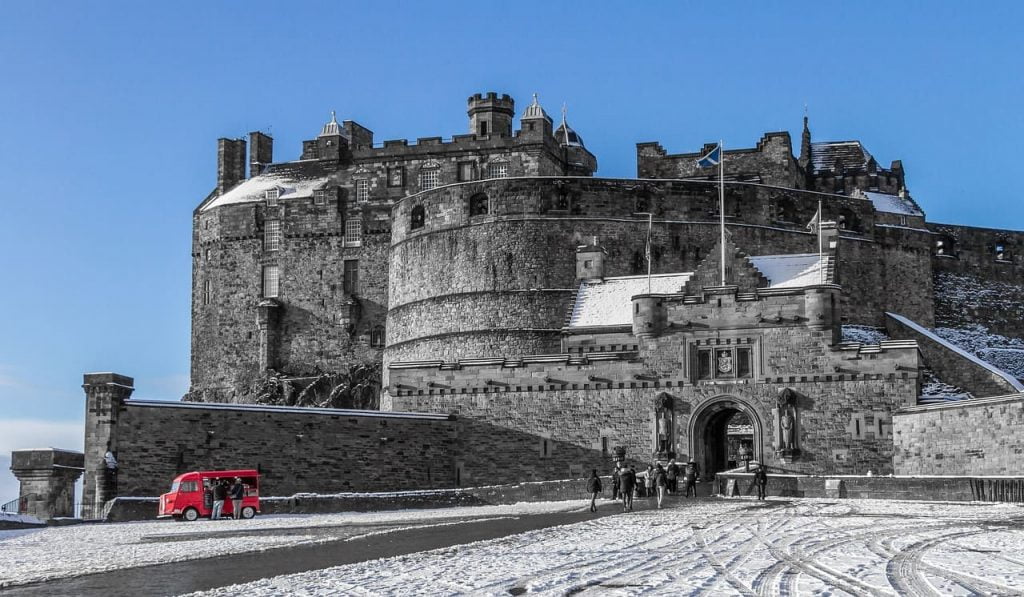 English-Scottish Tug of War (13th-14th Centuries)
After that, it was David I who expanded on the castle architecture and commissioned some of the formidable structures in the castle complex that we see today. Edinburgh survived several sieges and damage during the Scottish Wars of Independence as well. It was captured by Edward I (following a 3-day siege), after which it kept shifting hands in a tug of war between the English and the Scots until the 14th century.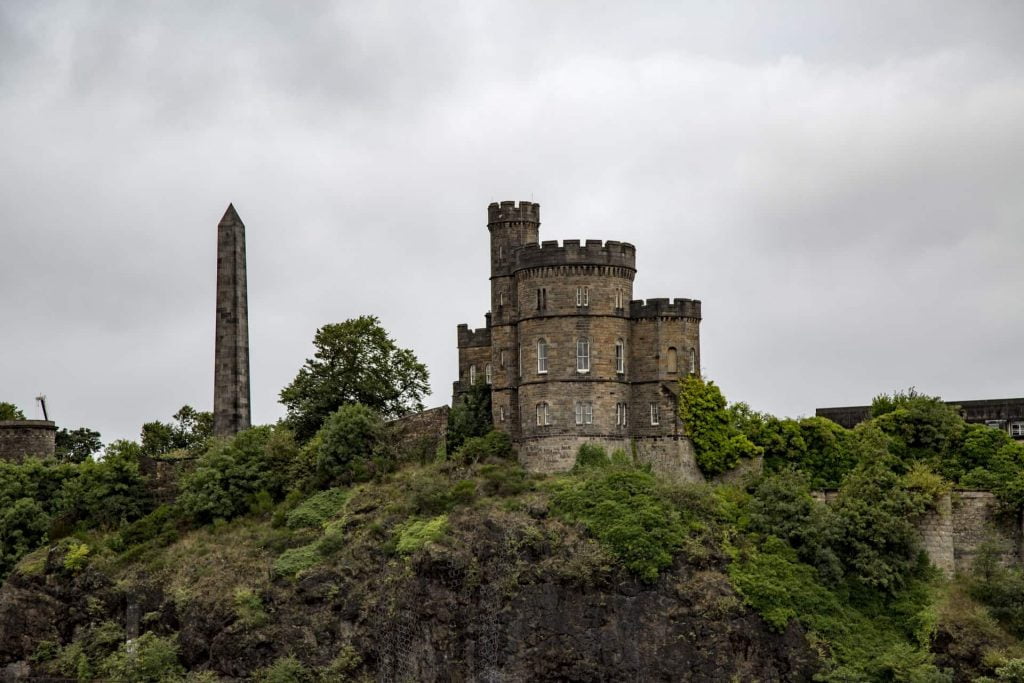 16th Century
The 16th century saw the birth of James VI, son of Mary, Queen of Scots. Within 18 months of his birth, his mother was widowed, remarried to James Hepburn of England, and forced to abdicate in James' favor during a revolt. This revolt ended up damaging Edinburgh Castle exponentially, most notably leading to the destruction of the Tower of David. This is when some major reconstruction took place, including the installation of Half-Moon Battery and the Portcullis Gate. James VI would eventually unite the island's kingdoms when he became King of England and Scotland on the death of his mother's first cousin once removed, Elizabeth Tudor.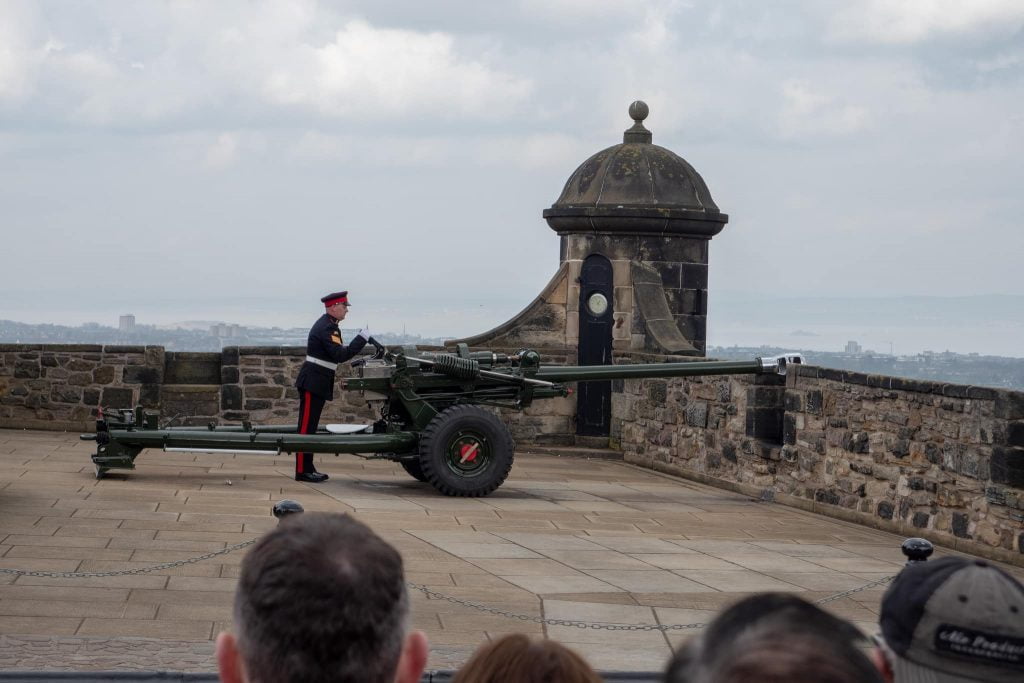 The 17th & 18th Century
Edinburgh saw a lot of action in the 17th and 18th centuries. The Jacobite rebellion was one such instance where the Jacobites were quite close to taking over the castle at one point. However, they failed in the end. It was also part of the Bishops War and even the English Civil War.
At one point in the 18th and 19th centuries, Edinburgh Castle was also used to house British war prisoners that were taken in the Seven Years' and Napoleonic Wars, along with the French and American Revolutions.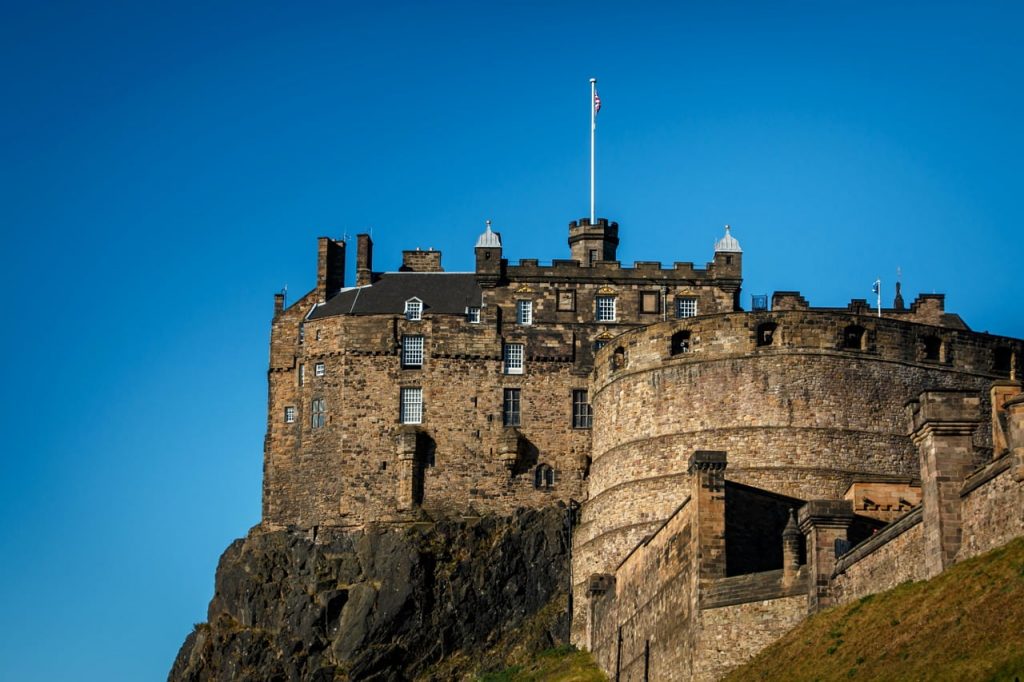 Revisit More Historic Places Below or Read Further
Current Times
Edinburgh Castle holds the distinct reputation of being the most besieged castle in history. However, today, it's one of Scotland's most happening tourist attractions. It's visited by one million tourists annually and has been a UNESCO World Heritage Site since 1995. People love appreciating the Half Moon Battery, as well as Queen Mary's Chambers. The Great Hall is quite impressive as well and always puts people in awe.
It also should be noted that the Edinburgh Castle has also housed the Scottish National War Memorial since 1927. Plus, the castle is strongly affiliated with military operations in Britain as it still houses a garrison.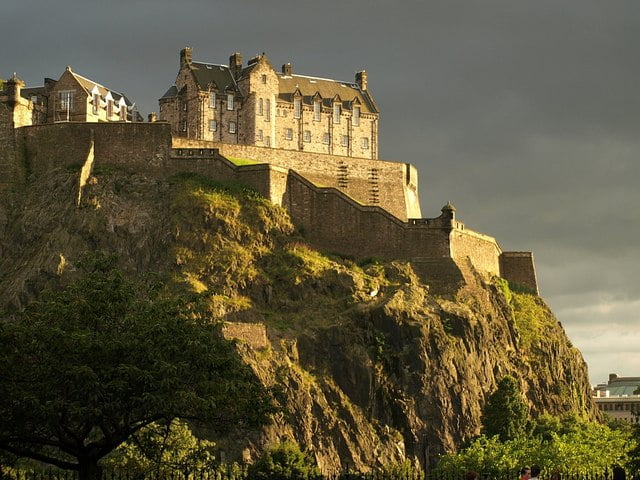 The castle in recent times has also served as an exhibition ground for jaw-dropping military parades and ceremonies known as the Edinburgh Military Tattoo. Lastly, the 13:00 gun time where a shot signaling One o'clock is fired daily must be mentioned.
Interesting Facts About Edinburgh Castle
Edinburgh is special because it's the only castle that has ever existed on Castle Rock, reportedly formed by volcanic remains. The walls and the rock formation are one and the same, making it quite formidable when it comes to natural defense.
One of the most impressive original structures at Edinburgh was David's Tower (built in honor of David II). It was a gatehouse of sorts and highly impressive for its time, as it spanned 3 stories tall. However, it was destroyed some 200 years later.

Queen Margeret (the Saint) died at Edinburgh in 1093. Her son, David, built a chapel in her honor within the castle premises. Its stained glass windows are a sight to behold even today.

Edinburgh Castle is steeped in a number of legends. One of the myths is that students could fail their exams if they don't stay away from the premises.

There is the presence of an eavesdropping archaic window known as "Lairds Lugs" which means the "Lord's Ears," just above the fireplace in the Great Hall.

The "Stone of Destiny", a mythical powerful stone that had been a source of contestation between Scotland and England still resides in the castle of Edinburgh.

"Mons Meg" – a giant cannon – is the piece de resistance of Edinburgh's military history on display at Edinburgh Castle.
The castle is also home to the Scottish Crown jewels.
Charles I was the last monarch to have spent a night at Edinburgh Castle.
Visiting Edinburgh Castle – Tips and Tricks
As one of the most historically significant castles of Scotland, Edinburgh Castle deserves all the admiration that it gets. Therefore, you should definitely put it in your list of must-visit places. Here's everything that you need to know about getting there: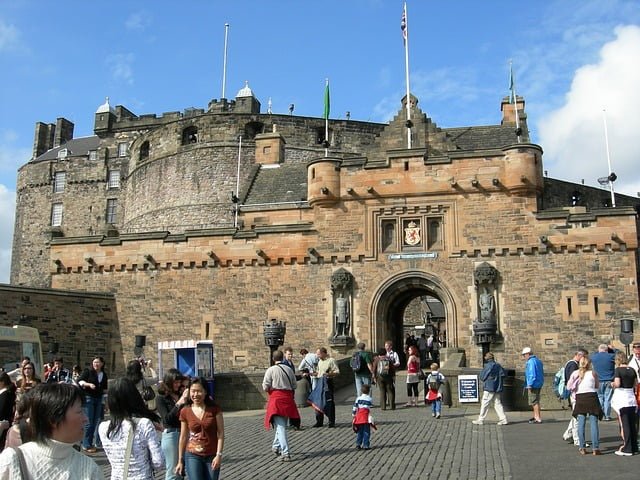 How to get to Edinburgh Castle?
There are many ways you can get to Edinburgh Castle from London. You can catch the hourly train from London's Kings Cross Station to Edinburgh. The journey will take you 4 and a half hours and you'll have to take a 13-minute walk to Edinburgh Castle once you arrive in the city. It might cost you anywhere between £52-£389 ($65-$490 USD).
The cheapest way to get to Edinburgh Castle is by taking the bus from London Victoria Coach Station to Edinburgh Bus Station. However, the journey will take you a long 9 hours while costing you £14-£36 ($17-$45 USD). From the bus station, it's an 18-minute walk to the castle.
You can also take a flight from London Heathrow to Edinburgh. You can catch a train from London Paddington to Heathrow, then take a flight to Edinburgh. From the airport, you can take a bus to Princess Street, from there it's a 5-minute walk to the castle. The whole journey will cost you somewhere between £36-£182 ($45-$230 USD).
Ticket Prices, Visiting Hours & Travel Tips
Information was checked & updated on October 3, 2023.
The Castle staff recommends you buy your tickets beforehand in order to get the best price and an entrance guarantee. As for the price, they vary according to age and designation. For adults aged between 16-64, the ticket prices are £19.50 ($24 USD). There's a concession price for senior citizens (65+ in age) at £15.50 ($19 USD). Prices are reduced further for kids aged  7-15 years old: £11.40 ($14 USD). Kids under 6 can enter for free. 
You can also avail of family packages. There's one for an adult and 2 children for £38.50 ($47 USD). Then there's another one for 2 adults and 2 kids for £56.00 ($68 USD). The last one is for 2 adults and 3 kids you can avail for £66.50 ($81 USD). 
NOTE: All visits to Edinburgh Castle must be booked in advance to guarantee entry. Please choose an entry slot for your arrival. Vital work conserving the Honours of Scotland is underway and will continue until late autumn 2023. 
Opening times for Edinburgh Castle vary in summers and winters. From April to September, it opens at 9:30 pm and closes at 6:00 pm, with the last entry at 5:00 pm. From October to March, it opens at 9:30 am and closes at 5:00 pm, with the last entry at 4:00 pm. There are independent museums inside whose opening times may vary.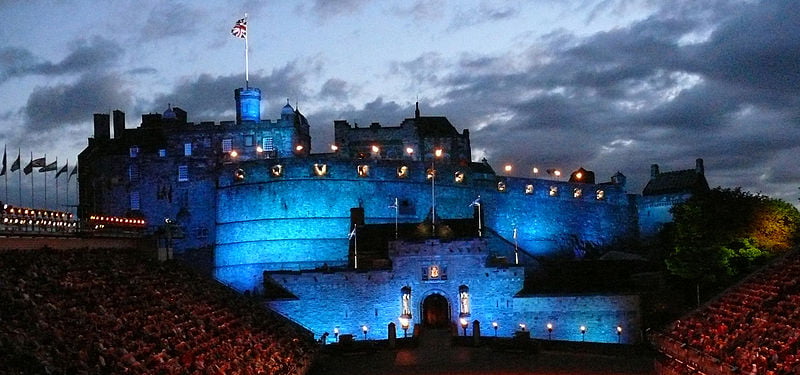 How Long Will It Take to Tour Around?
There are two types of tours that you can avail at Edinburgh Castle. One of them runs for 2 hours, while the other one runs between 2-3 hours.
Some words of advice and tips:
Redcoat Cafe at Edinburgh Castle is a great place to enjoy a hearty meal with some great views. If you want to dine in elegance, then you can opt for the Tea Rooms as well.
If you do not want to get a live tour guide, then you can also get an audio guide to listen to the history of the castle.
Since Edinburgh Castle is so enormous, it's a good idea to orient yourself by downloading a map from the official website.
Virtual Tour of The Main Edinburgh Castle Areas
Edinburgh castle made it to our list of the best virtual castle tours. Tour around from the comfort of your own home and don't forget to explore other castles on this list!
Quick Video Tour of The Main Edinburgh Castle Areas