Intriguing, beautiful, and said to be legendary, Corvin Castle is an architectural marvel with a history that spans six centuries. Also known as Hunyadi Castle (after the last name of the man who ordered its construction), it's not only one of seven wonders of Romania, but also a cultural masterpiece that's on many people's must-visit checklist in Romania when they come to Romania. Here's everything that you need to know about it:
Corvin Castle has been the center of numerous pop culture assets, and is featured in movies like Age of Empires II, the British paranormal program Most Haunted Live!, Ghost Rider 2, and more.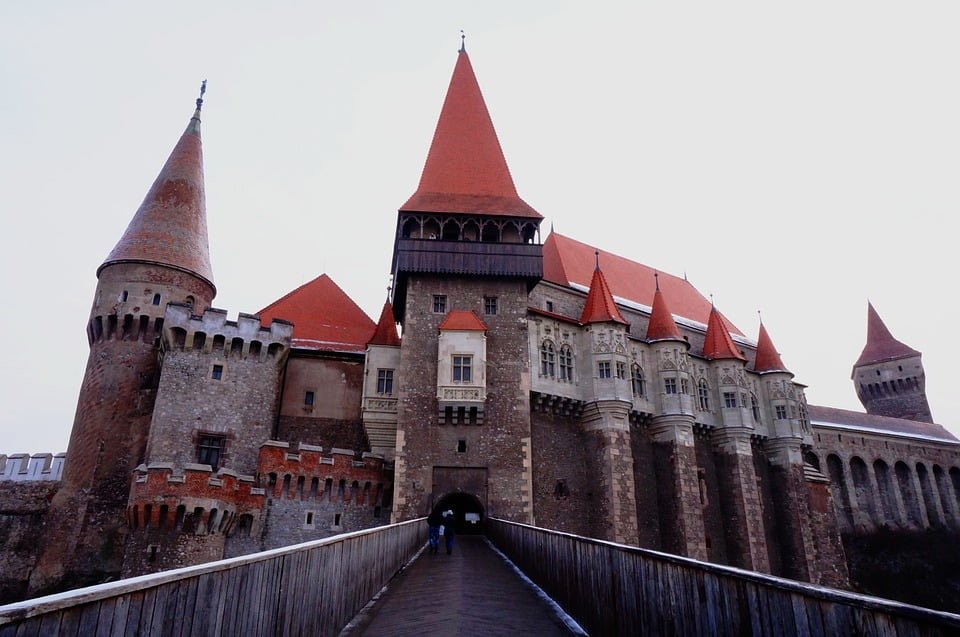 Frequently Asked Questions
Where is Corvin Castle Located?
Corvin Castle is located in Hunedoara, Romania: situated on a rocky precipice that overlooks the River Zlaști, the castle is accessed from a thin bridge.
When was Corvin Castle Built? Who Build It?
Corvin Castle was built circa the 1440s by the Romanian military leader and regent governor, John Hunyadi, as a defense fortress.
When is The Best Time to Visit the Castle?
You can visit Corvin Castle in the off-season from late September till June. There are less tourists and tickets are cheaper during this time.
What Other Monuments are Located Nearby?
There's not much else to see in Hunedoara, and since there are limited Air BnB properties, it can be challenging to find accommodation. Instead, you can visit the city of Deva and utilize a shuttle service to visit Corvin Castle. In Deva, you can check out the Diemricher Burg, which is an ancient fortress located on a volcanic hill. Or you can visit Aqualand Deva for some familiar contemporary fun.
FOR HISTORY | BEAUTIFUL IMAGES | INTERESTING FACTS | TRAVEL TIPS
Early History
Initial Construction
Corvin Castle was built in the 1440s at the command of John Hunyadi, who was the Voivode (i.e. governor) of Transylvania. The land where it sits was home to the structural remains of a keep that had been built by Charles I of England. The keep remains were utilized in the construction of the castle to provide sturdy ramparts, effectively making Corvin one of the most resilient castles in all of Europe.
Hunyadi was a military leader who was closely affiliated with the royal family, and so the castle was designed to be a fortress as well as a prison. Despite its fairy tale-esque looks today, Corvin was actually a defense castle and has a pretty dark history of violence and death.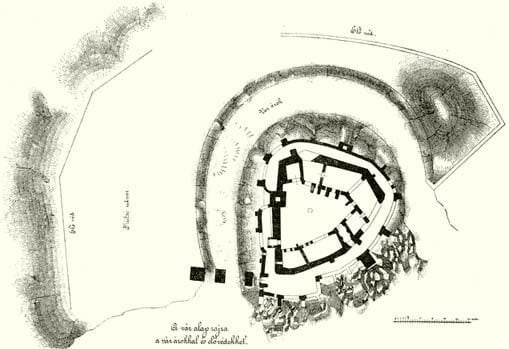 Hunyadi had two torture rooms built in the basement of the castle, which he kept up-to-date with the latest tools of torture. Today, they are known as the "bastions of torture" where visitors can take a look at the torture implements of the era.
The multi-level prison was also a narrow torture arena. Here, the convicts of the castle were left to waste away and die. Even the Knight's Hall was used for interrogation and hosted several torture spectacles in its day as well.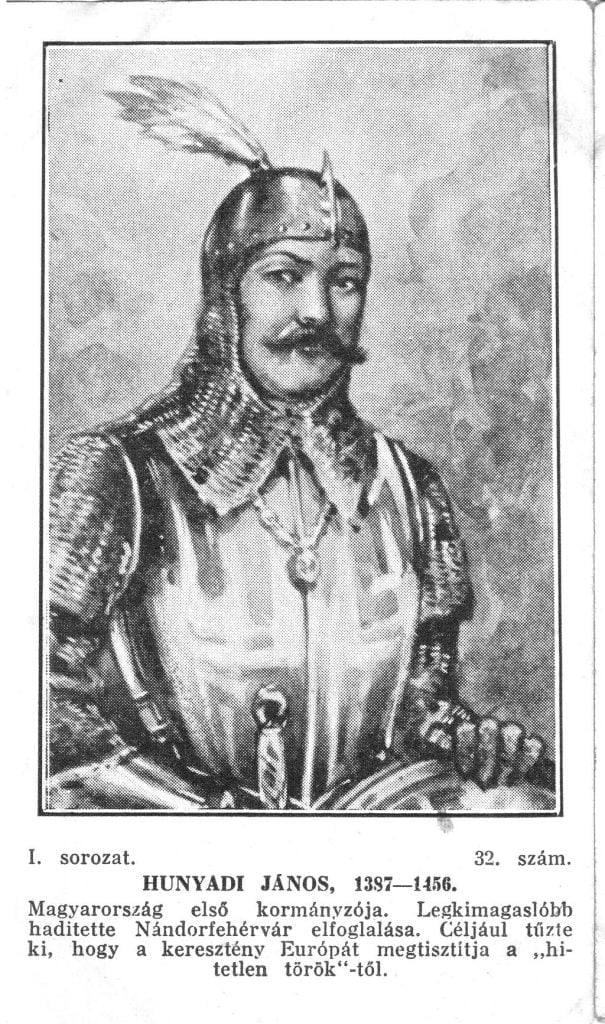 After Hunyadi's Death
Hunyadi kept Corvin neat, clean, and well-kept, but his death in 1456 led to the castle's immediate desolation. It remained in a state of neglect and disrepair for almost a hundred years, but the stout construction and impressive structure made it one of the most formidable castles in Europe's eastern half–and a determined survivor.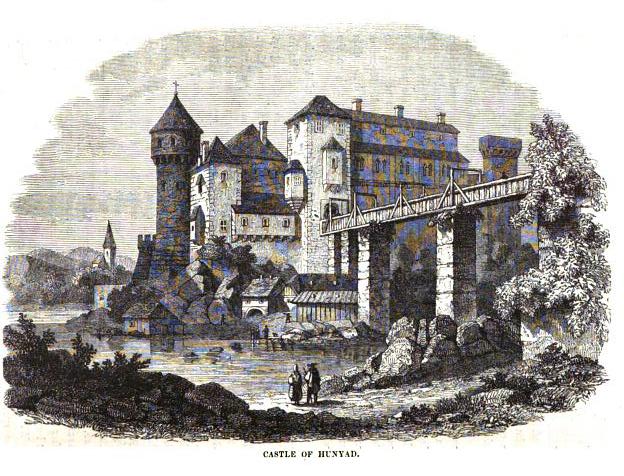 17th Century Refurbishment
Corvin re-emerged in history in the 17th century, when the wooden architectural elements caught fire during a lightning storm. This was when people began to take notice of it again, and restoration works began in earnest. However, the people assigned to this refurbishment weren't exactly sure what the original castle had looked like, so the revamp is a manifestation of their own ideas. Waylaid in the vein of Gothic-Renaissance artistry, Corvin Castle's reign of terror was covered with a layer of whimsy. Experts opine that Corvin wasn't as fancy or fantastical in its original iteration.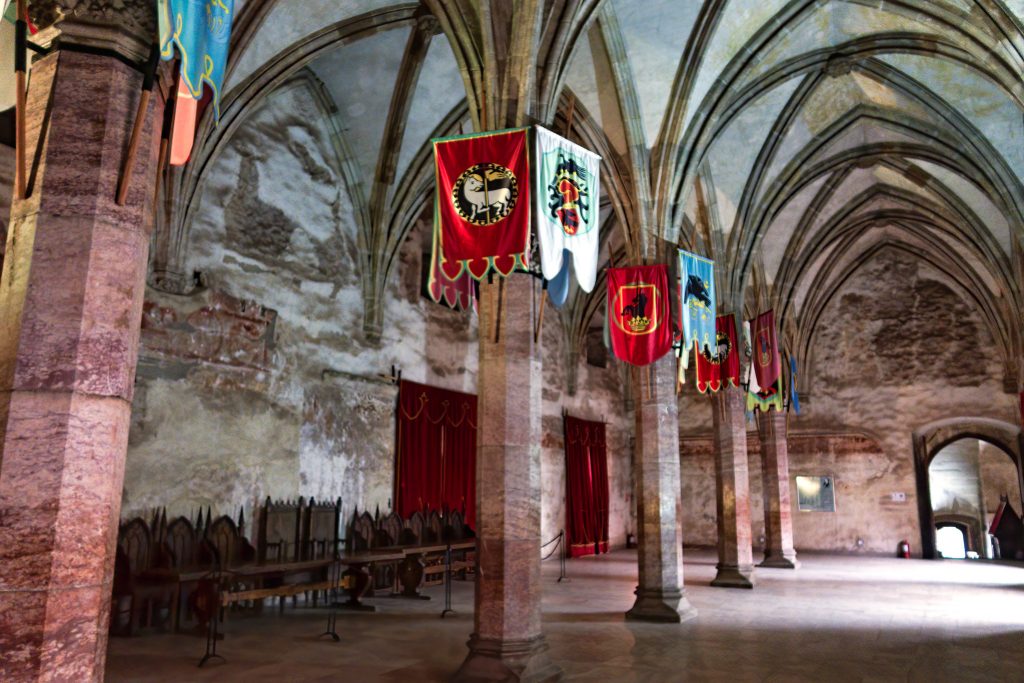 Revisit More Historic Places Below or Read Further
Current Times
Corvin Castle became state-owned in 1918, but before that, it was part of the Austro-Hungarian State (simply belonging to Austria even before that). Today, it has been preserved and conserved by the Romanian state to become an attractive tourist destination.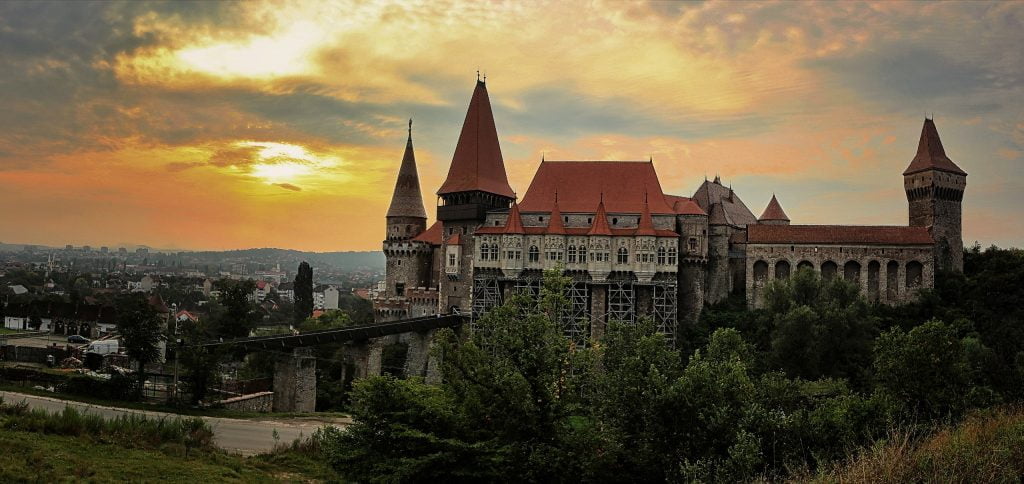 Its fairytale-inspired facade is one of its main attractions, but the inside is just as much of a marvel with 50 sumptuous rooms. Coupled with the intact high buttresses and quaint entrance drawbridge, it's definitely one of the best medieval constructions to have been preserved to date.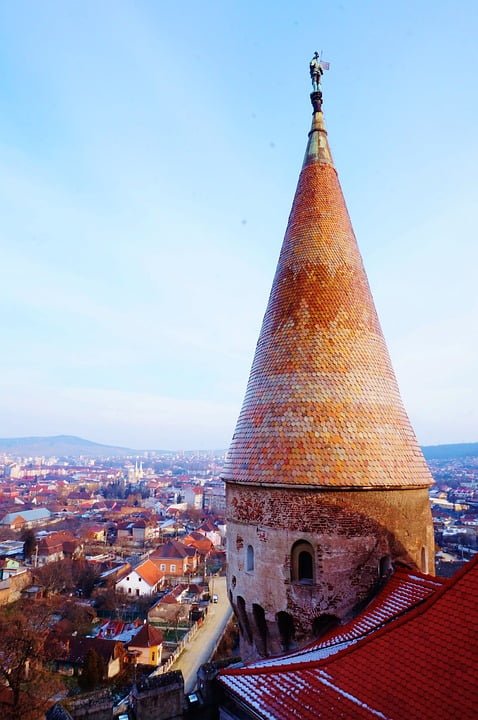 Interesting Corvin Castle Facts
Corvin Castle has a three-part masterplan and features spiraling staircases along with both circular and rectangular towers in the Knight's Hall. They were used to hold prisoners and maintain good defenses.
One of the most unique architectural elements of this castle is the Nje Bosia, a 5-story tower with various openings for firearms, connected to the main castle proper via a hundred-foot-long corridor that rests on thick pillars.
There are actual torture chambers with tools in the basement of Corvin Castle. Some of the tools featured there are authentic and date back to the 17th century.
Corvin Castle has been the center of numerous pop culture assets, and is featured in movies like Age of Empires II, the British paranormal program Most Haunted Live!, Ghost Rider 2, and more.
This castle is related to the legend of Vlad the Impaler, who was the inspiration behind Bram Stoker's Dracula. It is said that he was imprisoned at Corvin Castle as punishment for his transgressions. However, the legend goes that Vlad became even more unstable there and his murderous intent only increased upon release.
Another Corvin Castle legend says that the 30-meter-deep (32.8 yards) well was the labor of 3 Turkish prisoners, as Hunyadi led many battles against the Ottoman empire. They're said to have been promised freedom if they touched water but were rewarded by death instead.
The legend of the Raven Renders: John Hunyadi, as the illegitimate son of King Sigismund, was given a gold ring at birth so that the king could later identify him. Legend has it that a raven tried to fly away with it, but was shot by Hunyadi – thus, giving the King the idea for the crest of the House of Corvin.
Visiting Corvin Castle – Tips and Tricks
Corvin Castle boasts a marvelous architectural and legendary appeal. It's rich in history and signifies the cultural heritage of Romania. Visiting it should definitely be on your itinerary, and here's some important information that can help make things easier: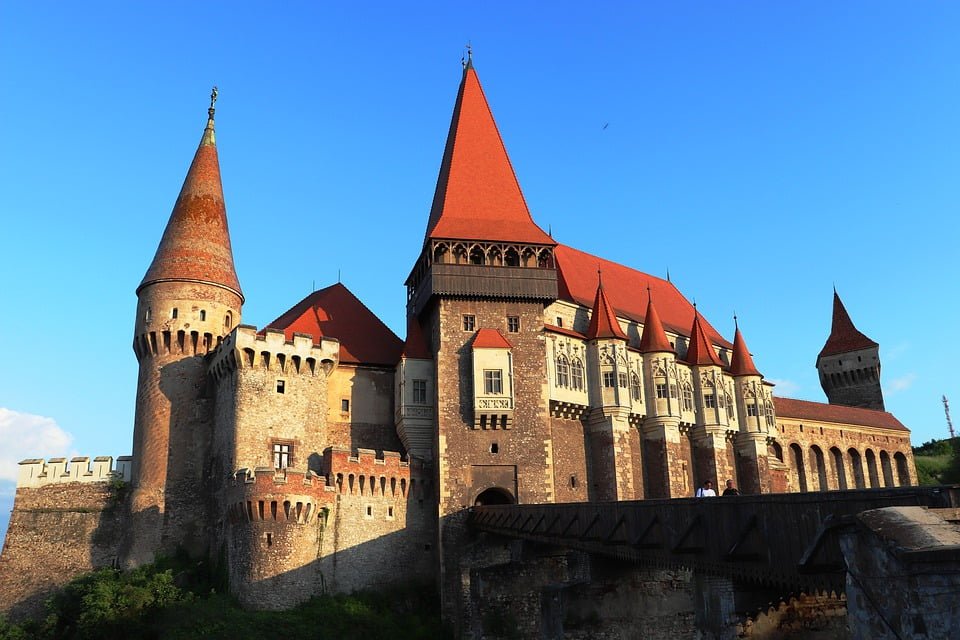 How to get to Corvin Castle?
To say that Corvin Castle is located off the beaten path would be an understatement. Sibiu is the closest city in the area and even that is an hour and a half's drive away. This is why many tourists find it hard to fit this castle into their itinerary. However, it's a popular coach trip interval destination.
But if you specifically want to visit Corvin, there are several ways you can make the journey. You can either drive on your own car or take public transportation. If you're driving from Bucharest, Romania's capital, then it'll take you around 5 and a half hours and cost 170-250 LEI ($40-$60 USD).
Limited buses and overly long train rides to Hunedoara can make this journey a bit longer (seven hours) and a lot more challenging. What you can do is get to Deva or Simeria (costing 45-148 lei [$10-$35 USD]), where you can catch frequent busses to Hunedoara costing 6.5 LEI ($2 USD).
Once at the bus or train station in Hunedoara, you once again have to decide whether to rent a car or take a bus all the way to the castle. Note that it's approximately 1.5 km (just under a mile) away and taking the bus might result in a shorter walk to your destination.
Ticket Prices, Visiting Hours & Travel Tips
Corvin Castle interior can be visited, though its opening hours vary. From Tuesday to Sunday, you can visit between 7:00 am to 7:45 pm. On Mondays, it opens from 10:30 am to 7:45 pm. Entrance fee changes from season to season – usually 31 LEI ($8 USD) during peak season and 10-15 LEI ($2-$3.50 USD) cheaper during the off-season. Students can get a big discount upon showing their student ID.
You can avail the tour guide option as well. They're available in Romanian, English, French, and Hungarian. The Romanian one costs 31 LEI ($8 USD), while it's 63 LEI ($15 USD) for other languages.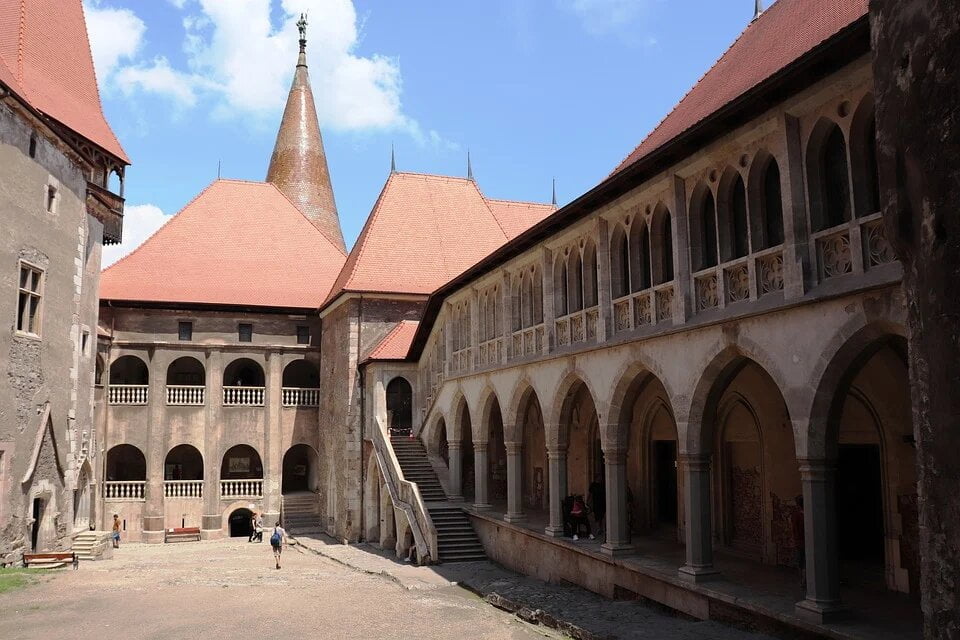 How Long Will It Take to Tour Around?
A tour of the castle can take between one to two hours.
Some words of advice and tips:
There is plenty of free parking around the castle (though there's none specifically built for the castle itself) within an easy 5-minute walk to its entrance. Though if you're saving money, then it might not be for you as it costs 10 LEI ($2.50 USD) per day.
Be wary of the photo-trap, as taking pictures costs an extra 5 LEI ($2 USD), while making videos costs 156 LEI ($40 USD).
If you don't want the tour guide option, then you can get an audio guide for a small fee. This might help you better understand the history of the castle.
Quick Video Tour of The Main Corvin Castle Areas