As one of the most gorgeous Gaelic-era survivors, this medieval castle sits cozily on an islet in west Scotland and is a stunning, historically rich site. Towering four stories tall, the literal meaning of Castle Stalker translates to "Hunter." Let's take a look at its rich history, current condition, and visiting advice for getting there:
Castle Stalker has appeared in many movies, including Monty Python and the Holy Grail and Highlander: Endgame.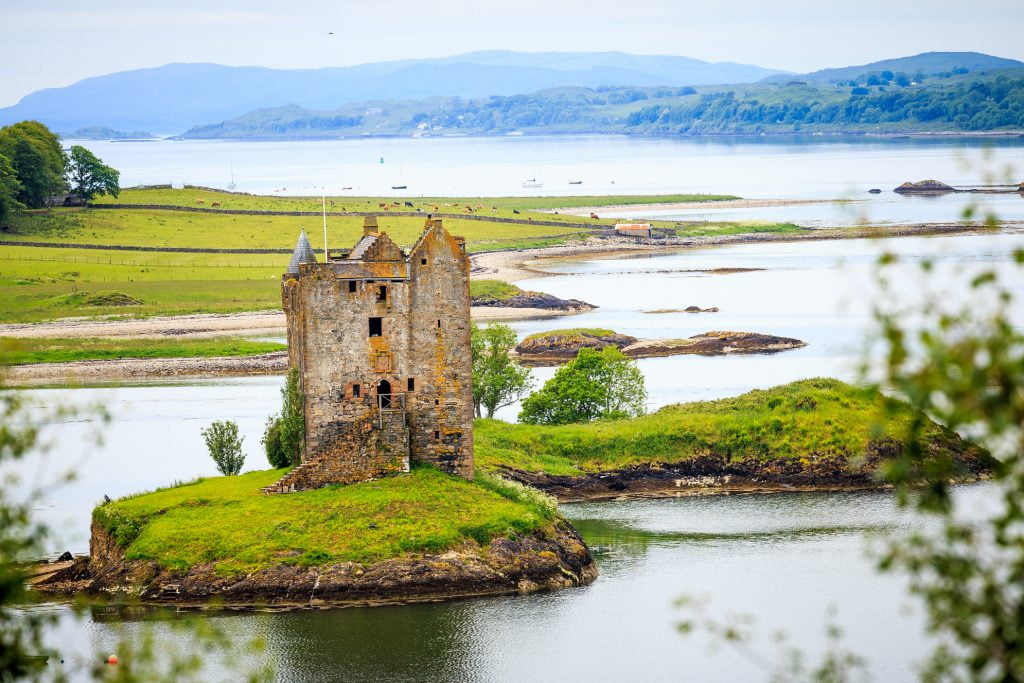 Frequently Asked Questions
Where is Castle Stalker Located?
Castle Stalker stands tall on a tidal inlet that is located around one-and-a-half miles northeast of the port of the fishing town Appin, Scotland. Although difficult to access, you can get to the islet at low tide.
When was Castle Stalker Built? Who Build It?
The land where Castle Stalker now stands belonged to the MacDougalls in 1320 but came into the possession of the Stewarts in the mid-fifteenth century. They added the architecture and made it into what it is today.
When is The Best Time to Visit the Castle?
Anywhere between April to September is a good time to visit the castle.
What Other Monuments are Located Nearby?
Castle Stalker View is a great cafe to visit and a nearby landmark. You can orient your way and get directions to the castle from there.
FOR HISTORY | BEAUTIFUL IMAGES | INTERESTING FACTS | TRAVEL TIPS
Early History
Before Castle Stalker (1320)
The site where Castle Stalker stands today is said to have previously belonged to the MacDougalls back in 1320. This was back when they were known as the Lords of Lorn. This clan lost their title after being defeated by King Bruce in 1308 at the battle of the Brander Pass, but got it back in 1328. However, their lordship was short-lived as the title and the lands were then passed to the Stewarts. It was the Stewarts – specifically Sir John Stewart – that laid the foundation and built the Castle Stalker that we see today. This happened in the 1440s.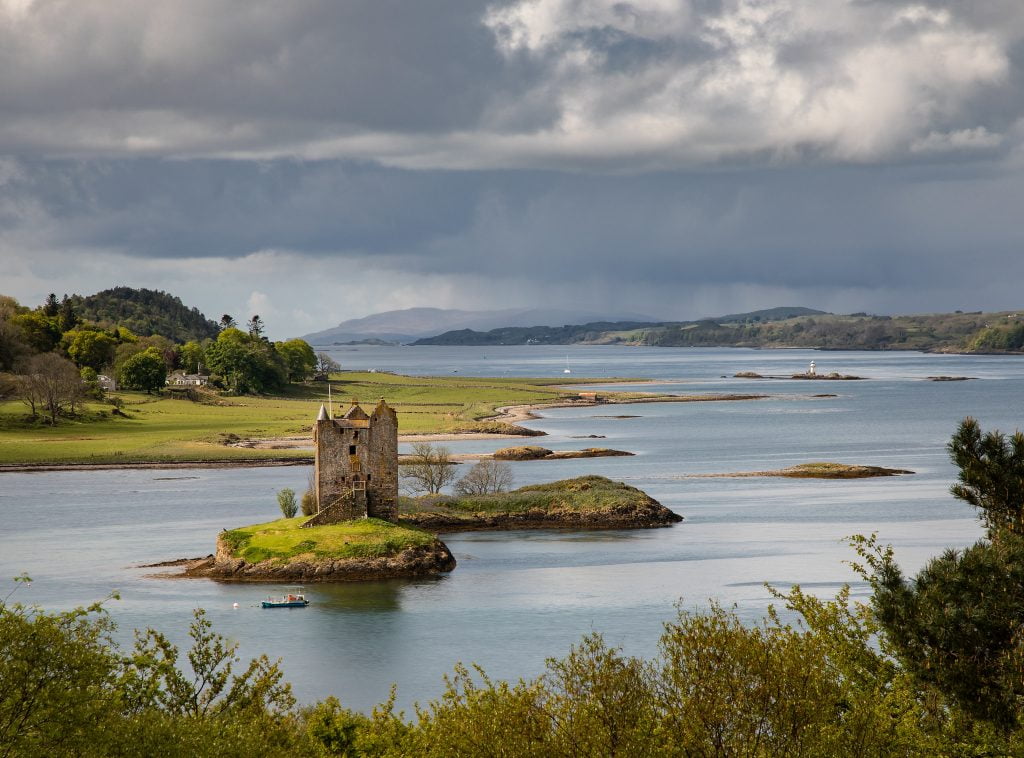 Through the Battle of Stalc (1468)
Sir John Stewart had a son out of marriage with a MacLaren and it was when he was trying to legitimize him in 1463 that he was murdered by Alan MacCoul. He did, however, manage to get married before passing away, and his son Dugald took it upon himself to avenge him. It wasn't until the Battle of Stalc that the Stewarts and the Macarens defeated MacCoul in 1468. This battle happened opposite the Castle Stalker and is even commemorated by a memorial stone in the Churchyard located at Portnacroish.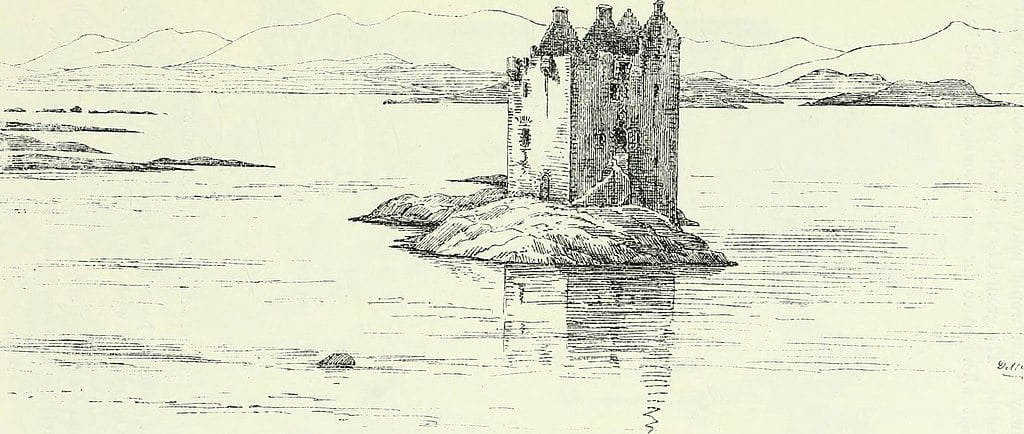 From one Stewart to Another
Stewart – who was also the Chief of Appin – was killed in a raid and succeeded by his son Duncan.
It was during Duncan's era that King James IV started making regular hunting trips to the Castle Stalker. He used it as a base to accommodate hawking and hunting, so it was during this time that significant changes were made to the architecture, including raising the roof and adding the top floor. This is also said to have been the time when the Coat of Arms was added to the main door.
After the murder of Duncan Stewart in 1512 at the hands of the McLeans, Castle Stalker passed down to Alan Stewart. He was succeeded in 1520 by Alexander Stewart, who was murdered by some Campbells on a fishing trip to the tiny island near the Castle. Legend says that his son was rescued by the nurse, who hid little Donald Steward and then fled to Morven after still finding him alive.
This Donald went on to become "Donald of the Hammers" as he made an art out of wielding blacksmith hammers in both hands. It was he who undertook his father's revenge in 1544 by killing 9 Campbells. He led Clan Appin during the Battle of Pinkie in 1547 and died in 1607.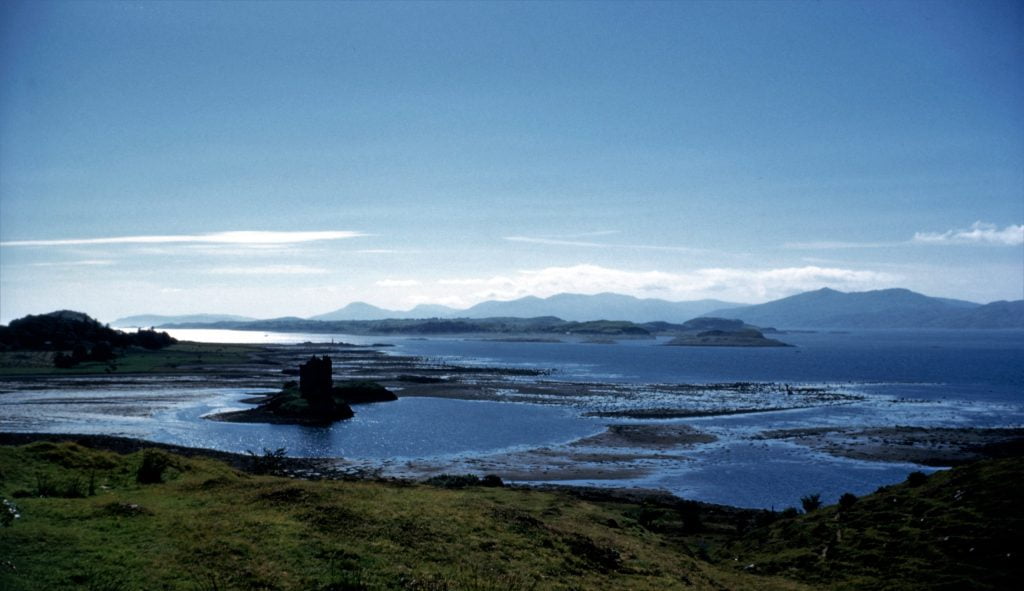 The Drunken Wager (1620-1690)
Castle Stalker fell into the hands of the Campbells because of a drunken wager by Duncan the Seventh. He bet it for a wherry with 8 oars and lost, but the Stewarts got it back in 1689 in recompense for their participation in the Battle of Dunkeld … only to lose it again when the battle went downhill. The Stewarts refused to leave so the Campbells held a months-long siege until they surrendered in 1690.
Under the Campbells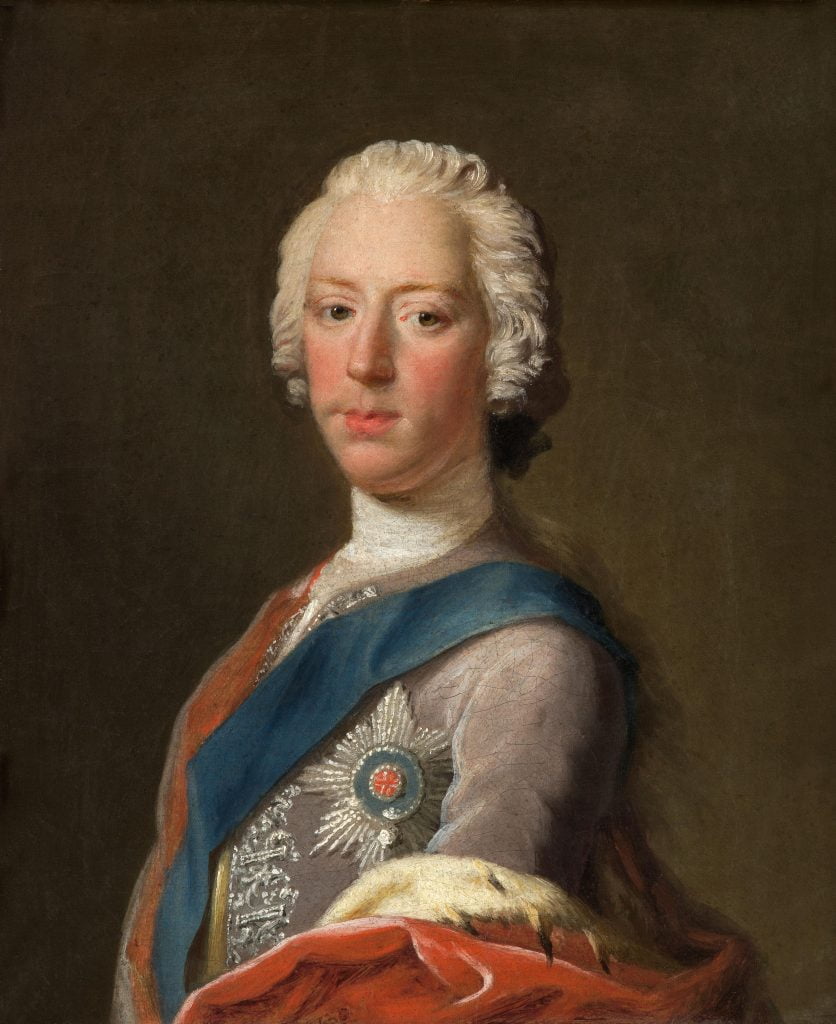 There was an uprising in 1745 during which the Stewarts of Appin (with full support from Prince Charles) raised 300 troops, plus cannons capable of throwing up to 2 lbs of incendiaries, and tried to regain the castle. The Campbells held their ground with a total of 59 soldiers–the defences of the castle were so well-built that the cannonballs simply bounced off the walls.
Castle Stalker became an important kink in this uprising as it constantly had ships and supplies docking at the isle. It wasn't until the Battle of Culloden that the castle was handed over to the government and all the Clansmen had to give up.
The Castle stayed in the ownership of the Campbells up until the 1800s. After that, they moved to a new home that was built on the mainland, which still stands. Castle Stalker was used for storage, its roof either fell or was removed in the 1840s. It's said that this was deliberately done to avoid roof tax.
Revisit More Historic Places Below or Read Further
Current Times
Charles Stewart of Achara purchased Castle Stalker from the Campbells in 1908 and had it preserved. He was succeeded by Duncan Stewart, but he was murdered so the castle fell into the hands of his widow.
It wasn't until 1965 that it was purchased by Lt. Col. Stewart Allward. He spent most of the next ten years restoring it to its former glory with the help of his friends and family. This is the Castle Stalker that we see today.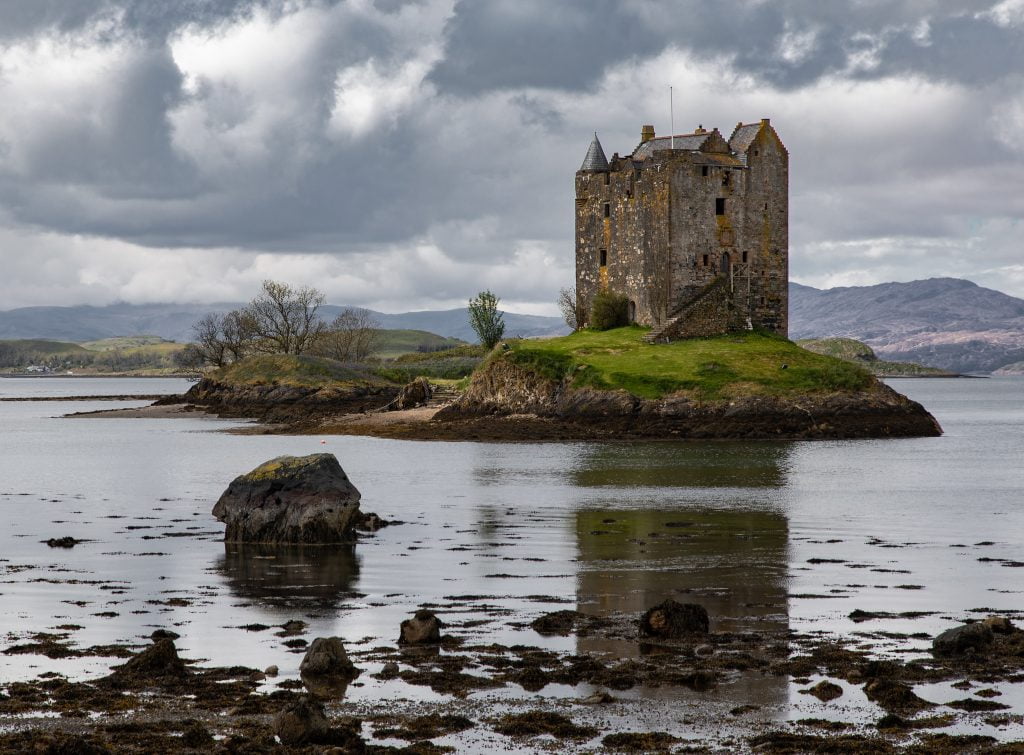 These days, it's a great tourist destination and one of the most remarkable pieces of Scottish history that you'll ever visit.
Interesting Castle Stalker Facts
Castle Stalker has appeared in many movies, including Monty Python and the Holy Grail and Highlander: Endgame.
Susan Cooper's children's book The Boggart also uses this castle as an inspiration for its illustrations.
The Castle View Cafe is located nearby and is a sight to behold with its panoramic views of the surroundings.
The castle tour is personally guided by a member of the Stewart Allward family. It's just like visiting someone's home.
Visiting Castle Stalker – Tips and Tricks
Castle Stalker is one of the most iconically Scottish buildings that you'll ever come across; there's a special kind of whimsy about its isle-bound architecture. If you're planning a visit, here's a neat little guide that we've compiled for you to make things easier: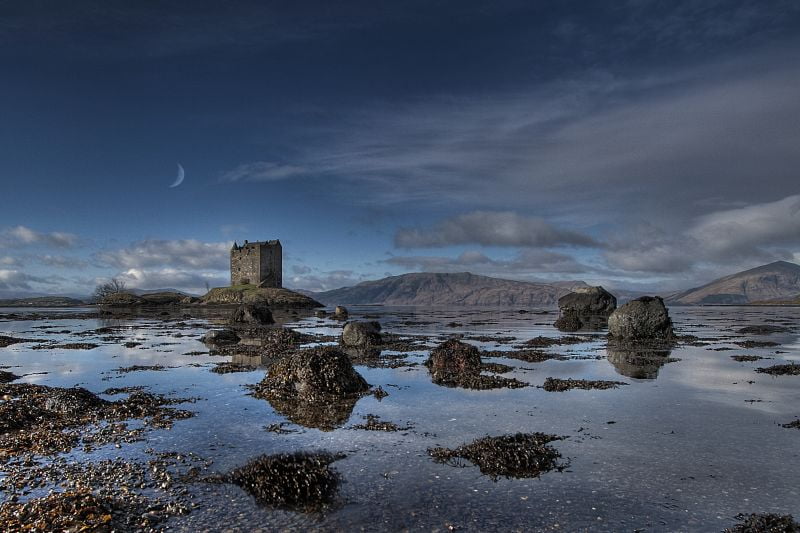 How to get to Castle Stalker?
There are several ways that you can get to Castle Stalker from Edinburgh. A journey via the train can take around four hours and cost you anywhere between €34-€102 ($40-$120 USD).
A bus can take you to the castle in three hours and twelve minutes. You can take one from the Buchanan Bus Station, which runs this journey 4 times a day, for approximately €23-€34 ($27-$40 USD).
Alternatively, you can take an on-demand flight from the Glasgow Airport Terminal Building. You'll get there in forty minutes for between €12-€45 ($14-$39 USD).
Ticket Prices, Visiting Hours & Travel Tips
Since Castle Stalker is privately owned, you have to prebook the tours because they only do a limited number of them each year. You can book yourself a ticket online. If you can't go there in person, you can always do a virtual tour through the official website.
You can visit Castle Stalker between April to September. As for the tickets, €24 ($29 USD) for adults and €12 ($15 USD) for kids under 16. A family of 2 adults and 3 children can get a group ticket of €58 ($69 USD). Local residents can even avail a 10% discount.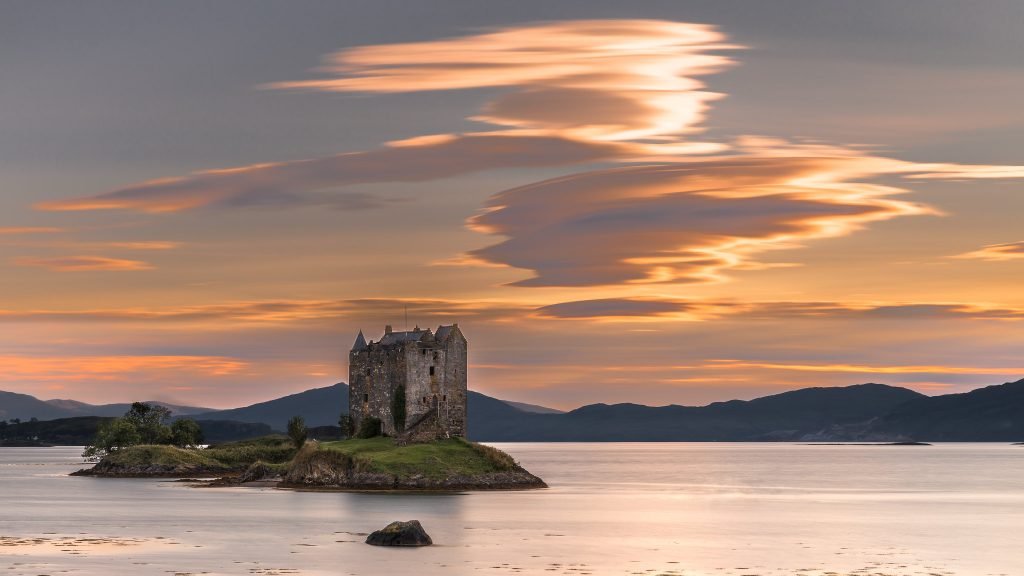 How Long Will It Take to Tour Around?
It takes around two hours and thirty minutes to tour Castle Stalker.
Some words of advice and tips:
The Castle is inaccessible to wheelchairs and coach parties, so keep that in mind before planning a tour.
Do plan a little visit to the Old Inn if you complete your tour early.
Quick Video Tour of The Main Castle Stalker Areas