In Cawdor, Nairnshire, you will find one of the most magnificent structures in Scotland, named Cawdor Castle. If you are a fan of Shakespeare, you would not want to miss the chance to visit this epic medieval landmark that he connects to Macbeth by noting he is the "Thane of Cawdor". Since 1370, the Thanes of Cawdor have called this castle their home.
The castle offers a lot of opportunities to enjoy yourself. You will be fascinated by the medieval interior and exterior of the castle. The dungeon, turrets, battlements, and drawbridge of the castle will transport you back in time and will give you a memorable experience. The Cawdor Big Wood, the courtyard cafe and gift shops, and a golf course will keep you entertained throughout your visit.
Let's look at the castle's past, present, and fascinating details to find out why it is a popular tourist site.
Cawdor Castle is said to be a haunted castle of Scotland. It is believed to be haunted by three ghosts, one of them being John Cambell himself.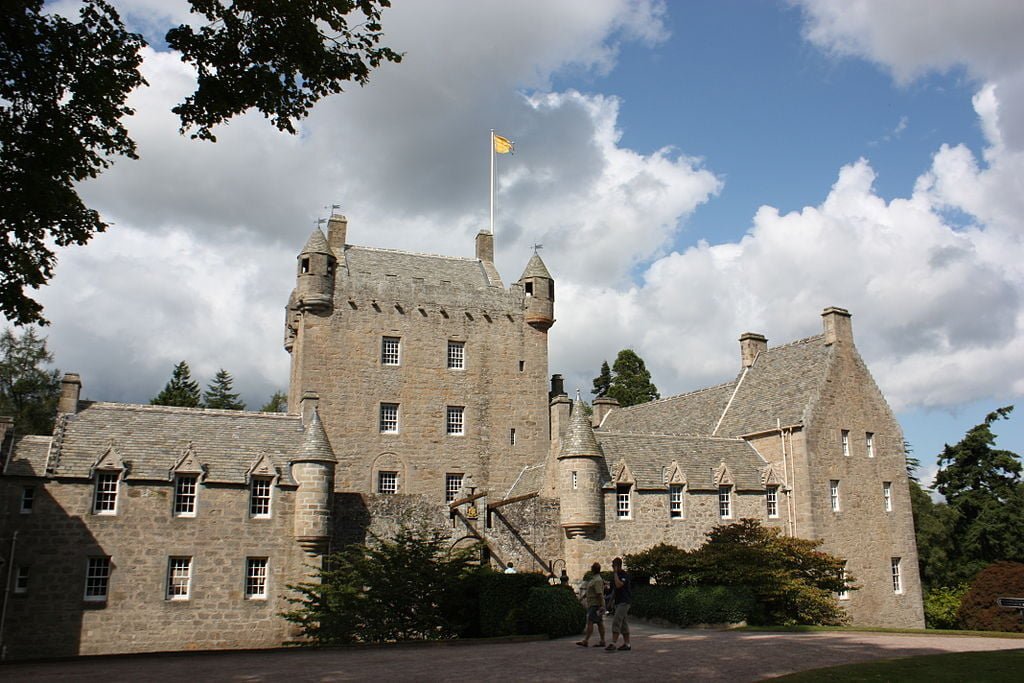 Frequently Asked Questions
When was Cawdor Castle Built? Who Build It?
Cawdor Castle was built in the 14th Century by the Thanes of Cawdor.
When is The Best Time to Visit the Castle?
The finest seasons to visit the castle are spring and summer. Scotland is at its most beautiful around that time … and the castle is only open to the public from April to October.
What Other Monuments are Located Nearby?
You may explore a variety of surrounding sights while touring Cawdor Castle. Certain of them are Clava Cairns, The Highlanders Museum, Fort George, and Ness Tours.
FOR HISTORY | BEAUTIFUL IMAGES | INTERESTING FACTS | TRAVEL TIPS
Early History
The fortress was first mentioned in writing in 1454, when William Calder, the sixth Thane of Cawdor, received permission to fortify the castle. The neighboring Lochindorb Castle was demolished by William in approximately 1455 at the request of King James II after it had been surrendered by the Earl of Moray. The iron gate that can be seen at Cawdor Castle today was taken from Lochindorb Castle.
Cawdor Castle's Fascinating History of the Holly Tree
You will be fascinated to know about the castle's construction around the holly tree which is quite an oddity. According to a legend, the first Thane of Calder gave his donkey the authority to claim the ground on which he would construct his castle. The gold was piled upon the donkey. The donkey ultimately decided to rest beneath a holly tree, the remains of which can still see in the Cawdor Castle vault. The tree perished in around 1372, according to modern scientific testing, supporting an older date of the castle's original construction.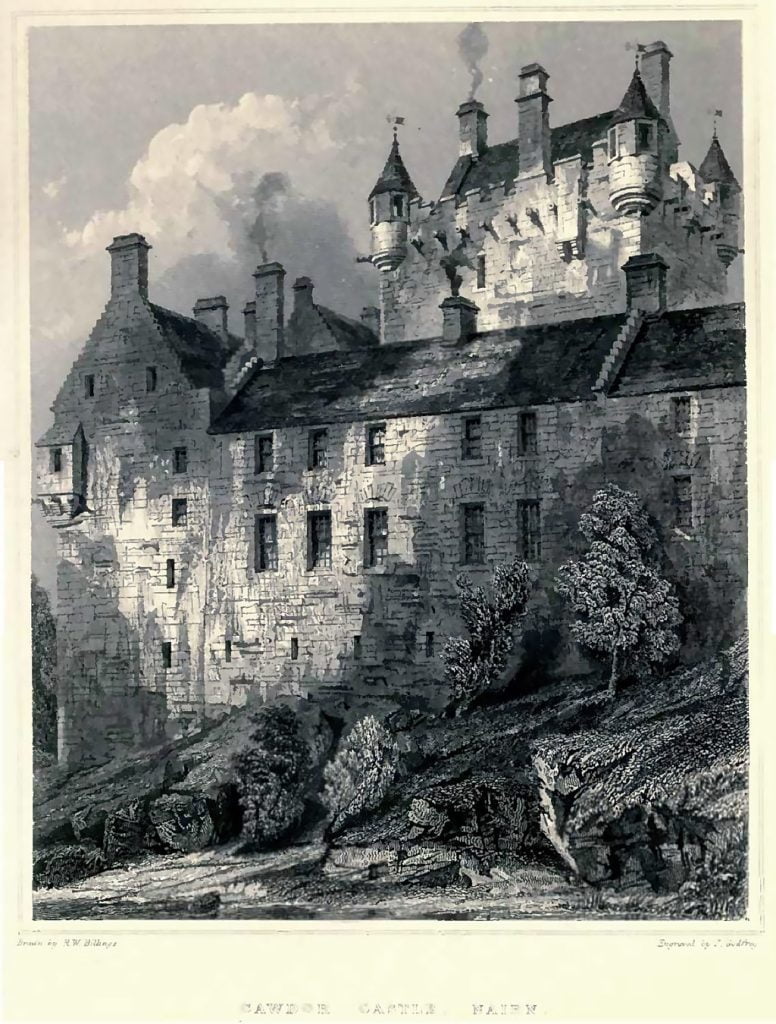 Cawdor Castle's Resilience Against Combat
Despite feuds with neighbors throughout the last 600 years of turbulent Scottish history, Cawdor has remained a stronghold. Within 8 miles of Cawdor, the Battle of Auldearn took place. After the Battle of Auldearn, General Monck issued a warrant excluding Cawdor from use as an officer and soldier housing area during Cromwell's effort to control the Highlands. Despite the Glorious Revolution, the massacre at Glencoe, the tense Union with England in 1707, and several Jacobite uprisings–the castle managed to survive these turbulent times largely undamaged. People link the castle's sheer luck and survival with the holly tree.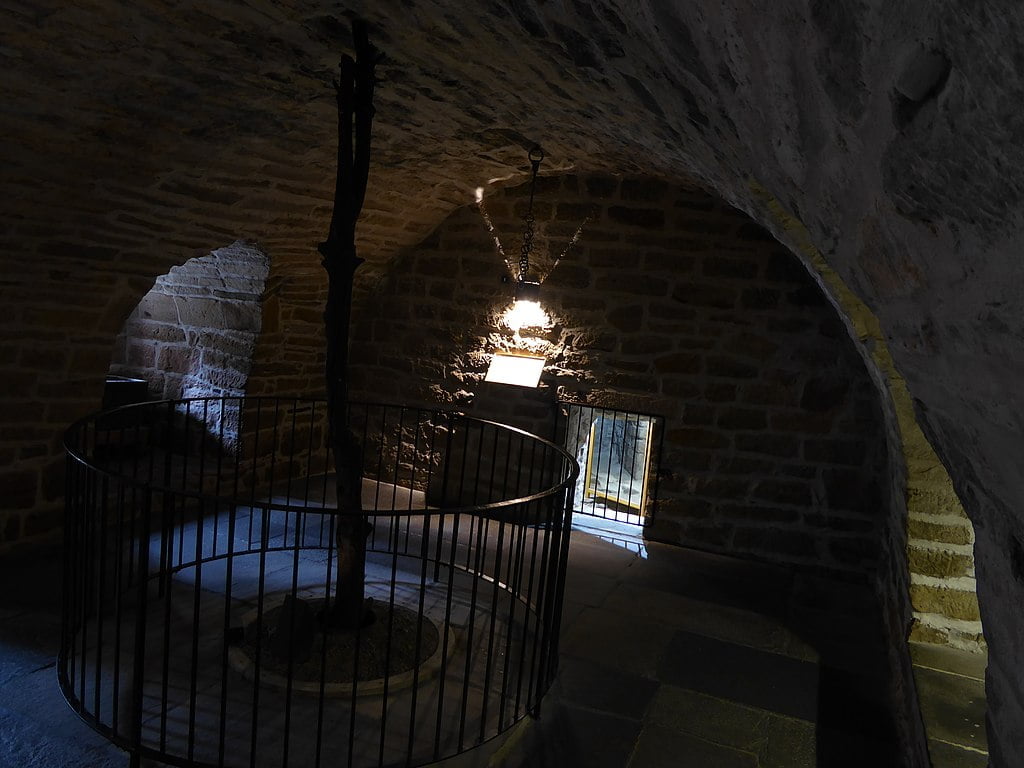 The Famous Pink Bedroom
The Pink Bedroom of the castle has not one but two Chippendale four-poster beds. The wall of the room is covered with tapestries that were made about 1680, retelling the tale of Don Quixote.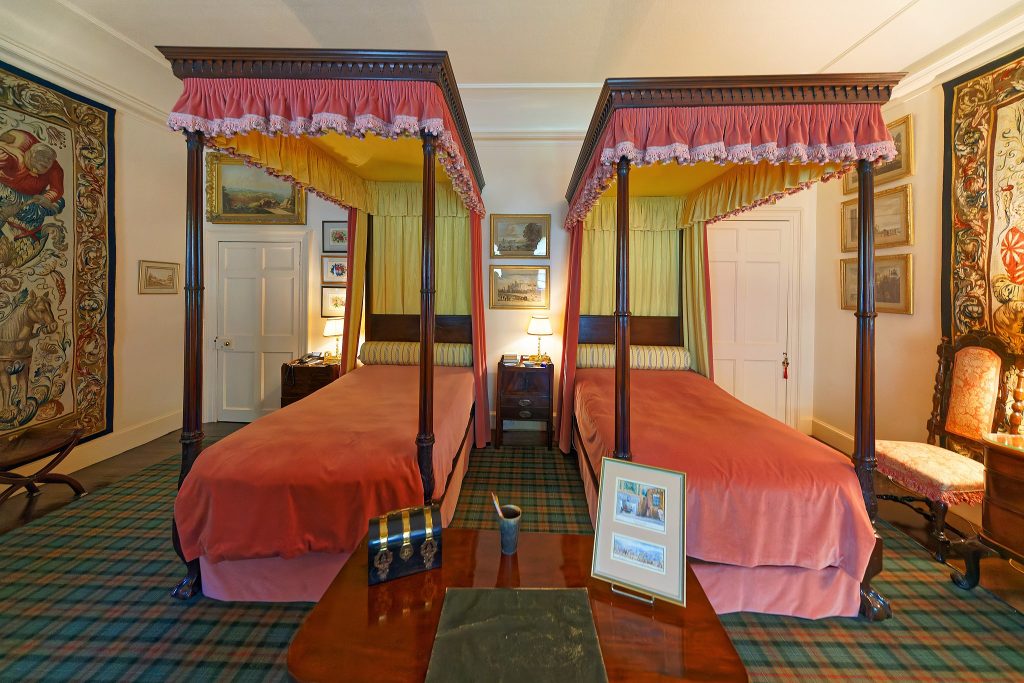 Story Behind the Renowned Tapestry Bedroom
In 1682, the famous Tapestry Bedroom covered with Flemish tapestries was created. It can be still found on the first level of the castle. These well-known tapestries are woven in the Arras hanging style–intended to be used as wall hangings and/or curtains–and are made of a blend of wool and silk. They include biblical tales like Moses leading his people through the Red Sea and were created especially to match the design of this room.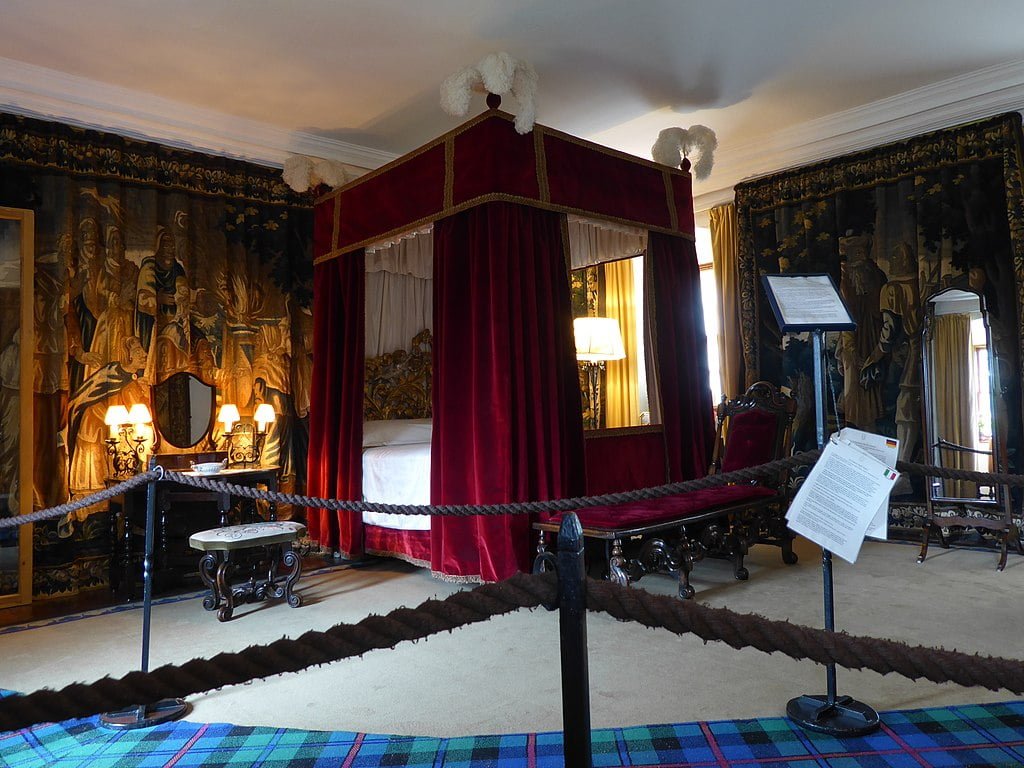 Cawdor Castle's Status as the Campbell's Residence
John Campbell, the fifth Earl of Cawdor, settled in the castle permanently in the 20th century. James Campbell, his second son, was born here and passed away in 2019. The sixth Earl followed John, and his second wife, the Dowager Countess Angelika of Bohemia, still resides there. The property is still privately owned by the Campbell family.
Revisit More Historic Places Below or Read Further
Current Times
Since 1370, the Thanes of Cawdor have called this castle their home. You will be enveloped by warmth as soon as you enter the castle. You will find the beautiful interior of the castle filled with paintings, tapestries, and medieval furnishings.
Outside, don't forget to visit Cawdor Big Wood. Spend time in one of Scotland's best forest regions–home to ancient oaks and rare lichens–and explore three exquisite and diverse gardens, full of color, on the castle estate. You can also enjoy a mouth-watering lunch or tea with home-baked goods in the courtyard café. You can also browse the exciting selection of gifts and treats in their shops. If you are a fan of golf, have a little fun on the 9-hole golf course, which offers enjoyment for golfers of all skill levels.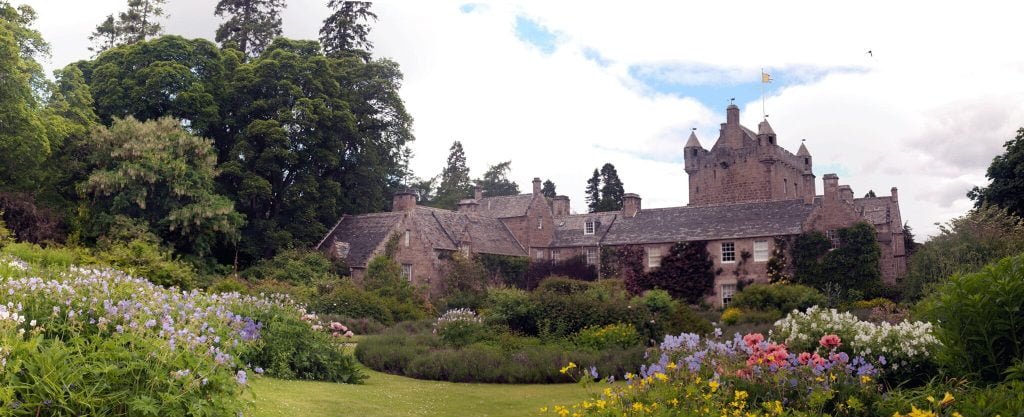 Interesting Cawdor Castle Facts
Cawdor Castle is the subject of a lot of fascinating facts. Here is a list of details you might find fascinating:
A living thorn tree that has been standing for more than 500 years is emerging out of the clay floor in the vaulted guard room of the castle.
Cawdor Castle is said to be a haunted castle of Scotland. It is believed to be haunted by three ghosts, one of them being John Cambell himself.
Cawdor Castle has been popular because of its feature in Shakespeare's play, Macbeth, and also because Cawdor has been linked to the famous TV show Outlander.
The castle has never been under attack. It has been remarkably intact and still stands in its ancient form.
Over 23 generations of the Cawdor family have lived in the castle.
Visiting Cawdor Castle – Tips and Tricks
Tourists love Cawdor Castle for its picturesque gardens, golf course, restaurants, and souvenir shops. The castle, which has a rich history, draws a large number of visitors every year allowing them to experience a medieval experience. If you're eager to visit this ancient monument, you can make your journey enjoyable and simple by following the tips and tricks provided below.
How to get to Cawdor Castle?
If you are traveling from Glasgow, you can take a train or bus, or else drive to Cawdor Castle. The train takes 5 hours and 20 minutes and costs £59 ($70 USD). The bus takes 5 hours and 50 minutes and costs £38 ($45 USD). The drive by car takes 3 hours and will cost you £50 ($60 USD).
If you are traveling from Aberdeen, the train will take 2 hours and £42 ($50 USD). The drive by car will take 2 hours and cost you £33 ($40 USD).
Ticket Prices, Visiting Hours & Travel Tips
Information was checked & updated on November 5, 2023.
Cawdor Castle is now closed to the public until Spring of 2024.
If you wish to purchase the nine-hole golf course day ticket, it will cost you £14.50 ($18 USD). For visiting just the castle gardens, the price is £8 ($10 USD) per person.
Parking and access for the disabled are available.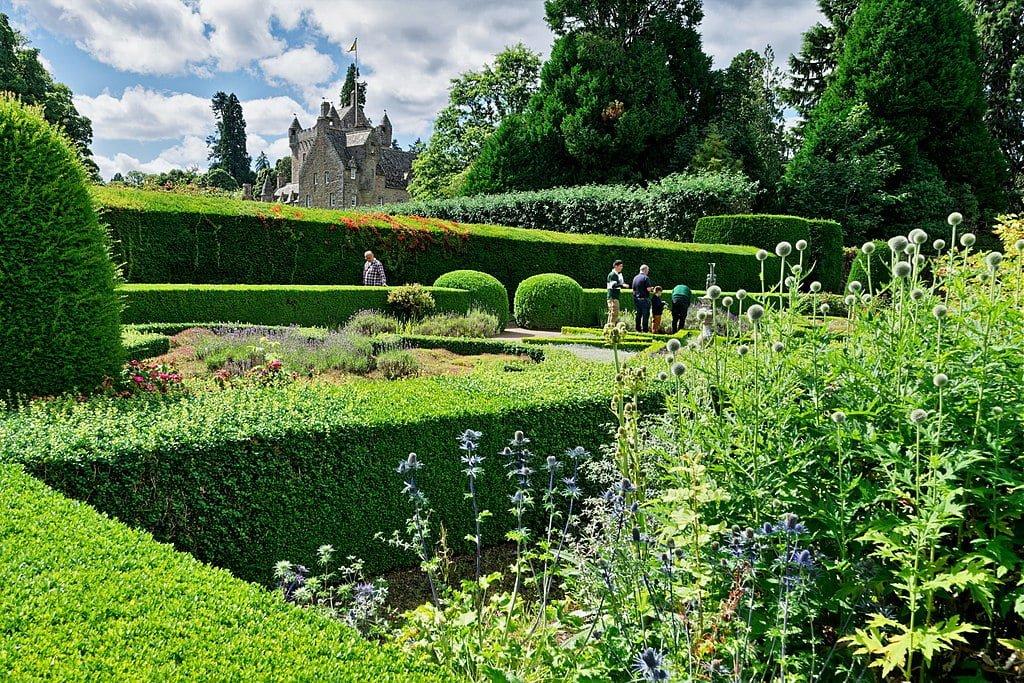 Things To Do at Cawdor Castle
Cawdor Castle provides several possibilities for entertainment and enjoyment. Some of these activities are as follows:
Learn about its fascinating history through guided tours.
Take a look at the holly tree that has been said to be around AD 1372.
Visit Cawdor Castle Christmas Market in December and envelope yourself with the holiday spirit.
You can stroll around in the three distinctive gardens at the castle. Each has a different history and outward look.
Visit the Courtyard Cafe and end your day at the castle with delicious food.
Don't forget to shop at the castle's Highland Shop. They offer a wide selection of products–hand-selected by the Dowager Countess Cawdor to suit all ages, preferences, and budgets–ranging from high-end Cawdor Castle relics to the finest local Scottish Cashmere wool.
While on your road trip in the region, be sure to stop at Nairn Beach, a very popular spot to unwind and have a picnic.
How Long Will It Take to Tour Around?
Two hours are sufficient to tour around the castle and explore the interior as well.
Some words of advice and tips:
Here are some suggestions and pointers to make your trip simpler:
All visitors may freely enjoy the castle's beautiful grounds, which include broad pathways ideal for wheelchair users. Additionally, there are several artistic benches scattered around, which are great for anyone looking to relax.
The castle provides private tours with its expert Castle Guides and self-guided audio tours as well.
Please note that dogs are not allowed in the Castle's immediate grounds or the old gardens. However, you can take your dog for a stroll around the castle's designated dog walking circle.
Don't forget to carry your own water bottle and an umbrella as the weather can be unpredictable.
Quick Video Tour of The Main Cawdor Castle Areas