Most people know who Christopher Columbus is, but it wasn't until the twentieth century that someone realized that no one had ever designed a tribute for the Great Explorer. That's when Castillo de Colomares was constructed. To this day, it serves as a memorial that commemorates the life and achievements of Columbus. This castle may be just 25 years old, but it's rich in another type of cultural heritage. Let's take a look at its conception, execution, and current condition:
Castillo de Colomares is an architectural marvel, so it's always a surprise when people find out that it was designed by a doctor and constructed by local builders (and only two of them, at that!).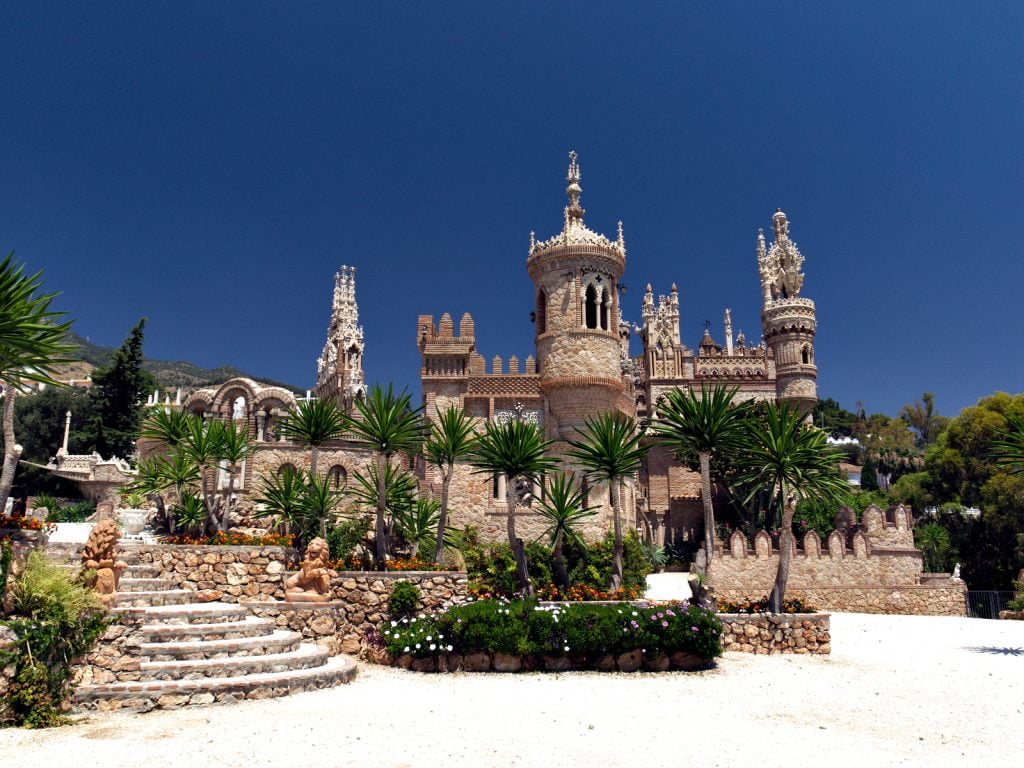 Frequently Asked Questions
Where is Castillo de Colomares Located?
Constructed in Benalmádena–a town near Andalusia, Spain–Castillo de Colomares covers 1500 meters and is considered one of the largest monuments ever to be constructed.
When was Castillo de Colomares Castle Built? Who Build It?
Castillo de Colomares was built by Dr. Esteban Martin Martin. It took him and his team of two local masons 7 years to complete this castle (1987-1994).
When is The Best Time to Visit the Castle?
Spring and autumn are the best seasons to plan a visit, as the weather is mild and opening times are longer. Plus, there aren't as many tourists around.
What Other Monuments are Located Nearby?
There are lots of interesting destinations around Castillo de Colomares. Along with the numerous bars and restaurants nearby, you can also plan a visit to the Nerja Caves with its interesting rock formations and archaeological attractions.
The town of Fuengirola is also a good place to visit, with a great cultural ambiance that you can enjoy in its nightlife and gastronomy.
FOR HISTORY | BEAUTIFUL IMAGES | INTERESTING FACTS | TRAVEL TIPS
Early History
From the Mind of Dr. Esteban Martin
Castillo de Colomares is the brainchild of Dr. Esteban Martín Martín, who was appalled by the fact that Christopher Columbus was exclusivized as the historical property of the Italian-American community. As a native Spaniard, Dr. Martín wanted to reclaim Columbus's legacy. He put all his mind and energy into designing the perfect memorial for the Great Explorer: right in the heart of Spain, on the land, the doctor had intended for his personal retirement home.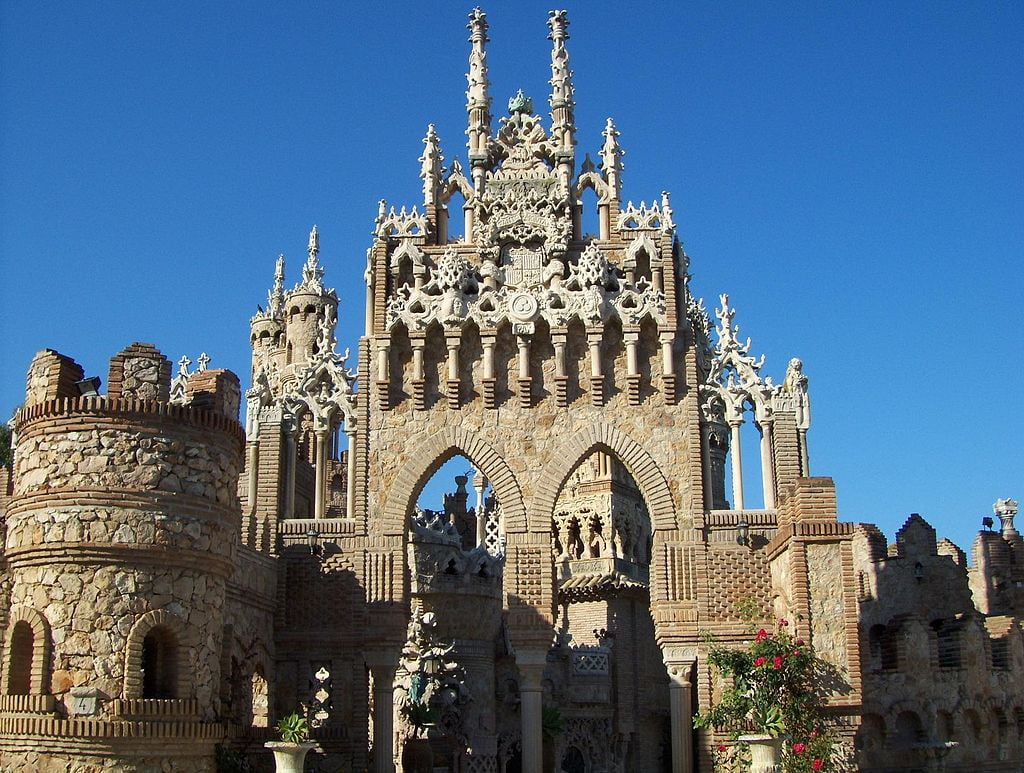 The Delay in Completion
Martin's vision included finishing Castillo de Colomares in a timeline that coincided with the 500th anniversary of Columbus's 1492 expedition. He even wrote to the Spanish Monarch of the time, but when he showed no interest, Martin was deeply distressed. Later, his son told the reporters that he was shocked because no one wanted to reclaim the legacy of Columbus. No one expressed an interest in his unconventional project. He completed the castle in the next two years.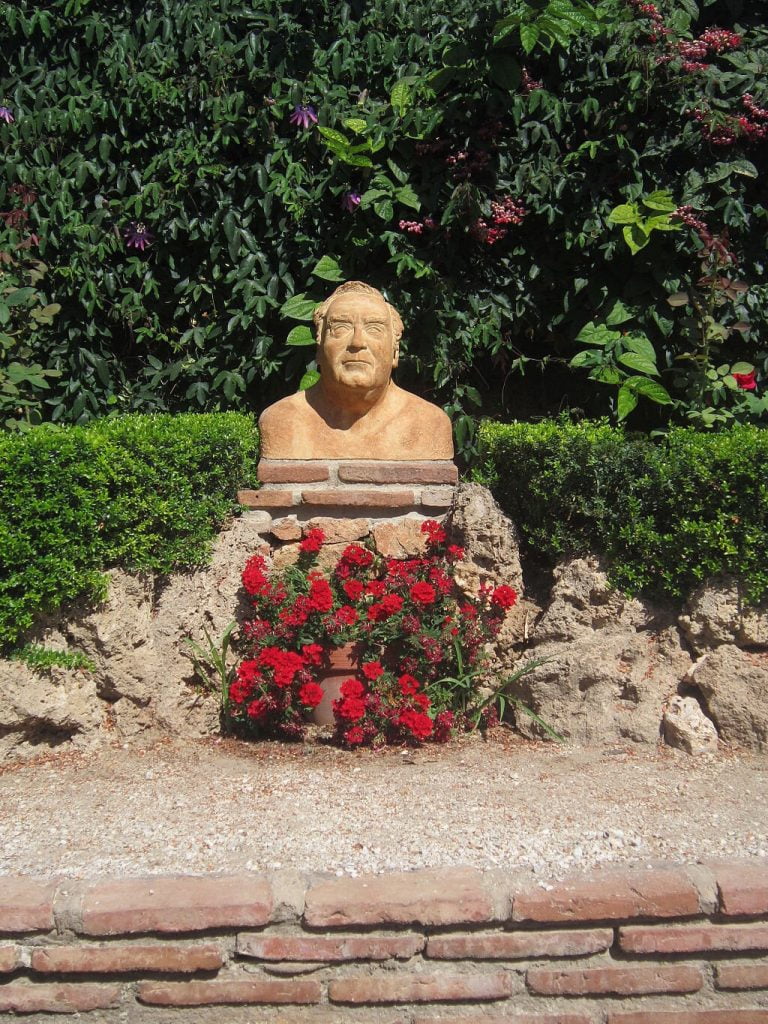 The Unique Architecture
Martin's ideas came to fruition when the castle was constructed between the years 1987-1994. It featured a unique amalgam of various architectural styles. From Byzantine inspirations to Romanesque and Gothic accents that are sprinkled with Mudejar, this castle is a true marvel and a sight to behold. The good doctor and his team spent 7 years masterminding Castillo de Colomares in their spare time, so it's definitely a labor of love.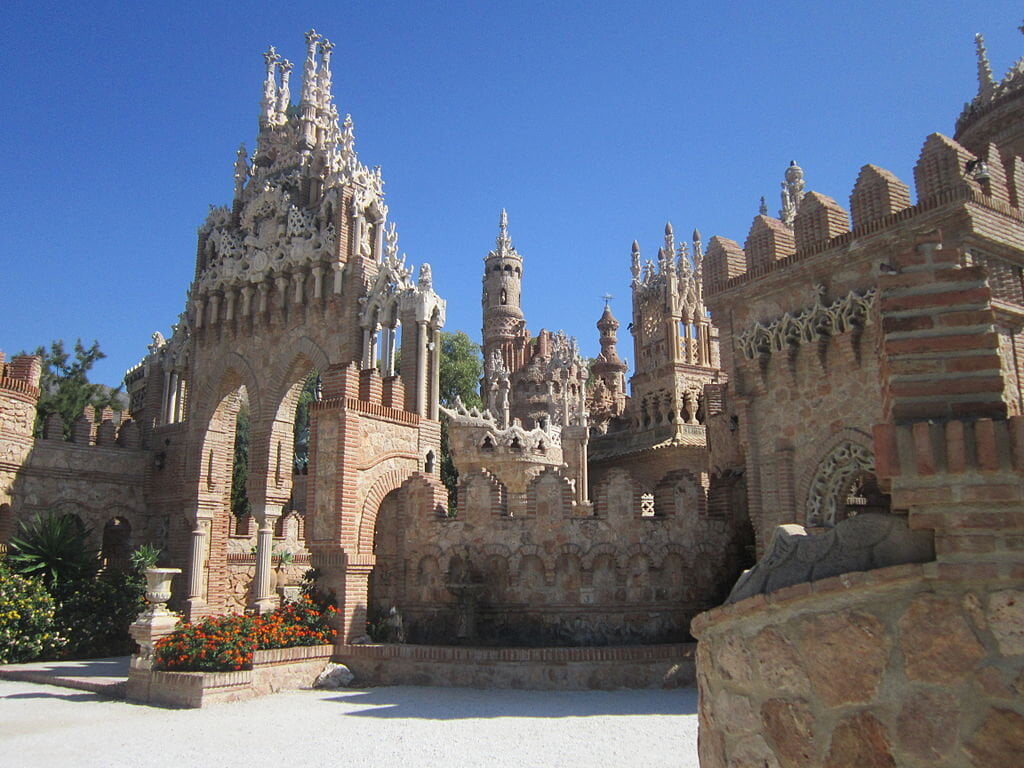 Revisit More Historic Places Below or Read Further
Current Times
"You have to leave people to execute their madness because it can be something extraordinary." This is a direct quote from Martin's son, who took on the task of refurbishing Castillo de Colomares after it had been converted into falconry. As the largest monument in the world, this castle is less a dedication, more a love letter to Christopher Columbus and his discoveries. A careful observation of its architecture and detailing will have you pointing out various elements that relate to Columbus's breakthroughs.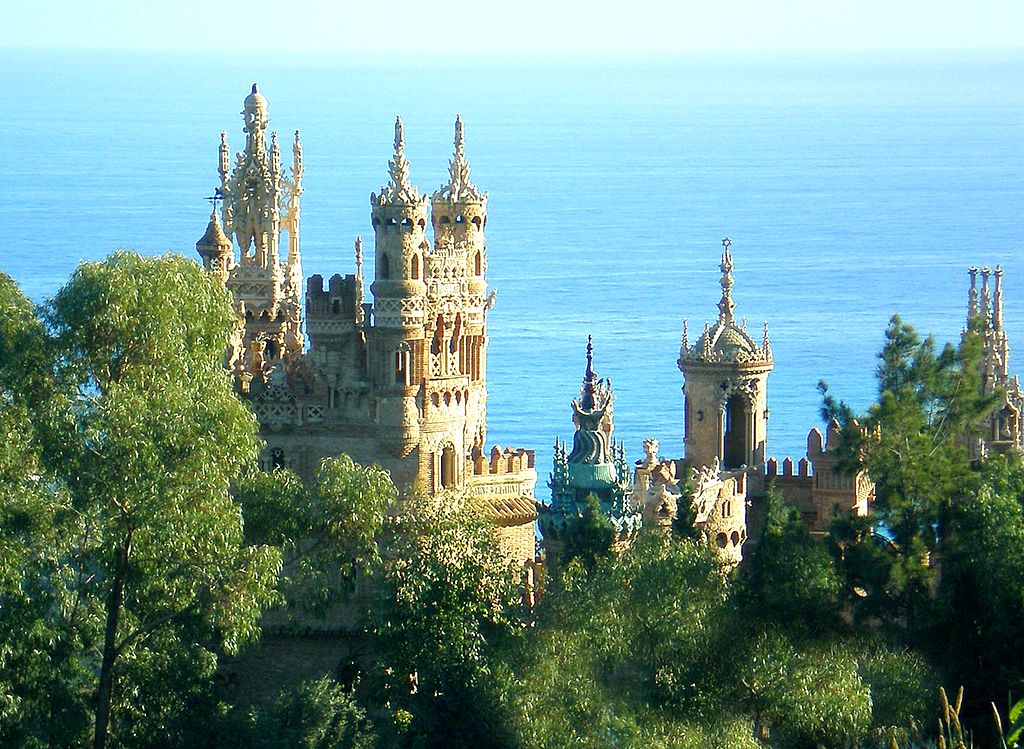 The most apparent one of these includes the statues of the three ships that he used to travel to America. They're finely carved and look like an intrinsic part of the architecture itself. Similarly, there are other such details that chronicle the details of Columbus's voyage, each one seamlessly architected into the castle design.
Interesting Castillo de Colomares Facts
The 1500 meter (1640 yards) span of Castillo de Colomares is considered as one of the largest monuments in the world. However, it also houses one of the smallest churches in the world: with a covered area of 1.96 meters square (2.34 yards square).
Castillo de Colomares is an architectural marvel, so it's always a surprise when people find out that it was designed by a doctor and constructed by local builders (and only two of them, at that!).
The different architectural styles of Castillo de Colomares (i.e. Romanesque, Gothic, Byzantine, & Mujedar) represent the different cultures (i.e. Islam, Judaism, and Christianity) that were found in Spain at the time Columbus set on his journey.
The castle also features the Coats of Arms of the Catholic monarchs who approved Columbus's travel plans.
The construction of this castle follows the techniques that were used in the Middle Ages which Dr. Esteban himself helped enact alongside his team.
The fairy-tale front of the Castillo de Colomares has seen various uses over the years, including a falconry and even a reptile center.
Visiting Castillo de Colomares – Tips and Tricks
If you're planning a visit to Spain and consider yourself a history or architecture aficionado, then you should definitely plan your itinerary to include a visit to Castillo de Colomares. Here's all the information you need to make things super easy and swift: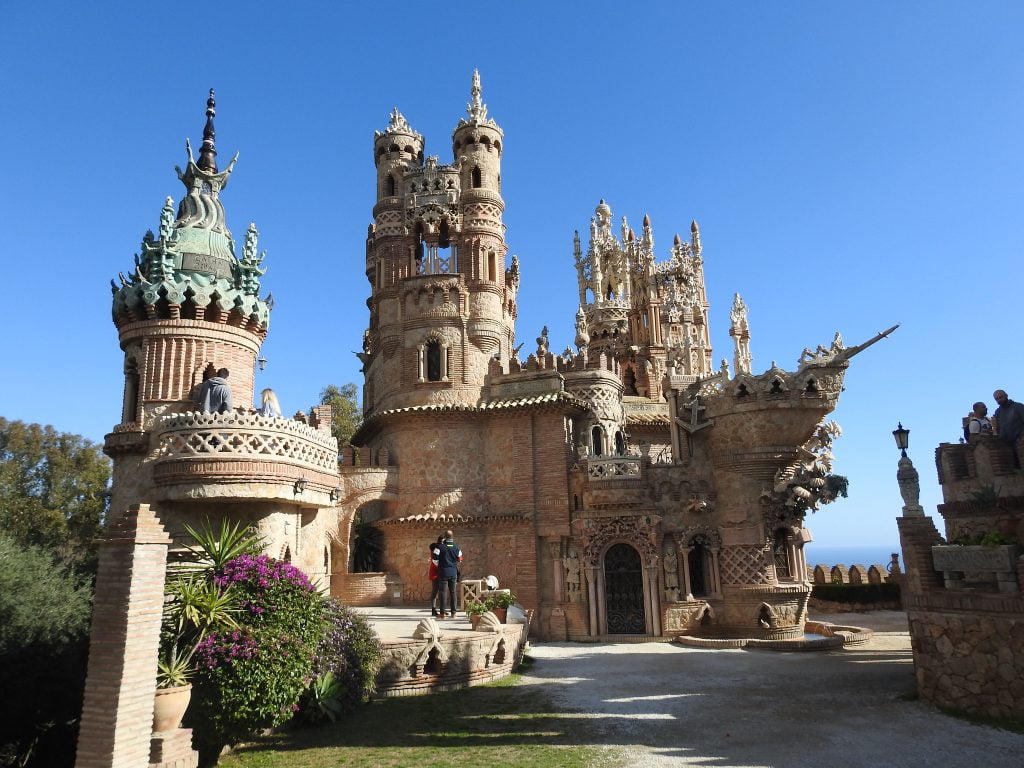 How to get to Castillo de Colomares ?
There are several ways to get to Castillo de Colomares from Madrid. You can take the four-hour train ride that will cost you between €51-€101 ($60-$120 USD). Alternatively, you can also take the bus via Malága-María Zambrano. It's a pretty long ride (averaging 8 hours) but it's also the cheapest at €26-€34 ($30-$40 USD).
You can also fly to Malaga and take a train to your destination in a price frame of €58-€183 ($68-$215 USD). If you're up for a five-hour drive, then you can also take your car to the Castillo de Colomares from Madrid for €51-€81 ($60-$95 USD).
Ticket Prices, Visiting Hours & Travel Tips
The opening times of Castillo de Colomares vary from season to season. During summers, you can visit from 10:00 am to 2:00 pm. There is a three-hour break (siesta!) after which visitors are allowed in from 5:00 pm to 9:00 pm. Note that the castle is closed on Mondays and Tuesdays.
During winters, timing changes to 10:00 am to 2:00 pm and 4:00 pm to 6:00 pm daily. In Autumn and spring, you can visit from 10:00 am to 2:00 pm and 4:00 pm to 7:00 pm.
Ticket prices to visit this castle are quite reasonable. It's €2 ($3 USD) for adults and €1.30 ($2 USD) for kids and pensioners. Group tours require a special reservation, but there are qualified staff on-hand ready for the task.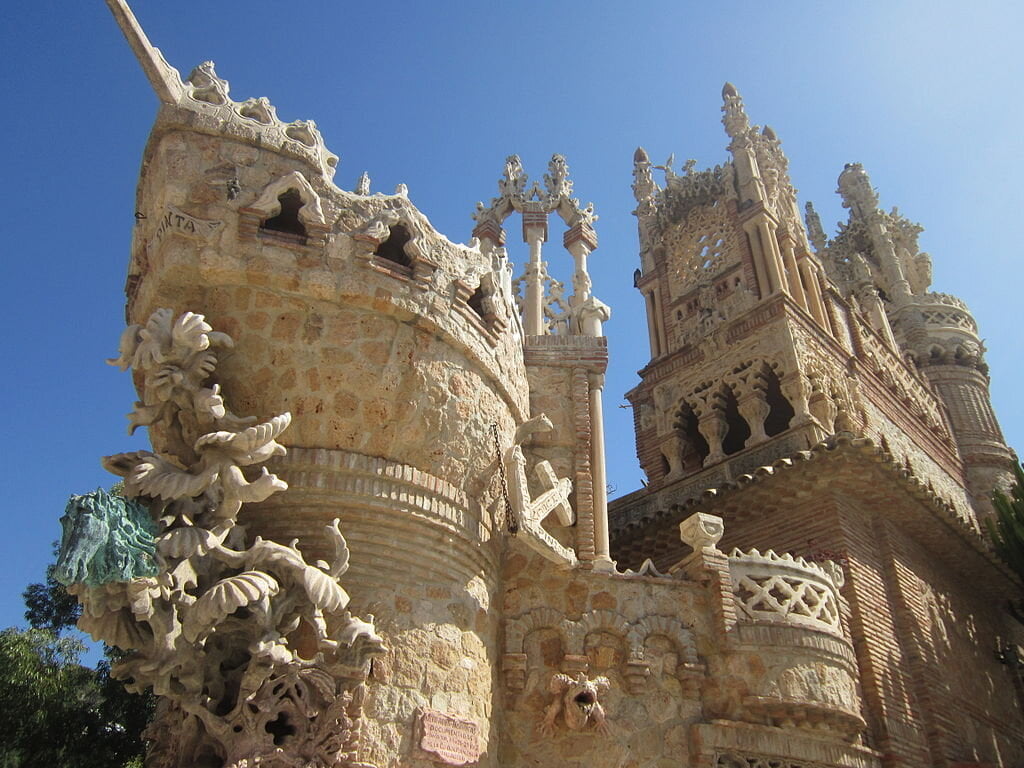 How Long Will It Take to Tour Around?
It takes around an hour to visit Castillo de Colomares in its entirety.
Some words of advice and tips:
Keep your eyes peeled for all the details and keep your cameras ready, as there are several beautiful locations that you'll want photographs of!
You can make a game out of pointing out the various Columbus-related easter eggs that have been incorporated into the architecture of this castle. Whoever gets the most, wins!
If you really want a detailed visit, then opt for the guided group tour.
Quick Video Tour of The Main Castillo de Colomares Areas