This fantasy castle is located in South Ayrshire, on the west coast of Scotland. It is currently owned by Scotland's conservation organization National Trust for Scotland.
Admire the beauty of the castle's architecture and discover the grand entrance hall, housing one of the world's greatest collections of British military flintlock pistols. Explore the magnificent castle rooms, all brimming with historical artifacts. Marvel at Robert Adam's Oval Staircase, a grand colonnaded staircase lined with an oil artwork collection. Visit the unique Round Drawing Room, which has breathtaking views of the Firth of Clyde. You will no doubt have a memorable time at Culzean Castle exploring its historical background and its stunning views.
It is one of the few castles in Scotland that are believed to be haunted. According to the stories, the castle has seven ghosts wandering around.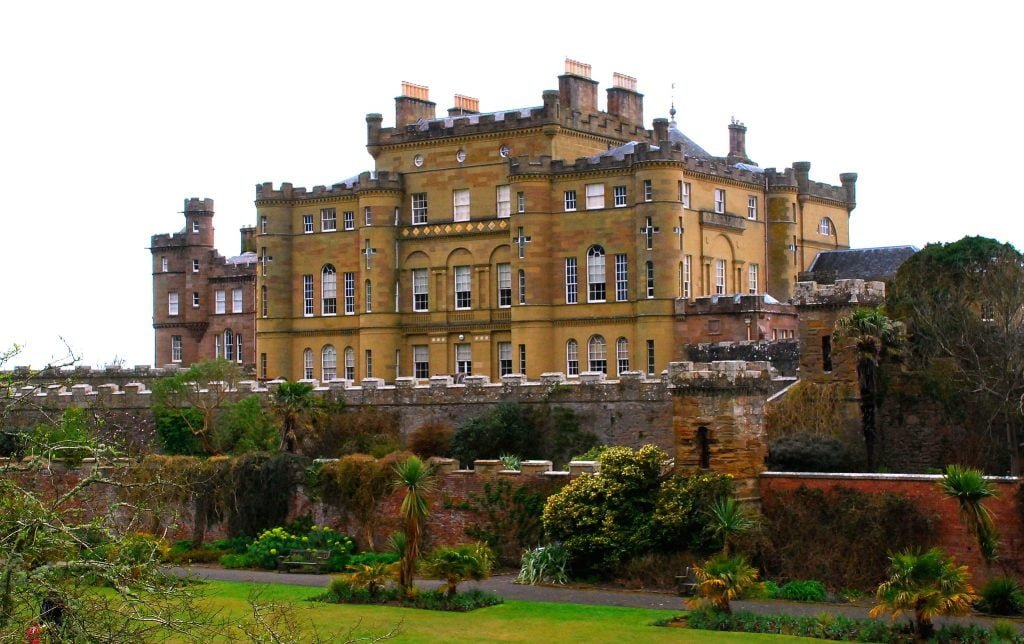 Frequently Asked Questions
Where is Culzean Castle Located?
When was Culzean Castle Built? Who Build It?
When is The Best Time to Visit the Castle?
Summer is the best time to visit Culzean Castle because that is when the weather is at its best in Scotland. If you want a detailed historic walk of the castle, then you will be delighted to know that guided tours take place at 11 a.m. and 2:30 p.m. every day throughout the summer, from April to October.
What Other Monuments are Located Nearby?
While you are at Culzean Castle, you can also visit some of the surrounding attractions including Dunure Castle, Burns Monument and Gardens, and Crossraguel Abbey.
FOR HISTORY | BEAUTIFUL IMAGES | INTERESTING FACTS | TRAVEL TIPS
Early History
Unique Build of the Castle
The 10th Earl of Cassilis gave the order for Culzean Castle to be built according to an L-plan. He gave this important task to a renowned architect of his era, Robert Adam. The order was to turn a prior, simpler building into a splendid country home that would serve as his earldom's residence.
In phases, the castle was constructed between 1777 and 1792. Robert Adam supervised Culzean's development into one of Scotland's most opulent and stylish noble residences. Adam extended a kitchen block and a new three-story wing with a subsequent brewhouse, milkhouse, and bedrooms at one end. Each bedroom is built differently and each one has a story of its own. Other additional projects included a drum tower, an 18th-century oval stairway, and a collection of luxurious apartments. (Nowadays, the Eisenhower Apartment is available to accommodate your stay at the castle.)
A British Yeomanry Cavalry Regiment established by the Earl of Cassillis in 1794, was brought back to the castle on June 24, 1961, so it could receive its first guidon–a military pendant.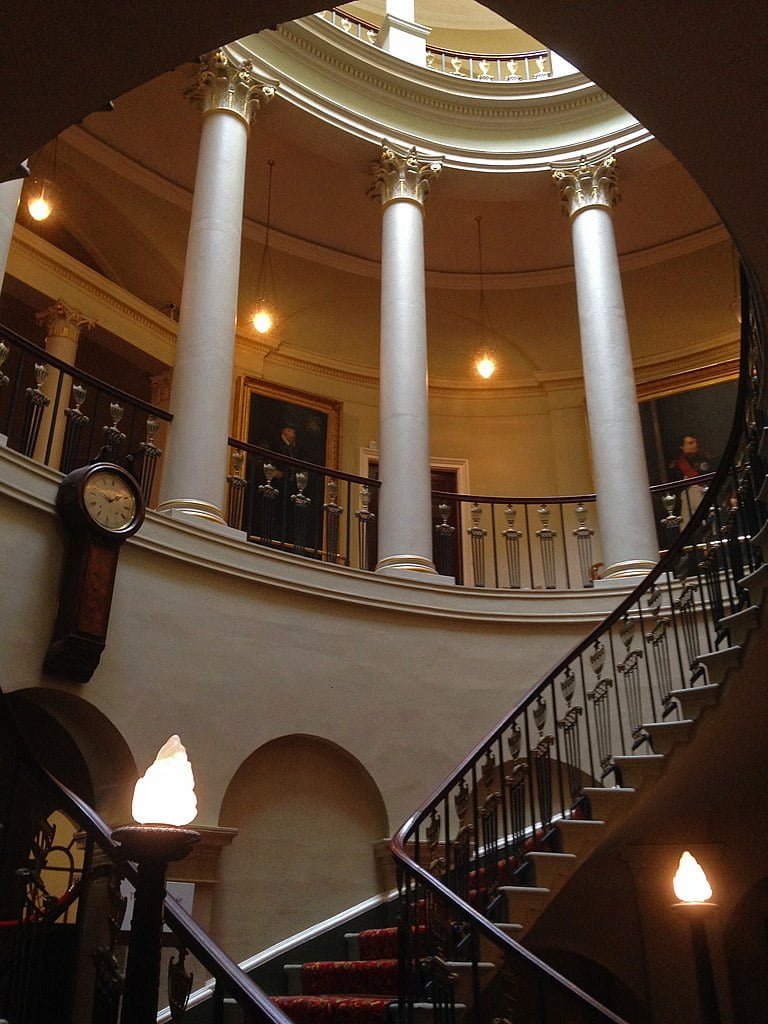 Culzean Castle's Link to Former US President Eisenhower
The Kennedy family, the castle's owners of the time, handed over the castle to the National Trust for Scotland in 1945. The single stipulation was that Eisenhower would get the top floor as a token of appreciation from the Scots for his contribution to World War Two. The Eisenhower Apartment has now been transformed into a luxurious hotel.
The Castle Finally Under the National Trust
William Lindsay, an American millionaire, took charge of Culzean Castle in April 2011, and it was reopened after renovations. William Lindsay asked that after his death, $4 million of his assets be bequeathed to Culzean. Today, the castle receives over 300,000 tourists annually and is cared for by the National Trust.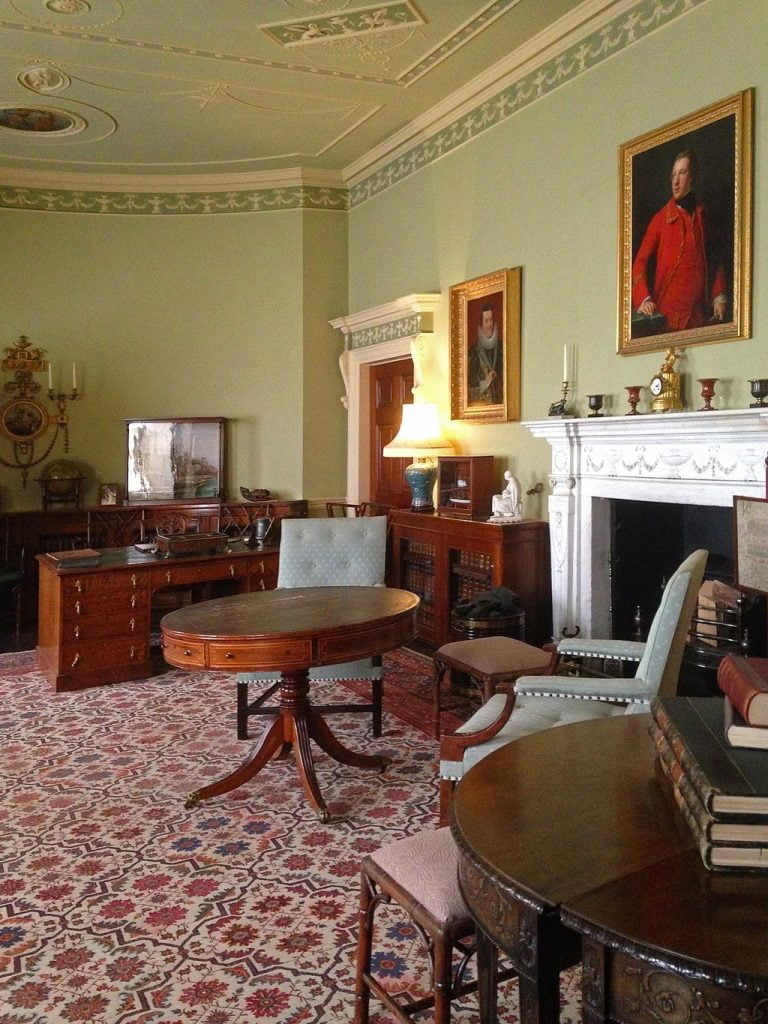 Revisit More Historic Places Below or Read Further
Current Times
If you are a history buff, an avid hiker, a walker, a garden enthusiast, or interested in centuries-old architecture–Culzean Castle is the place for you to go.
You can stroll around in the gardens, spot the secret buildings, visit the deer park, spend quality time at Adventure Cove and Wild Woodland Play Parks, or buy souvenirs from the farm store on the site. The long drawing room and the blue drawing room both have finely detailed ceilings that look really artistic. You can visit the north side of the castle where you will find the Gas House, which provided gas to the whole town until 1940. If you truly want a royal experience, you can even stay at the castle.
The castle presents a beautiful mix of luxury and nature altogether. So head over to this destination with your friends and family and get to experience this wonderfully built castle.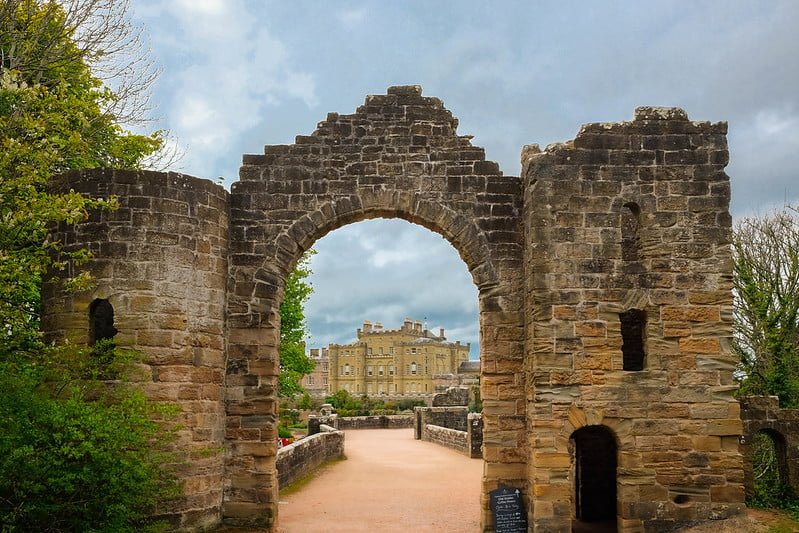 Interesting Culzean Castle Facts
Some facts about Culzean Castle are quite fascinating. Here is a collection of information you might find intriguing:
The Royal Bank of Scotland's five-pound notes had a picture of Culzean Castle on the back of the note from 1972 until 2015.
You will find a propeller from an airplane used by Leefe Robinson to shoot down the first German airship downed over UK territory in World War I. It is kept in the armory of the castle.
It is one of the few castles in Scotland that are believed to be haunted. According to the stories, the castle has seven ghosts wandering around.
US General and President Eisenhower were gifted a lifelong lease on the apartment on the castle's top level in 1945.
Visiting Culzean Castle – Tips and Tricks
Culzean Castle is one of the most awe-inspiring structures in Scotland. If you are in Scotland, do not miss the opportunity to visit this historical wonder. It will surely be a trip that you will not forget. From its interesting history to ghost stories to its vastly beautiful estate, you will enjoy it all. You will be surrounded by fun activities, delicious food, colorful gardens, and of course, the grand castle. If you're excited to explore this ancient monument, you can make your travels simple and enjoyable by following the recommendations below: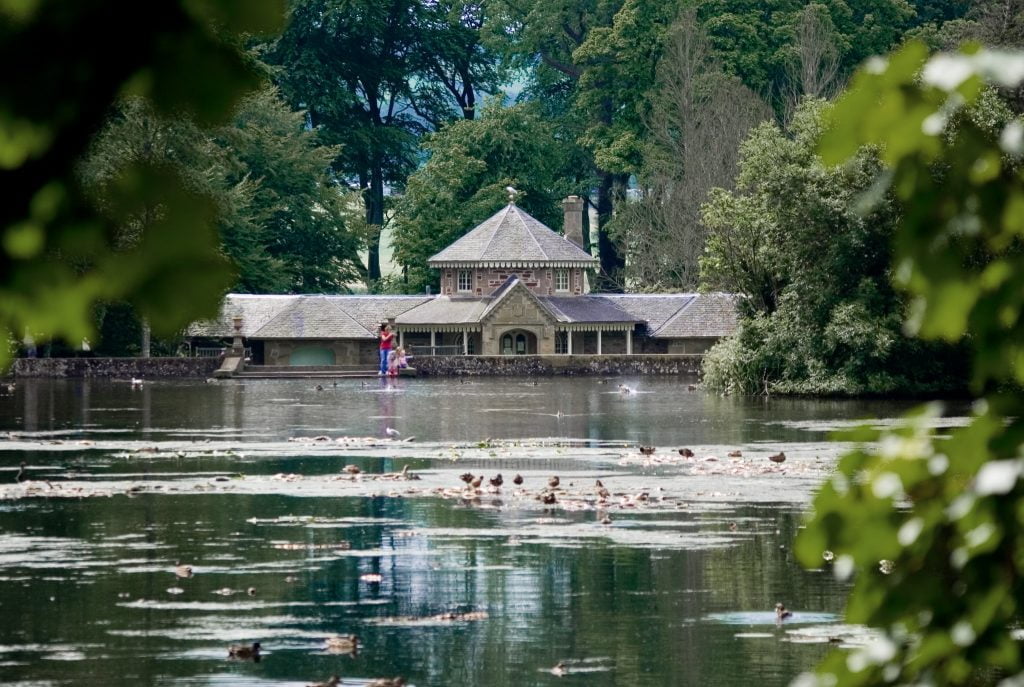 How to get to Culzean Castle?
You can head over from Glasgow to Culzean Castle (41 miles) with ease via a bus, train, taxi, or car. A bus ride will take 3 hours and will cost you £8 ($10 USD). A journey by train will take 3 hours and will cost £21 ($25 USD). A taxi takes an hour and the costs are £105 ($125 USD). If you drive youself, it will cost around £17 ($20 USD)
Ticket Prices, Visiting Hours & Travel Tips
Information was checked & updated on November 5, 2023.
Culzean Castle is closed from 30 Oct–22 Mar 2024, The Country Park of the castle is open all year, daily. 
The entry fee to explore the Country Park varies. For adults, the ticket costs £7 ($9 USD), and for children it costs £4 ($6 USD). For a family of four, it can cost £18 ($20 USD).
Things To Do at Culzean Castle
At Culzean Castle, there are several opportunities to unwind and enjoy yourself. These are a few of these activities:
Below the castle, there are sea caves that are seasonaly accessible, only visitable during the summer.
There are forty secret buildings around the estate, take your time to spot them all.
Explore the pleasure garden and the kitchen garden. Let yourself relax and take in all the beauty around you.
Enjoy the summer sun on the beach 3 miles below the castle.
If you have children with you, they would love to see the deer park. It is located inside the castle grounds.
Adventure Cove and Wild Woodland Play Parks are another fun area for the kids to enjoy, offering lots of activities such as zip slides, treehouses, and much more.
The castle will also facilitate you with excellent food on site. There is a farm store on site as well where you may purchase items and souvenirs.
If you love walks surrounded by natural beauty, then you're in for a picturesque jaunt. The castle offers three beautiful routes. Enjoy the beauty around the trails and absorb the colorful nature at play.
When you enter the estate, you will also see a lot of sculptures and intricate plasterwork patterns.
One of the largest collections of British military flintlock pistols can be viewed in the entrance hall.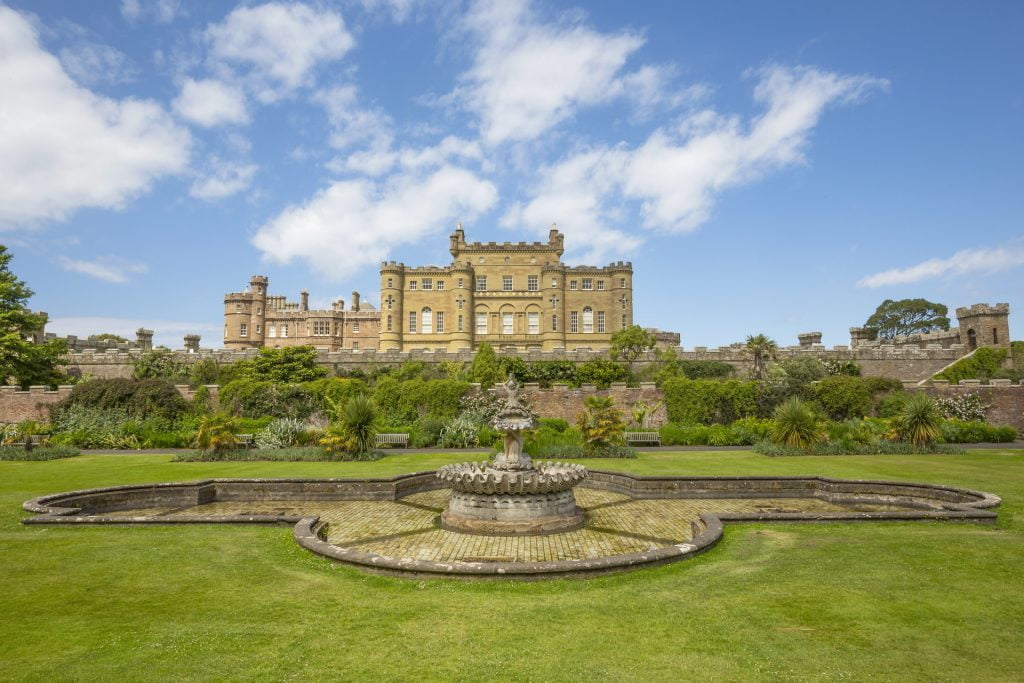 How Long Will It Take to Tour Around?
If you only visit the castle, it can take you around two hours to explore and learn the history of the castle. If you wish to stroll around in the gardens for some activities, then you can stay till 4:30 pm and enjoy every second possible at this beautiful estate.
Some words of advice and tips:
Free shuttle service is available to drop you at various places around the castle
You can get food on the go from the Home Farm restaurant on the castle estate.
Information sheets are provided in each of the castle's rooms to share all the relevant historic details.
Wheelchair access is available throughout most of the castle.
Quick Video Tour of The Main Culzean Castle Areas