What is a medieval fantasy castle? Immediately a picture from a Hollywood fantasy film springs to mind. It should have several turrets poking towards the clouds above the battlement walls, tantalizingly visible from afar. The impenetrable surrounding wall with equally-spaced towers rises from a clear moat. If the drawbridge is down, impressively carved wooden doors framed by iron-ornamented lintels and drawbridge pulleys may be open to allow a glimpse into the mysterious buildings surrounding it. But where did this classic image of a castle develop? Does it accurately reflect the true medieval castle or does it capture the spirit of medieval fantasy instead?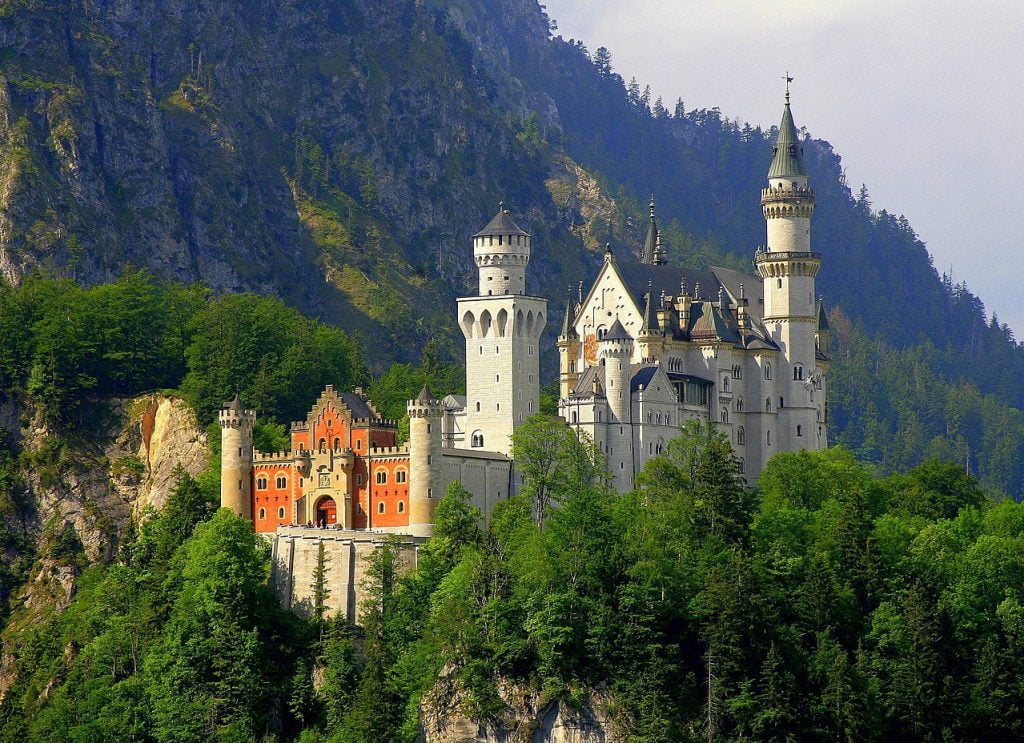 Top 3 Medieval Fantasy Castles In Real Life
The medieval period of Europe's history spans roughly a thousand years from the decline of the Roman Empire around 496 AD, to the start of the Renaissance in the 1400s. This period is also known as the Middle Ages and even the "Dark Ages," to the chagrin of many historians due to the implication that this period was merely an unimportant bridge of insignificant time between two greater times.
Be that as it may, the medieval period was filled with many important events that influenced the development of the entire human race. Strongholds of rulers had already progressed from earthen mounds surrounded by rough ditches, to stronger wooden forts surrounded by high wooden palisades, and then to stone castles. See what magical changes were made to create stunning fantasy castles through the years…
Neuschwanstein Castle
When you look at Neuschwanstein Castle you see turrets reaching into the clouds, against the fairytale backdrop of mountains and a pristine lake. It appears as if you can climb into the fabulous painting by a great artist and become a part of this fantasy world…
This work of art took shape in the imagination of Ludwig II of Bavaria. He had grown up living in his imagination at his childhood home in Hohenschwangau, at Nymphenburg Castle. His life had been filled with fantastical balls, stables of horses, and the clothing and regalia befitting a young prince. Ludwig was ultimately declared mentally insane by 4 different government-sanctioned psychiatrists and forced to abdicate, but was he really insane? Or did he simply have an imagination that was ahead of his time?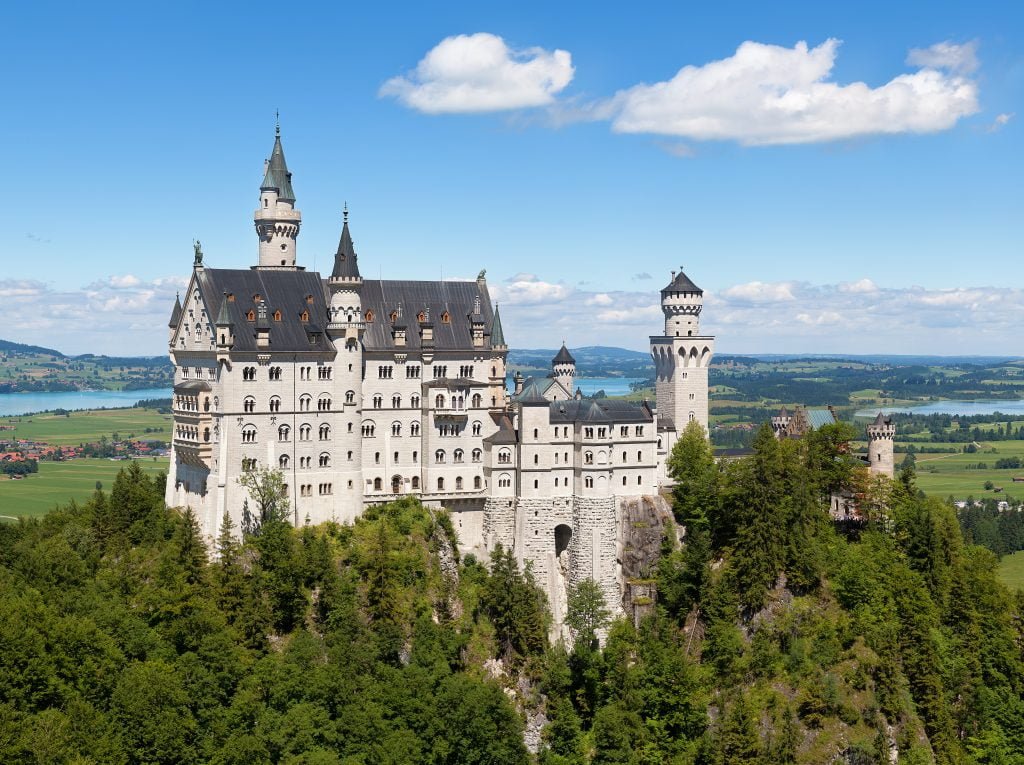 King Ludwig's eccentric lifestyle and imagination that designed the most stunning castles were a testament to his great mind. The beautiful operatic works of Richard Wagner captivated Ludwig's imagination and transported him to the times of Germanic legends and myths. Ludwig summoned Wagner to court and the two collaborated on two concert halls to honor Wagner's works. Ludwig's castles still remain as elements of beauty and architecture combined with fantasy–a testament to great imagination, though perhaps not to the strongest ruler Bavaria has had. No wonder his works make it to the list of the best castles in Germany.
Alcazar de Segovia
Situated over the beautiful town of Leon, Spain is the magnificent fairytale castle the Alcazar de Segovia. Alcazar means fortress or palace in Arabic; true to its name, this is a majestic palace and one of the best castles to visit in Spain.
The Alcazar became the royal seat in 1474 (nearly 350 years after it was first built) when the warrior Queen Isabella I sought refuge in the castle after hearing her brother Henry IV had died. Without wasting time, this formidable lady was crowned Queen of Castile and Leon at the Segovia Square. She would go on to become Queen of Aragon when her husband, Ferdinand, ascended that throne. They ruled a united Spain from the Alcazar de Segovia for 25 years.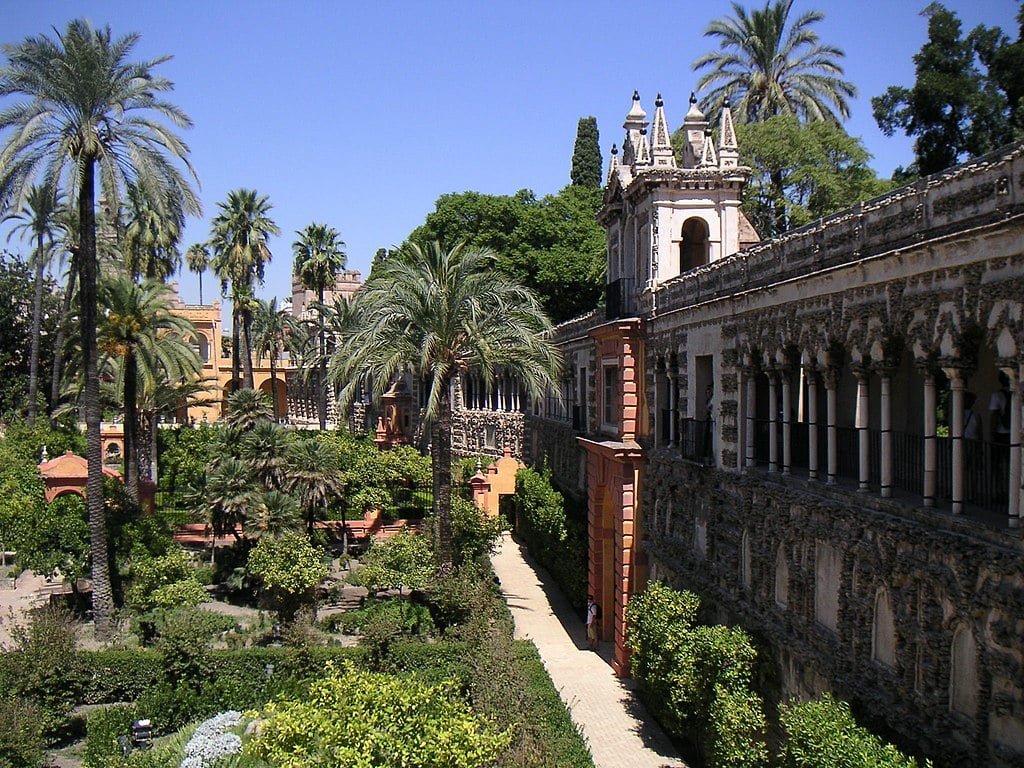 However, the truly fairytale appearance of the Alcazar of Segovia was started by the additions of King Phillip II in the 16th century. He added the conical towers with their black slate roofs and had the gardens designed to create a magical appearance for his fourth bride, Anna of Austria. In 1886, the Alcazar was almost destroyed by a fire but was rebuilt in 1896 by King Alfonso XIII and his mother, the Regent Queen Maria Christina. The reconstruction strayed from the original design and was inspired by King Ludwig II of Bavaria's fantasy castles, such as Neuschwanstein, resulting in the fairytale look it bears today.
Urban legend says that the Alcazar was part of the inspiration for Cinderella's Castle in Walt Disney World.
Bran Castle
Bran Castle located in Romania is a mysteriously beautiful example of a real-life castle that looks as if it comes from tales of fiction telling stories of romance and mystery. Is it any wonder that it is Bran Castle that is said to be the true castle home of the fictional vampire Count Dracula?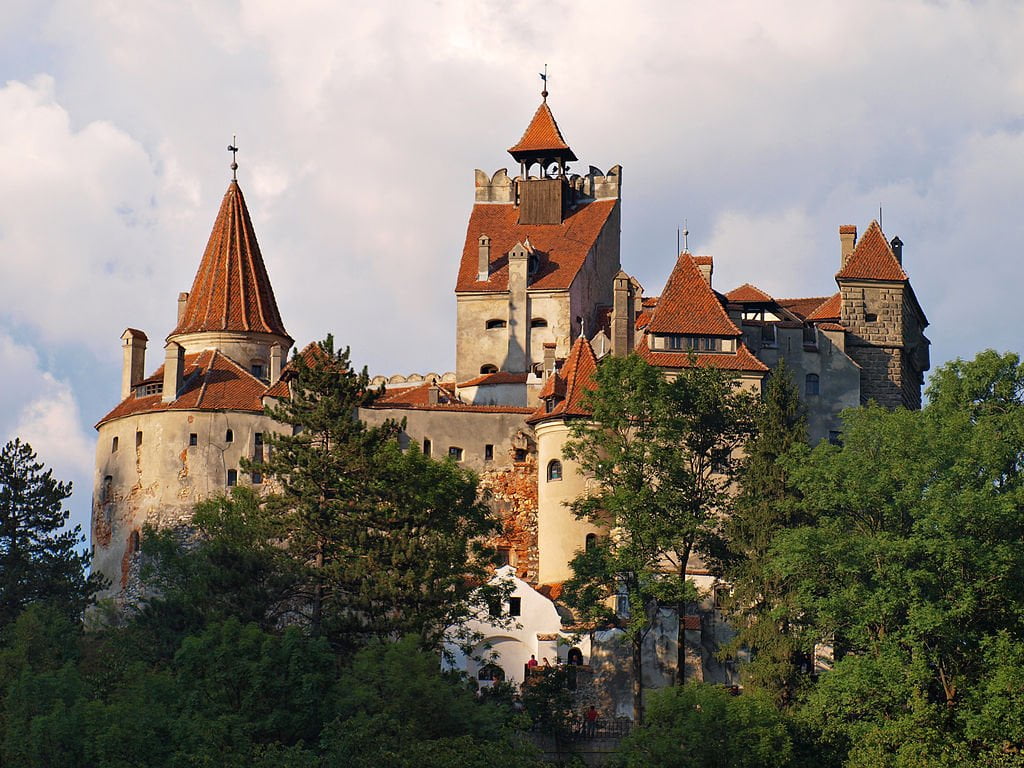 The true history is slightly less romantic but no less interesting. The original purpose of defense, from the Teutonic Knights to defend against the Ottoman Empire, was eventually enhanced by affluent owners – kings and wealthy nobility. Elaborate architectural designs, artfully created and sculpted buttresses and carvings, intricately designed turrets, courtyard fountains and sculptures, and carefully hidden utilitarian facilities, gave Bran Castle a romantic appearance … and showing off wealth and affluence. And so, the fairytale castle was born, perfect for a spooky association!
The Most Famous Fictional Castle
Camelot of the legendary King Arthur must take pride of place! Not only was this castle constructed with paranormal assistance from Merlin, the great magician, but Arthur had the assistance of the best architects, stonemasons, and skilled artisans. The entire kingdom of Camelot was at his command.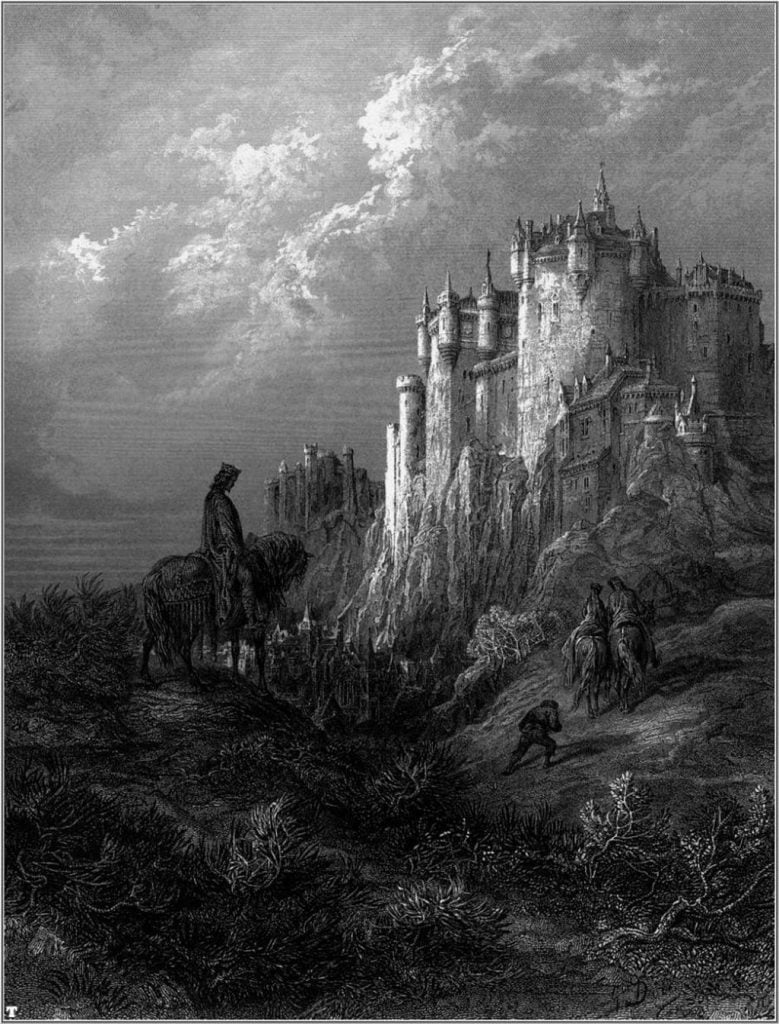 Legend suggests that the remains of Tintagel Castle in Cornwall are better called "Camelot". Assertations suggest that this was the location for the legendary city and its heroic occupants. We leave it up to your imagination. Is there a possible grain of truth in this or is Camelot merely fiction? Was there a King Arthur, Queen Guinevere with her secret love for a handsome knight Sir Lancelot, or was it simply a fabulous tale that has stood the test of time, originally written by Geoffrey of Monmouth in the 12th century?
Explore Medieval Times Deeper or Continue Reading…
Beautiful Fantasy Castles in Real Life
Castles have long caught imaginations. As the "nouveau" rich, with their industry-made wealth, came into modern societies of the 19th and 20th centuries, new castles started taking shape as private homes. Never meant for defense or politics, this new definition of castle started cropping up worldwide. From Craigdarroch Castle in British Columbia to Belvedere Castle in Central Park, New York City, to Strawberry Hill on the outskirts of London, England–they are the epitome of medieval styles reimagined into fantastical designs.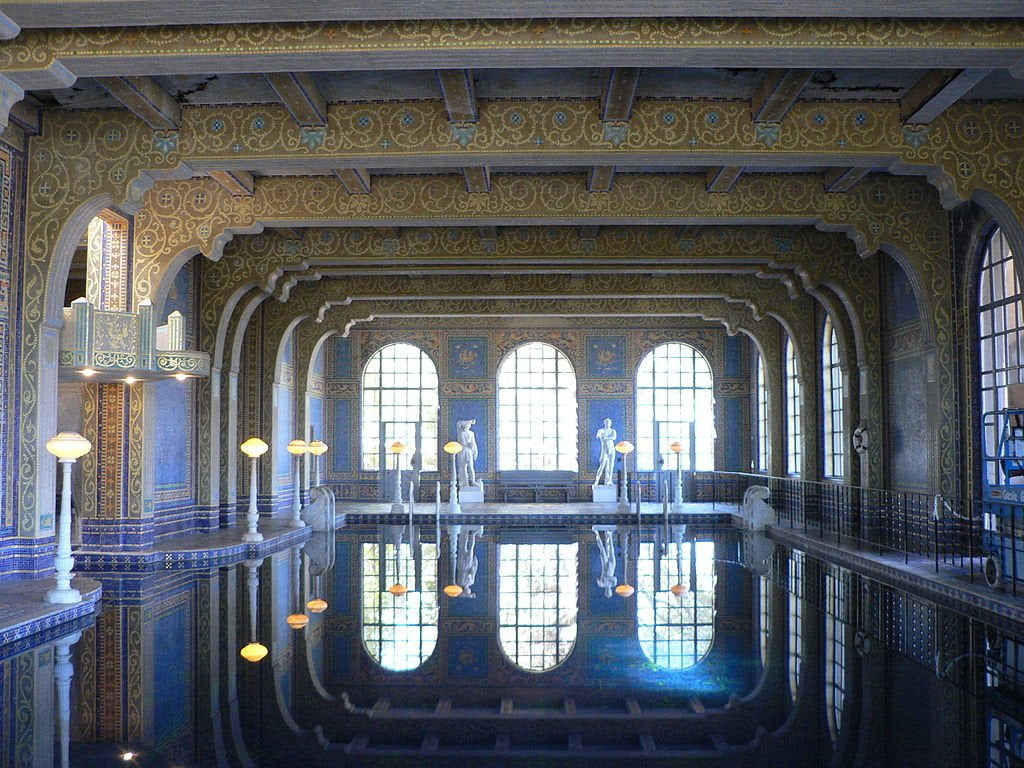 A palatial example is the magnificent Hearst Castle in San Simeon, California. It was originally known as La Cuesta Encantada, " The Enchanted Hill". William Randolph Hearst collaborated with the first female architect who graduated from the "Ecole des Beux-Arts" in Paris, Julia Morgan for this stunning project. This magnificent construction features 19 sitting rooms, 42 bedrooms, 61 bathrooms, a Gothic-style library, a movie theater, an assembly room, a billiards room, and more. Hearst was a collector of art and antiquities. His castle is filled with private collections that include ancient Egyptian, Greek, and Roman items.
Medieval Defense to Fantastical Wonders…
Medieval castles changed throughout the centuries from strongholds and fortresses to magnificent palaces. As the extravagance of the nobles and royals altered over the centuries, so to did their taste in building projects. It is staggering to look at the development of civilization in terms of castles–compare an early wooden keep to the lavish Neuschwanstein Castle.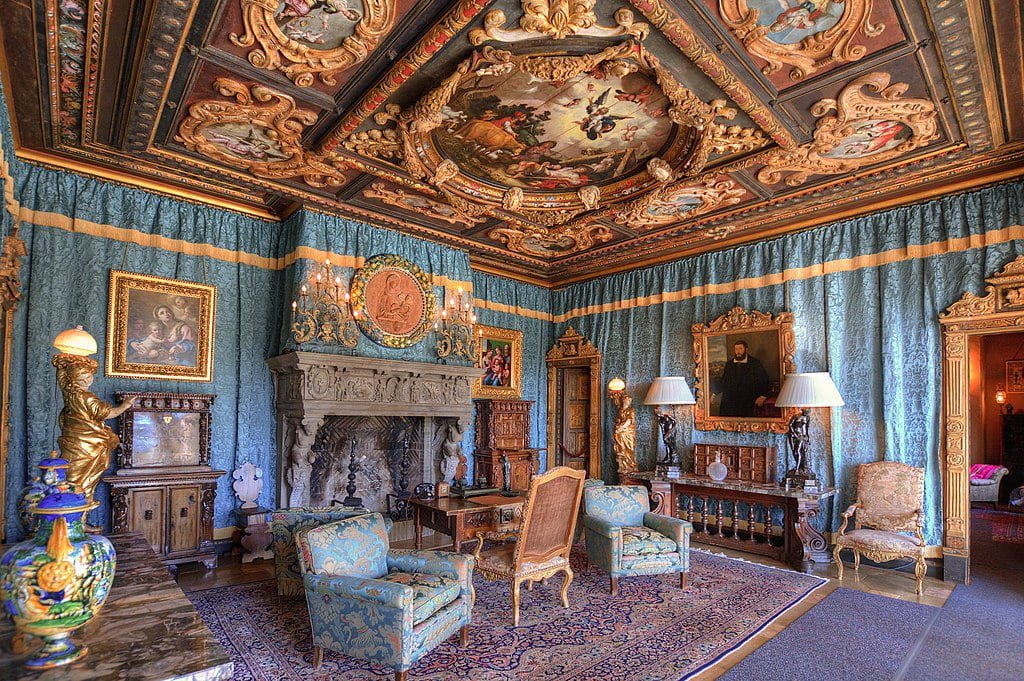 Through trade with the East, Africa, Europe, and the Americas, interiors could be lavishly furnished. German woodworking, curtains of genuine silk, and Persian carpets with unique designs all were noteworthy additions. Meanwhile, the best wines of Bordeaux stocked the cellar to drink with the stag shot on the castle occupants' hunts. Refinement was defined by a wide collection of rare objects, used for construction, decorating, and consumption in Medieval … and Medieval-styled modern castles.