Germany is renowned for being the abode of some gorgeous architecture and Neuschwanstein Castle is one reason why. With its inspired Romanesque architectural design, the beauty of this castle elevated on its clifftop perch is a familiar icon of European castles.
Featuring gorgeous surroundings and a fantastic view of the Alpsee Lake, this castle is a magnificent jewel that was first conceived by King Ludwig II. Although secluded, it has carved itself a firm place as an attractive tourist destination. We'll look at every aspect of its history and current condition:
Neuschwanstein Castle is an inspiration behind the iconic Disney logo and Sleeping Beauty Castle. Segovia Castle in Spain is also believed to have influenced the logo.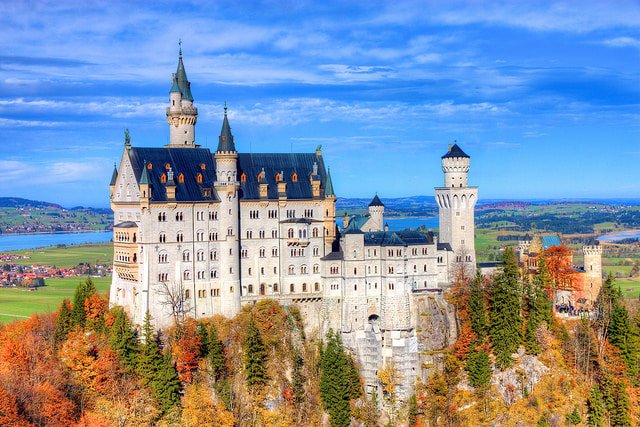 Frequently Asked Questions
Where is Neuschwanstein Castle Located?
Neuschwanstein Castle is located on a clifftop above the village of Hohenschwangau in the southwest region of Bavaria, Germany.
When was Neuschwanstein Castle Built? Who Build It?
The castle was built in 1872 by King Ludwig II of Bavaria.
When is The Best Time to Visit the Castle?
Visiting the castle during winter is not advisable. During this period, the castle is covered in thick fog or snow, limiting otherwise gorgeous views. The best times to visit the castle will be between May, June, and October. The skies are clear, the surroundings are in full bloom, and you can have a great time exploring!
What Other Monuments are Located Nearby?
You can also visit Hohenschwangau Castle, Ehrenberg Castle, Fort Claudia, and the Linderhof Palace when you're in the area. All of them are pretty amazing sites to behold as well.
FOR HISTORY | BEAUTIFUL IMAGES | INTERESTING FACTS | TRAVEL TIPS
Early History
Neuschwanstein Castle is not as old as many of its medieval predecessors that we celebrate on this site. In fact, the very first foundational stone of this edifice was only laid down in September 1869.
The Beginning of the End
Ludwig II came into power after the sudden death of his father Maximillian II. He was only 18 at the time and certainly did not have any political savvy. This eventually led to his downfall during the Seven Weeks' War in 1866. Ludwig lost all his political power and became obsessed with envisioning Neuschwanstein Castle.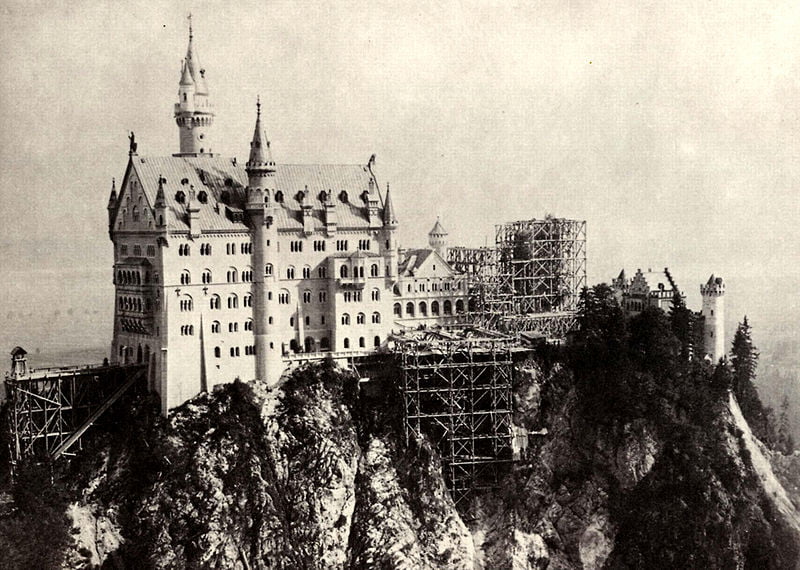 Inspired by Wagner
Wagner was said to be Ludwig's musical idol, it is speculated that he conceived Neuschwanstein's designs inspired by Wagner's pieces. The two were also briefly acquainted, Wagner was part of Ludwig's court during his reign as king.
From Imagination to Reality
In Lugwig's mind, the castle was supposed to be a better, more romantic version of Hohenschwangau Castle which was constructed by his father Maximilian II. He was certainly aiming for perfection in Neuschwanstein's design.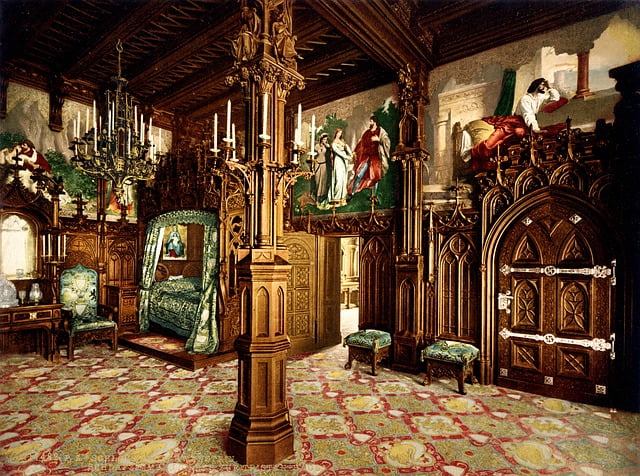 Essentially, this new castle (or New Hohenschwangau, as Lugwig had dubbed it) was supposed to be a replacement for his father's ruined architectural legacy. This is where Lugwig's flair for dramatics and immense imagination came into play. He wanted to play out his operatic obsession in architectural form. Neuschwanstein was designed to have a Singer's Hall, along with a whopping 200 rooms (all of them well-appointed).
Ludwig also aimed for technological advances and wanted to incorporate central heating, electricity, and a buzzer for summoning servants in his design as well. It was quite a quixotic venture and failed to live up to the aggrandized version in Ludwig's mind. It took 15 years to complete a single section.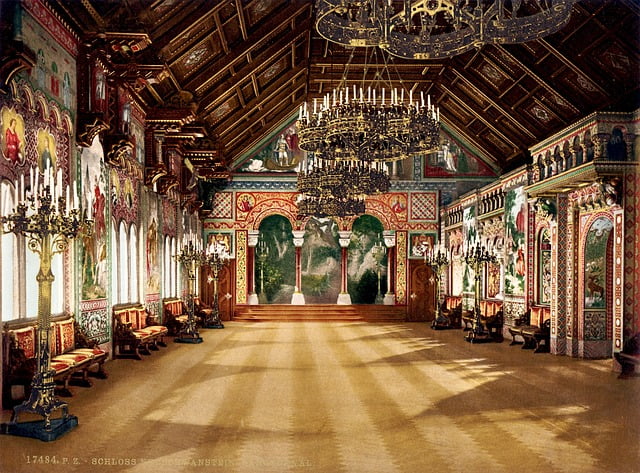 Doomed to be Incomplete
When Ludwig's budget finally fell through and his foreign creditors endangered the state of Bavaria itself, the state officials stepped in. Ludwig was declared insane and stripped off his royal title. A few days later, he was found mysteriously dead in waist-deep water. He was 41 at the time … the mystery is debated to this day.
After his death, construction halted completely. Only a few rooms were ever fully completed and the castle was opened to the public only seven weeks later.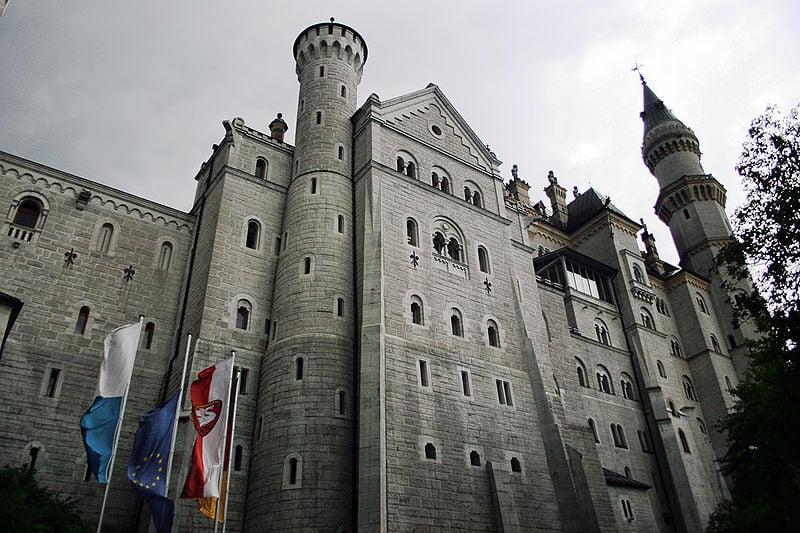 Participation in World War
The Castle was used as a Nazi treasury for artwork during World War 2. It was intended to be an art museum slated to be opened by Hitler himself once the war was over. The location was deemed ideal as it was far away from Berlin, where there were frequent bombings.
The castle stands today as a survivor of the world wars. It served as a treasury of sorts for the loot of war claimed by the Nazis during World War II, until 1944. The Nazi SS considered blowing up the castle and the artwork it contained in 1945 as they were losing the war, but thankfully that plan never played out and the castle was surrendered to Allied forces intact.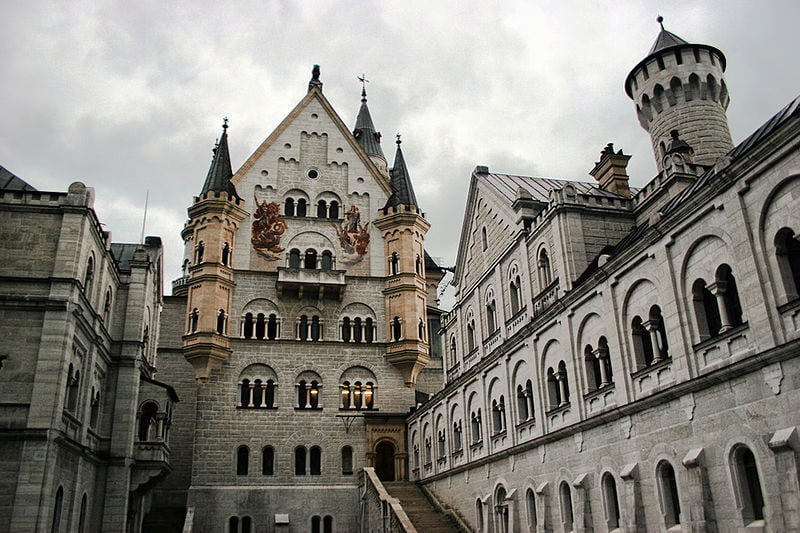 Revisit More Historic Places Below or Read Further
Current Times
Neuschwanstein Castle may be the legacy of a mad "fairy-tale king" but it's also a testament to the power of creativity. Today, the castle is owned by the Bavarian Palace Department and a whopping 1.4 million tourists visit the castle every year. This constant stream has ensured that the debt Ludwig II owed had been cleared many times over.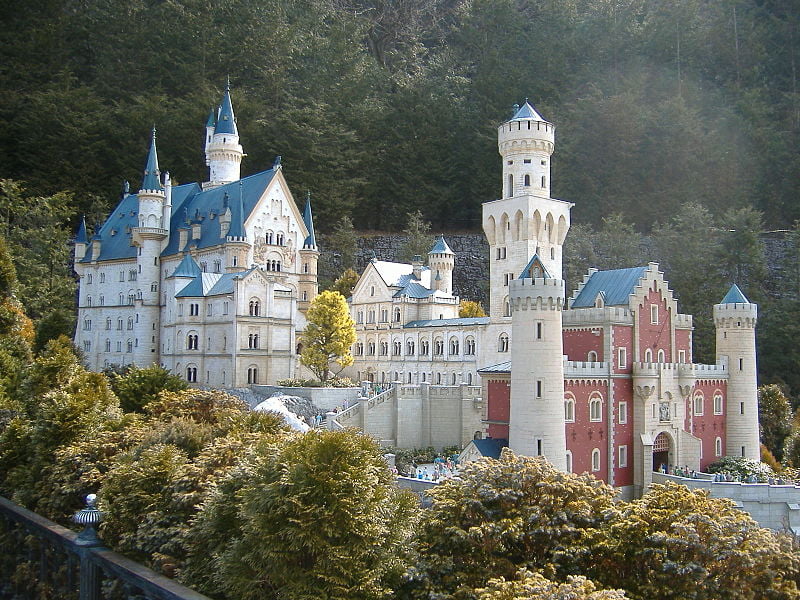 The castle which qualifies to be tagged as part of the "wonders of the world" has also been useful in drawing historical allusion by poets and writers alike. Its paradoxical complexities provide a grounded framework for literary appreciation and application. This emphasizes its relevance to aesthetics, literature and education in recent times.
Interesting Facts About Neuschwanstein Castle
Ludwig had initially named the castle New Hohenschwangau castle, but following his demise, Neuschwanstein (which means "New Swan Stone") replaced the name.
King Ludwig only resided in the castle for a very brief period of time, despite being absolutely obsessed with it over the course of his life.

Neuschwanstein Castle is an inspiration behind the iconic Disney logo and Sleeping Beauty Castle. Segovia Castle in Spain is also believed to have influenced the logo.

The original design of Neuschwanstein Castle was conceived by the painter Christian Jank. Later, his ideas were technically interpreted and rendered into architectural form by architect Eduard Riedel.

Neuschwanstein Castle was equipped with all contemporary technological comforts, just like Ludwig had envisioned. These included flushing toilets, a dumbwaiter that serviced the dining area, and even telephones when most people did not yet have landlines.

The throne room of Neuschwanstein is one of its most impressive parts. It was modeled after a Byzantian basilica with a vaulted ceiling decorated with stars.
Visiting Neuschwanstein Castle – Tips and Tricks
If you, too, are mesmerized by the history and romance of Neuschwanstein Castle, then it's time to put it on your must-visit list of castles. If nothing else, then the view alone is worth seeing! Here's everything you need to know about planning a trip: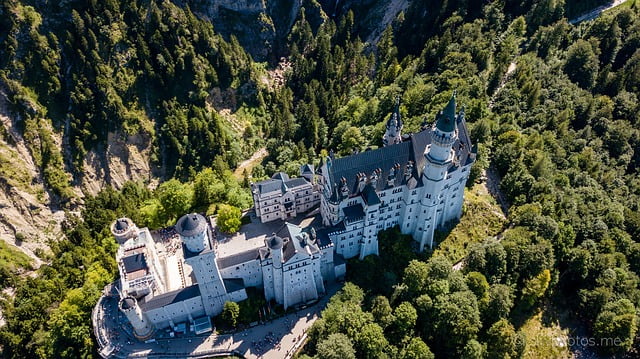 How to get to Neuschwanstein Castle?
If you begin your journey at the German capital of Munich, then there are several ways you could travel to Neuschwanstein Castle. The most reasonable of these is by taking the train (Muenchen Hbf Gl.27-36) to Füssen, transferring to a bus, and arriving at Hohenschwangau, Königsschl. From there, it's an 18-minute walk to the castle. The whole journey will take almost 3 hours.
On the other hand, if you're not the biggest fan of public transport, then you can simply drive to ​​Neuschwanstein in your own car. From Munich, the entire journey would take an hour and a half while costing you €15.16-€23 ($16-$24 USD) in gas.
Ticket Prices, Visiting Hours & Travel Tips
Information was checked & updated on October 4, 2023.
Neuschwanstein Castle can only be visited as part of a guided tour, so that's the first thing to keep in mind when planning your visit. Moreover, wearing FFP2 masks is still mandatory at the castle. That said, the opening times of Neuschwanstein from April to October are 9:00 am to 5:00 pm, while between October and March, they change to 10:00 am to 4:00 pm.
You have to get your tickets at the online ticket shop–it's best to book in advance as most slots are already taken up. You'll also have to pay a booking fee of €2.50 ($3 USD) aside from the ticket.
Prices vary according to age with an adult ticket costing €15 ($16 USD) and children and pupils under 18 only being free. The reduced student, pensioner, and guest card entrance price is €14 ($15 USD). There are a number of other tickets available as well. You can visit the official website for more information.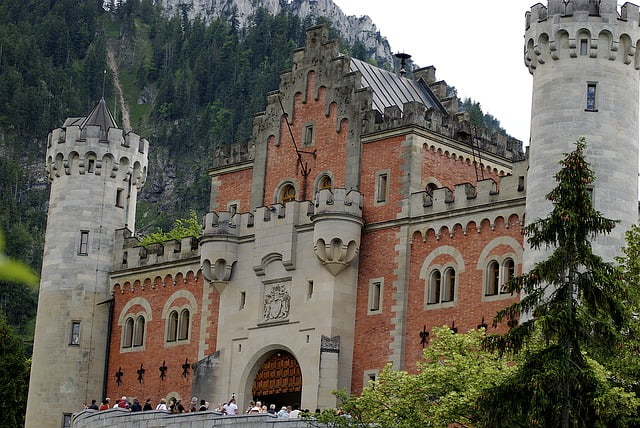 How Long Will It Take to Tour Around?
It takes around 35-45 minutes to visit Neuschwanstein Castle on a guided tour.
Some words of advice and tips:
Dogs and other pets are not allowed inside the castle
Wifi is available in communal spaces such as the castle restaurant and meeting points.
If you want to take pictures, then you'll need a written permit from the castle authorities.
Prams and baby carriages are not allowed on the castle premises along with other types of heavy luggage.
Virtual Tour of Neuschwanstein Castle
This castle made it to our list of the best virtual castle tours. Tour around from the comfort of your own home and don't forget to explore other castles on this list!
Quick Video Tour of The Main Neuschwanstein Castle Areas